4th Street Transit Improvement Project
Project Introduction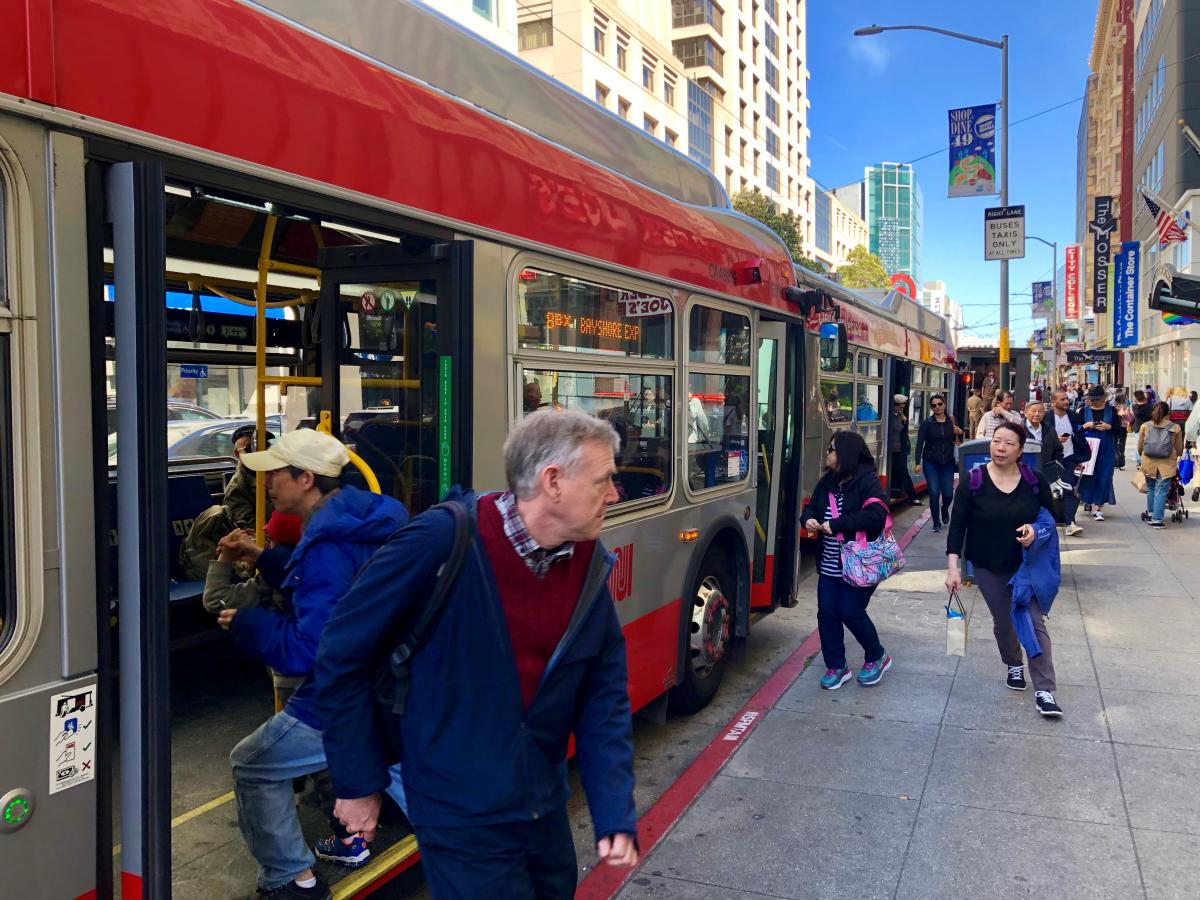 The 4th Street Transit Improvement Project is part of Muni Forward's system-wide approach to transit priority improvements and complements changes being implemented on 3rd Street as part of the 3rd Street Transit and Safety Project. Taken together, these projects should substantially reduce transit delay on 3rd and 4th streets in SoMa for thousands of daily customers.
With nearly 40 buses per hour at peak times, 4th Street is one of San Francisco's major transit corridors. The 4th Street Transit Improvement Project benefits six of Muni's busiest bus lines. These lines, including the 8 Bayshore, 8AX and 8BX Bayshore Express, 15 Bayview Hunters Point Express, 30 Stockton and 45 Union/Stockton, provide connections for tens of thousands of customers to Caltrain and the Chinatown, North Beach, SoMa and Visitacion Valley neighborhoods, among others. 4th Street is also a major traffic corridor, with connections to US-101 South and the Bay Bridge.
Keeping Muni Moving
Prior to Central Subway construction, Muni shared its 4th Street transit lane with right-turning vehicles, and the street had three to four lanes for general traffic. Parts of the transit lane were only in effect during peak hours, and it ended before Folsom Street, where buses on Route 30 must merge left to continue down 4th Street. The 4th Street Transit Improvement Project is making upgrades to reduce bus delays and improve pedestrian safety on the corridor. 
Transit Changes Coming
The project proposal received feedback from a diverse group of stakeholders including Muni customers, community organizations, citywide advocacy organizations, local merchants, hotels, institutional stakeholders and residents of senior communities. Transit priority improvements include:
Dedicated, full-time, red transit lane, separate from turning traffic, extended to Folsom Street.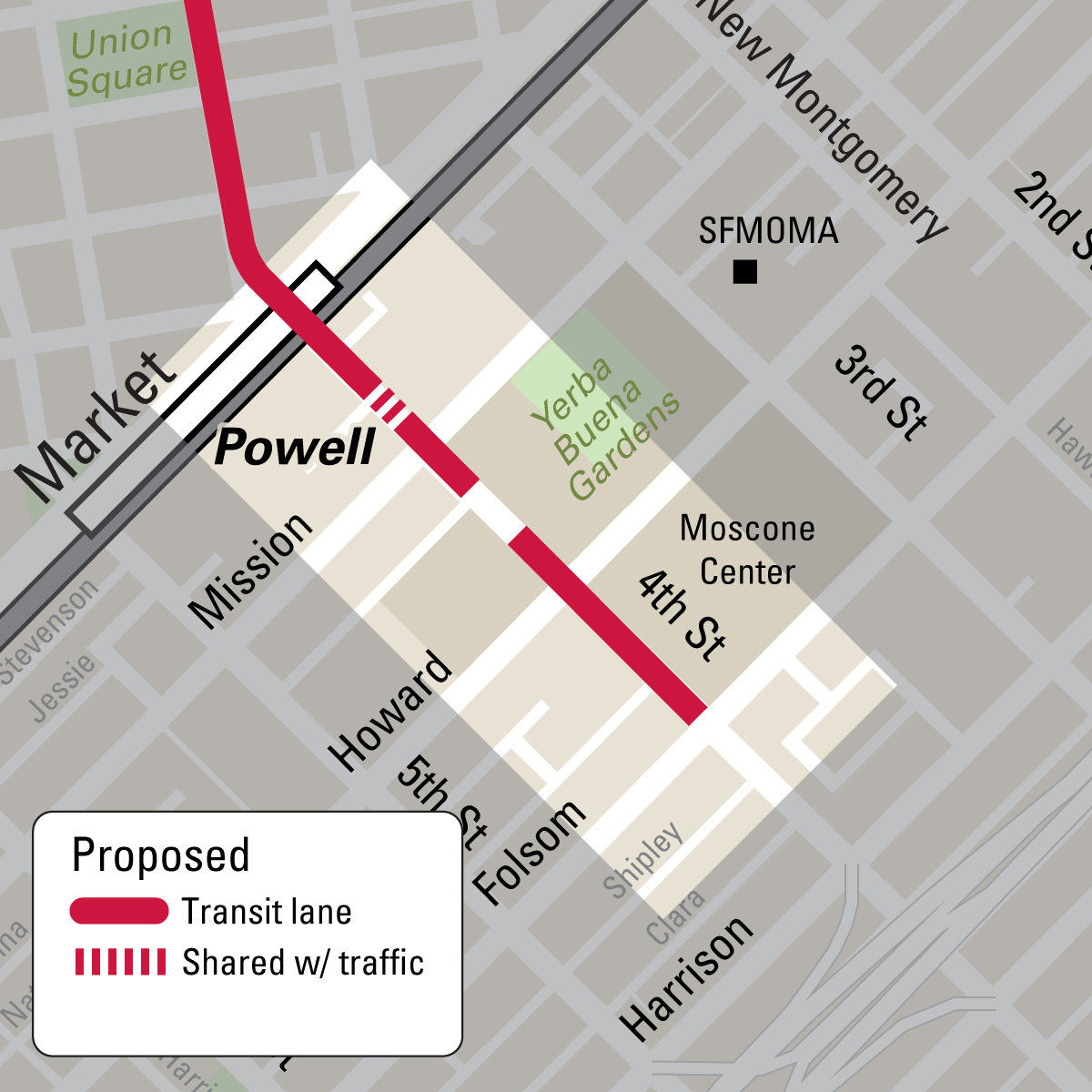 Combine Howard Street and Folsom Street bus stops at future Central Subway station to improve connectivity.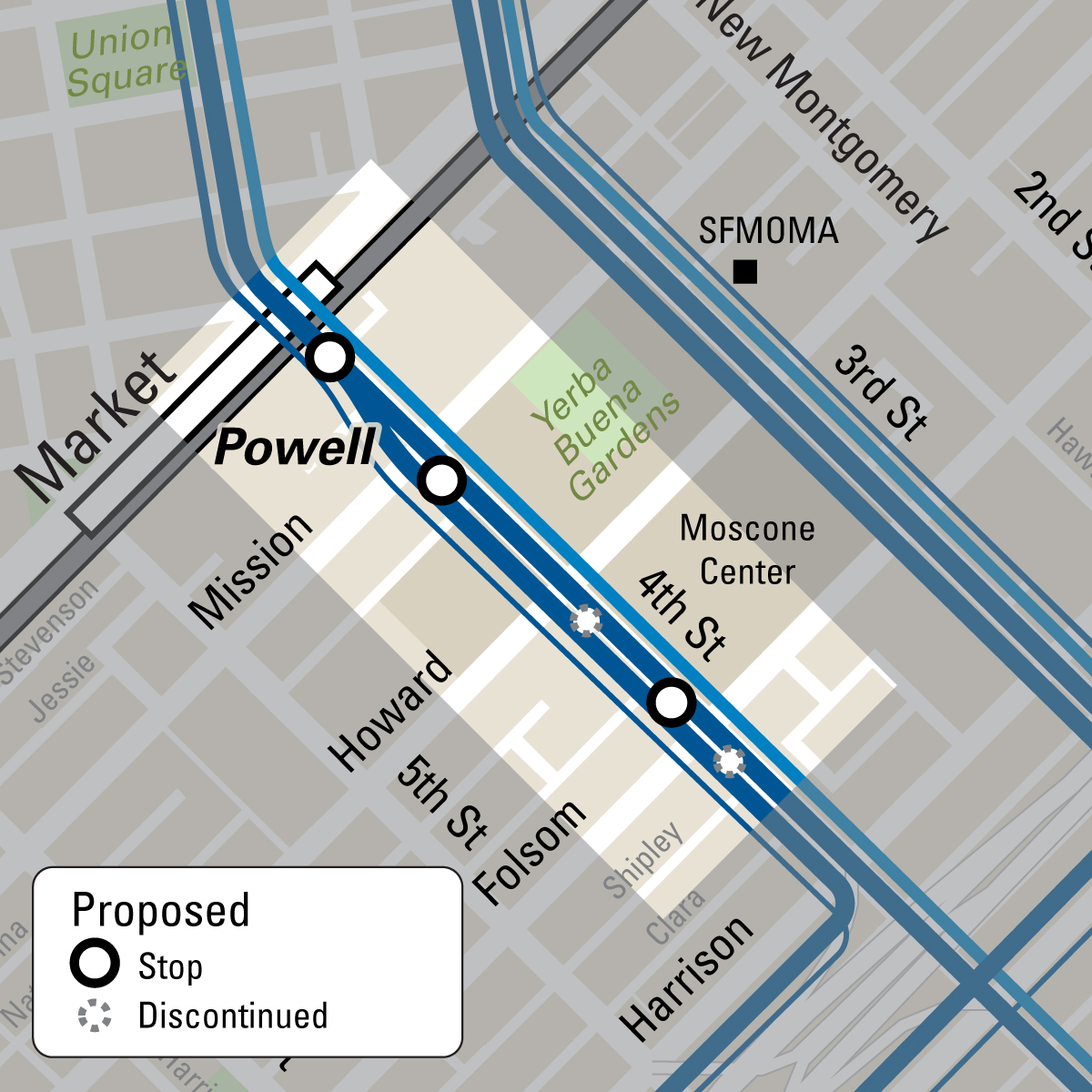 See the diagram below for the design of 4th Street approaching Howard Street.
Smarter Use of Curb Space
Add more passenger and commercial loading near the Metreon to address current demand.

Some curbside parking will be removed to support the changes.
Safety for People Walking
Many people walk on 4th Street to neighborhood businesses, cultural and civic destinations, as well as low-income, senior housing facilities. Project changes are designed to improve safety for people walking, in support of the City's Vision Zero goal to eliminate all traffic deaths.
Where pedestrian volumes are highest between Market and Folsom streets, reduce the number of lanes of traffic to two (same as on lower Stockton Street).
Project Timeline
Summer/Fall 2019
Public Outreach/SFMTA Board Review
End of 2019
Implementation (timed with completion of Central Subway)
Project Status
Implementation / Construction
Improvements
Dedicated, full-time, red transit-only lane, separate from turning traffic
Extend transit lane to Folsom Street
Combine Howard Street and Folsom Street bus stops at future Central Subway station to improve connectivity
Reduce number of lanes of traffic to two between Market and Howard streets, improving pedestrian safety
Maintain three through lanes for general traffic south of Folsom Street to accommodate freeway traffic
Maintain/improve capacity for right turns at Mission and Howard streets by providing dedicated right turn lanes (not shared with transit)
Increase passenger and commercial loading near the Metreon
Bus Routes and Rail Lines
Contact Information
Steve Boland, Project Manager
Bonnie Jean von Krogh, Public Relations Officer