4th Street Transit Improvement Project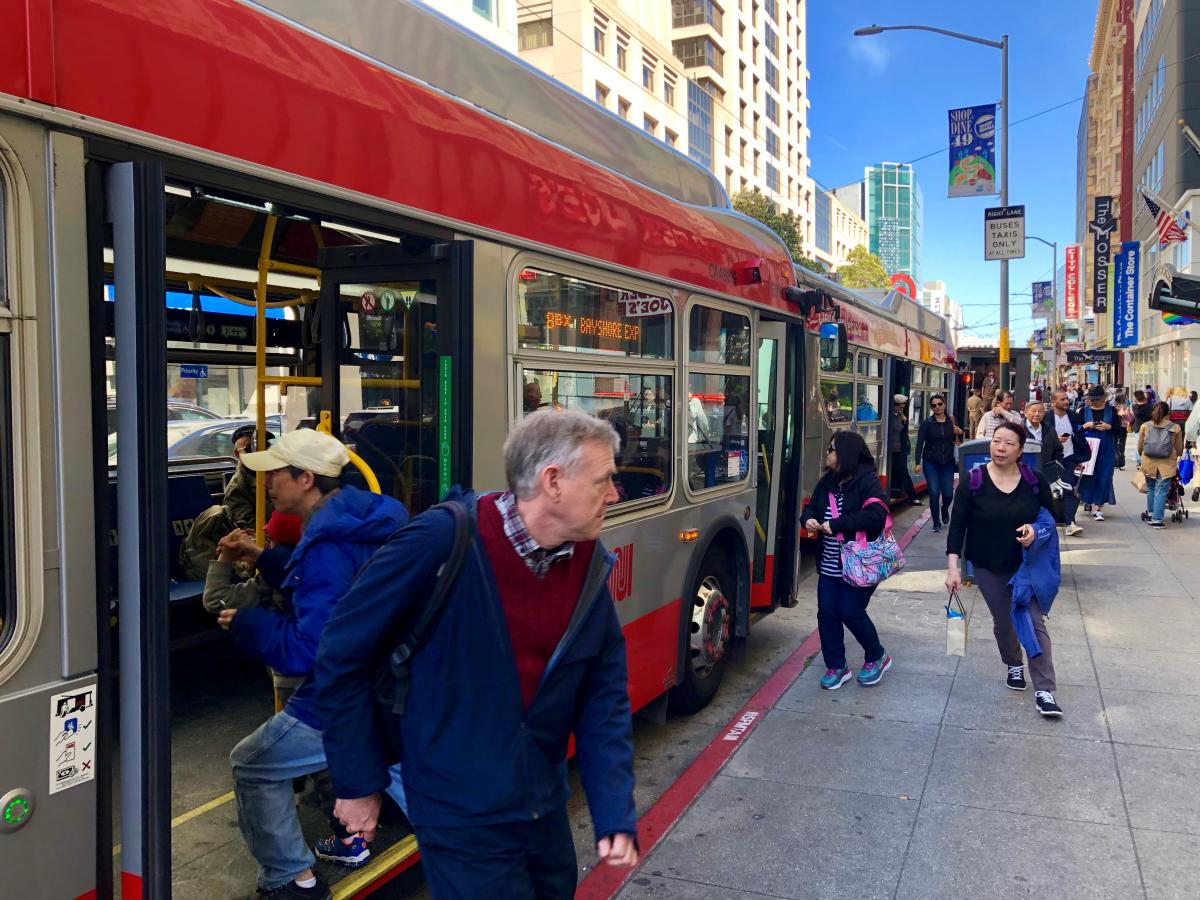 Muni has returned bus service to lower Stockton and 4th streets as Central Subway project construction begins to wrap up there. In spring 2019, the 8 Bayshore, 8AX and 8BX Bayshore Expresses, 30 Stockton, 45 Union/Stockton and 91 OWL lines all resumed their previous routing.
To ensure Muni buses can move safely and efficiently, the 4th Street Transit Improvement Project is planning transit priority improvements for the corridor.
The 8 Bayshore, 8AX and 8BX Bayshore Expresses, 30 Stockton and 45 Union/Stockton are five of Muni's busiest bus lines. With nearly 40 buses per hour at peak times, these Muni lines serve an average of nearly 70,000 weekday customers and provide a direct connection to Caltrain. 4th Street is also a major traffic corridor. With connections to US 101 south and the Bay Bridge, it served up to 1,000 vehicles per hour prior to Stockton Street reopening.
We Want to Hear from You
Whether you take the bus, walk or drive on 4th Street, we want to hear from you. Take our survey, and tell us about your experience on 4th Street.
Responda a nuestra Encuesta para Pasajeros 
Kunin ang aming Survey sa Kostumer
Keeping Muni Moving
Prior to Central Subway construction, Muni shared its 4th Street transit lane with right-turning vehicles and through traffic. Parts of the lane were not full-time, and it ended before Folsom street. The 4th Street Transit Improvement Project proposes upgrades to reduce bus delays and improve pedestrian safety on the corridor. All improvements would be timed with the completion of Central Subway construction on 4th Street.
Proposed Transit Changes
Separate transit lane from turning traffic, make it full-time and add red colorization to make it more visible.
Extend transit lane past Folsom street.
Expand capacity of bus zones so that two large buses can stop at the same time.
See the diagram below for the proposed design of 4th Street north of Howard.
3rd and 4th streets act as a couplet for five high-ridership Muni bus lines. Earlier this year, the SFMTA Board of Directors approved the 3rd Street Transit and Safety Project and improvements to 3rd Street are coming in fall 2019 . By improving both streets, Muni Forward is taking a holistic approach to improving transit for thousands of daily customers.
Smarter Use of Curb Space
Increase passenger and commercial loading near the Metreon to address current demand.
Some curbside parking would be removed to support the changes.
Safety for People Walking
Many people walk on 4th Street to neighborhood businesses, cultural and civic destinations, as well as low-income, senior housing facilities. Proposed changes would improve safety for people walking, in support of the City's Vision Zero goal to eliminate all traffic deaths by 2024.
Where pedestrian volumes are highest between Market and Howard, reduce the number of through lanes of traffic to two (same as on Stockton).
Change timing of traffic signals to give people more time to cross the street (separate SFMTA project)
Project Timeline
Summer/Fall 2019
Public Outreach/SFMTA Board Review
End of 2019
Implementation (timed with completion of Central Subway)
Improvements
Separate transit lane from turning traffic, make it full time and add red colorization
Extend transit lane past Folsom Street
Expand capacity of bus zones at Folsom and Howard streets
Change timing of traffic signals to give people more time to cross the street (separate SFMTA project)
Reduce number of through lanes of traffic to two between Market and Howard, improving pedestrian safety
Maintain three through lanes for general traffic south of Howard to accommodate freeway traffic
Maintain/improve capacity for right turns at Mission and Howard by providing dedicated right turn lanes (not shared with transit)
Increase passenger and commercial loading near the Metreon