Bayshore Boulevard Quick-Build Project Update
Bayshore Boulevard is a mixture of industrial and commercial ruggedness mixed with historic and family run small business charm. Bayshore Boulevard is also a busy street that runs parallel to Highway 101 and is nestled between Bayview, Bernal Heights, Potrero Hill and Mission neighborhoods. Interestingly enough, one of the oldest restaurants in San Francisco, The Old Clam House, built in 1861 and recently re-opened after two years of closure due to the pandemic and management changes. As you begin to walk Bayshore and Oakdale heading south towards Silver Avenue, you'll see workers grabbing food and saying hi to owner Tarik at Bayshore Taqueria, you'll notice parents dropping off their children at the family run business American Gymnastics Club and folks walking to catch the 9 or 9R Bayshore or 23 Monterey Muni bus. For over 30 years, people have been visiting legacy business Flowercraft Garden Center, near Bayshore and Cortland to decorate their homes, patios and backyards with native plants and its sister business Floorcraft, who've been in business since 1941. Not only that, but you'll also see people walking their carts or crates filled with aluminum and glass bottles to family run business Our Planet Recycling Center or folks biking around Bayshore and Industrial.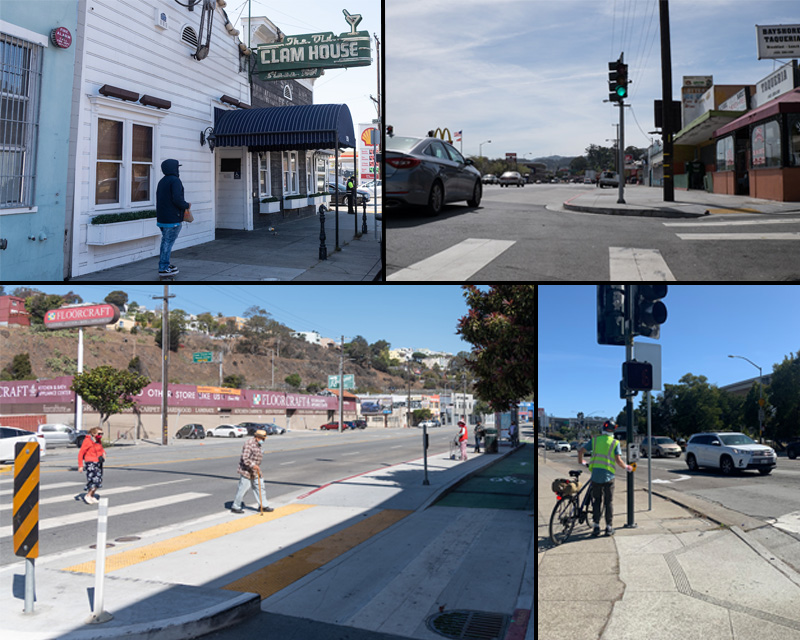 Bayshore Boulevard has a lot of vehicle/pedestrian/bike activity given all the small and big box businesses sprinkled along the corridor and its important role as a major connector to the north and south sections of San Francisco. The corridor is on the Vision Zero SF High Injury Network, which means 75% of the city's traffic injuries and fatalities occur on just 13% of San Francisco streets. From 2015 to 2021, 98 traffic collisions have been reported on Bayshore Boulevard between Silver and Jerrold avenues. A total of 11 bicycle-vehicle collisions resulted in four severe injuries and 10 total pedestrian-vehicle collisions resulted in two severe injuries. A few months ago, a fatality occurred between a motorcyclist and another vehicle near Bayshore and Flower.
| Mode | Collisions |
| --- | --- |
| Bike | 11 total collisions with four severe injuries. |
| Walk | 10 total collisions with two severe injuries. |
To improve access and safety for people walking and bicycling on Bayshore Boulevard, the SFMTA is proposing a quick-build project on Bayshore Boulevard from Silver to Oakdale avenues (Section 1) and potentially improvements in the future on Bayshore Boulevard from Oakdale to Jerrold avenues (Section 2).
A quick-build project increases safety for all users of Bayshore Boulevard by implementing relatively fast improvements with inexpensive treatments within months, such as: 
Paint
Traffic delineators
Street signs
Parking and loading adjustments 
The project is then evaluated within 24 months after construction is completed through the Safe Streets Evaluation Program to understand whether the transportation safety treatments are working, need to be revised or removed.   
In May and June, the Bayshore Quick-Build team connected with businesses and stakeholders who use the corridor and there were several takeaways:
Unsafe vehicle speeds on the Bayshore 
Need for greater protection between the vehicle travel lane and bike lane
Need for improved pedestrian and bike safety 
Need for improved neighborhood connections by bike
Comments from our survey include:
"Walking in that area is awful today and generally I just feel unsafe if I am not in a car."
"This is not supposed to be a freeway! It is not safe as it is now and inspires unsafe driving and speeding."
"I am more concerned about the bike connections north to south. I would love to be able to bike on Bayshore more, but the connections are horrible."
Based on the feedback received, the project team is considering refinements to the project proposal and will continue to provide updates to all project stakeholders.
The current project timeline includes:
Section 1 (Bayshore Blvd. from Silver to Oakdale Avenues)
July to August 2022 – Round 2 Community Outreach and Final Design (showcase the final proposed project design and answer questions). 
Summer/Fall 2022 – Approvals/ Legislation for Section 1 – Bayshore Boulevard from Silver to Oakdale avenues (Public Hearing anticipated in late September)
Fall 2022 – Construction begins on Section 1 – Bayshore Boulevard from Silver to Oakdale avenues 
Section 2 (Bayshore Blvd. from Oakdale to Jerrold Avenues)
Section 2 will be further analyzed and potentially become part of a future project where the needs of the roadway can be better met through longer-term, capital construction work. 
Stay tuned to see what is in store for a safer Bayshore Boulevard for all users. 
Learn more about the project and subscribe to project updates by visiting the Bayshore Boulevard Quick-Build Project.