Everyone in San Francisco deserves to feel safe on city streets. Every year in San Francisco, about 30 people lose their lives and over 500 more are severely injured while traveling on city streets. These deaths and injuries are unacceptable and preventable, and San Francisco is committed to stopping further loss of life. That's why our municipal transportation agency joined city leaders in 2014 to adopt a policy called Vision Zero, with the goal of eliminating all traffic deaths in San Francisco. Vision Zero SF centers human life and commits city agencies to build better and safer streets, educate the public on traffic safety, enforce traffic laws, and adopt policy changes that save lives.
San Francisco is a world-class city. No mistake on the road should result in the loss of life.
Achieving zero traffic fatalities will require political will and public support for ambitious and transformative policies. These major policy changes can significantly reduce crashes in San Francisco: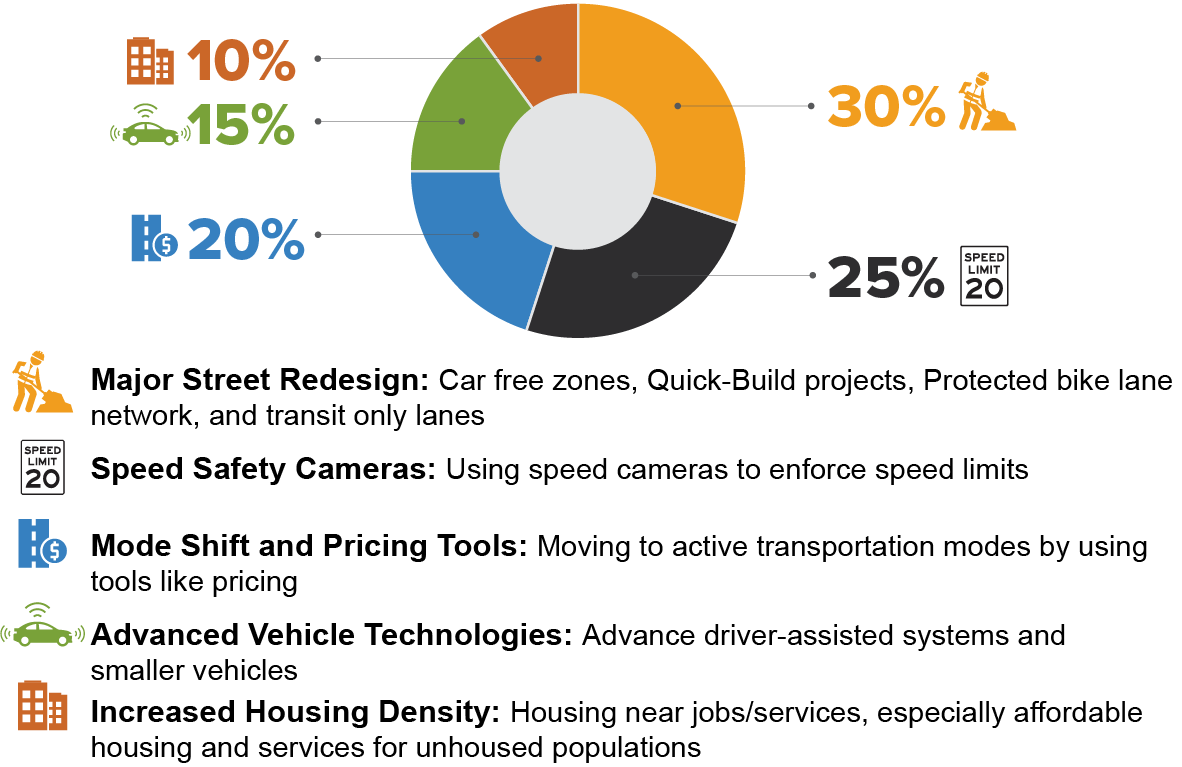 Please join us in our mission to end traffic deaths.
The Vision Zero Action Strategy outlines the initiatives and actions Vision Zero SF will take to advance Vision Zero. The strategy was developed by the City and County of San Francisco, co-chaired by the San Francisco Municipal Transportation Agency and Department of Public Health, with leadership from the Mayor's Office and the Board of Supervisors, and in coordination with local community groups and advocacy organizations.
Read the Vision Zero Action Strategy
Vision Zero is a data-driven approach to improve safety and save lives on city streets. SFMTA advances design and engineering strategies, especially focused on slowing speeds and reducing conflicts on High Injury Network streets. SFMTA tracks its design and engineering progress in a Safe Streets Dashboard.  
View the VZ Safe Streets Dashboard
The 2022 Vision Zero High Injury Network was created by the San Francisco Department of Public Health (SFDPH) using a combination of severe and fatal injury data from Zuckerberg San Francisco General Hospital, San Francisco Police Department, Emergency Medical Services, and the Office of the Medical Examiner. It identifies street segments in San Francisco that have a high number of fatalities and severe injuries and help inform where interventions could save lives and reduce injury severity.