Busy Weekend Ahead: Outside Lands, Pistahan Parade and More
Wednesday, August 9, 2017
This weekend will be jam-packed with huge music events like Outside Lands and a Lady Gaga concert at AT&T Park, the Pistahan Parade and Festival on downtown Market Street, the Escape from the Rock Duathlon along the Marina waterfront and the Inner Sunset Flea Market. Read more about the featured events below.
Muni Service Changes: Beginning Saturday, there will be a number of stop changes along outer San Bruno Avenue for the 8, 8AX, 9 and 90 routes. And as of Monday, the 7R Haight/Noriega Rapid will be known simply as the 7 Haight/Noriega to make service easier to navigate for riders. For details on the service changes, please see our blog post from Monday.
Subway Open This Weekend: The Muni Metro subway will be open for regular service this weekend, Aug. 11-13. Subway closures for tests on new Muni trains will resume Monday, on weekdays after 9:30 p.m., and for a final weekend on Aug. 18-20. For details on the subway closures, please visit our service alert page.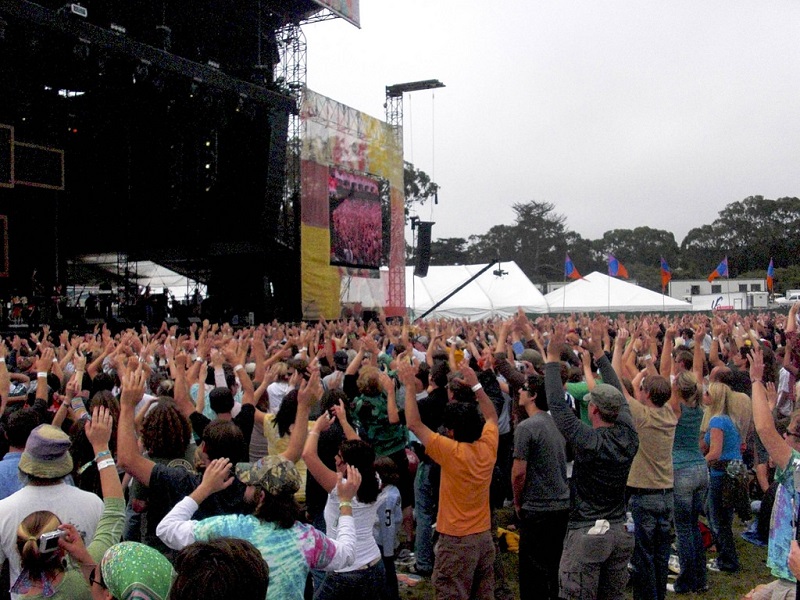 The crowd puts their hands in the air at Outside Lands in 2008. Photo: Ryan Devenish/Flickr
Outside Lands Festival
Friday through Sunday, various times
Golden Gate Park
This weekend is the tenth celebration of music, food, wine, beer, art and comedy known as Outside Lands. The three-day festival is expected to draw over 225,000 people and features a packed lineup that includes Bay Area rockers Metallica, living legends The Who, indie pop star Lorde, hip-hop artists A Tribe Called Quest and many more.
How to Get There on Muni: The N Judah Line* and the 5 Fulton*, 5R Fulton Rapid*, 5X Fulton Express*, 6 Haight/Parnassus, 7 Haight/Noriega, 18 46th Ave., 21 Hayes, 28 19th Avenue*, 29 Sunset, 31 Balboa, 33 Ashbury/18th, 43 Masonic and 44 O'Shaughnessy routes will take riders to the park.
*Muni will provide supplemental service on the N, 5, 5R, 5X and 28 throughout the weekend.
Muni Service Note: The 7, 28, 28R and 44 routes may be subject to delays and crowding due to increased ridership.
For details, please refer to our Outside Lands service alert page. 
Pistahan Parade and Festival
Saturday and Sunday, 11 a.m. to 5 p.m.
Downtown Market Street and Yerba Buena Gardens
Billed as the largest celebration of Filipino American culture in the country, the Pistahan Festival is expected to draw more than 80,000 people over the weekend. The event begins with a parade on Saturday at 11 a.m. that will kick off at the Civic Center and head down Market Street to 4th Street and culminate at Yerba Buena Gardens for the weekend-long festival. 
How to Get There on Muni: Riders may take Muni Metro service to Civic Center or Powell stations, the F Market and Wharves Line, or any Market Street bus route to the event.
Muni Service Note: The F Market and Wharves Line and the 5 Fulton, 6 Haight/Parnassus, 7 Haight/Noriega, 9 San Bruno, 21 Hayes, 30 Stockton, 31 Balboa, and 45 Union/Stockton routes will be rerouted on Saturday for the parade. Muni routes to the event may see delays due to increased ridership.
Reminder: J Church Stop Changes at Balboa Park
Due to construction for the Balboa Park Station Area and Plaza Improvement Project, the J Church Line will continue to serve alternate stops on San Jose Avenue until the fall.
For details, please visit our Green Light Rail Center Track Replacement Project page.
Reminder: Van Ness Construction
All left turn lanes on Van Ness Avenue have been removed with the exceptions of those at Broadway (southbound), Lombard Street (northbound) and temporarily at Hayes Street (northbound).
Van Ness traffic lanes have been reduced from three to two on these segments:
Northbound from Post to Filbert Street
 
Southbound from Filbert to Washington Street
For complete details on these changes, please visit our Van Ness Improvement Project page.
"On Tap" gives you a heads up about the big events in town and what Muni routes and lines will get you to the party. Look for this feature to be posted usually on Wednesdays for a look ahead to the weekend. Check out our Weekend Traffic & Transit Advisory for more details.