Celebrating 20 Years of F Line Service!
Thursday, September 17, 2015
This month marks the 20th anniversary of the opening of service on the F Line, one of Muni's most popular lines among visitors and locals alike. On September 1, 1995, Muni launched historic streetcar service to a crowd of people gathered for the streetcar parade down Market Street. We'll be celebrating this anniversary and Muni's history at our annual Muni Heritage Weekend next weekend, September 26-27 featuring rides on rarely seen members of our historic vehicle fleet.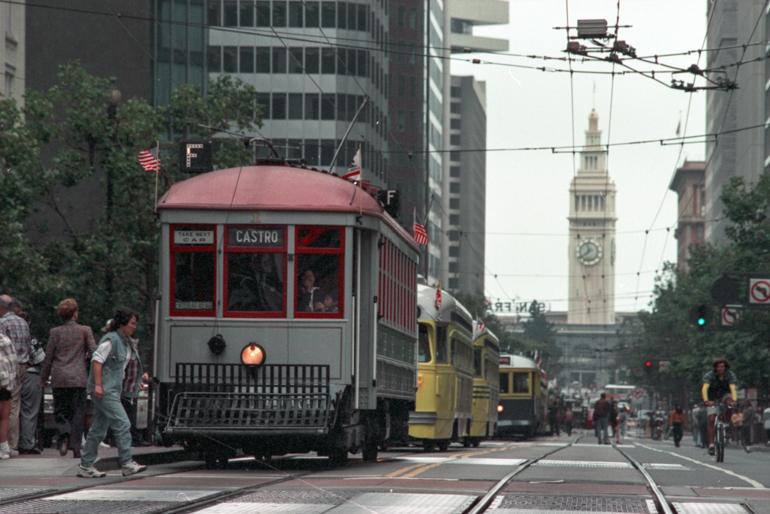 Streetcars Lined up on Market Street for Opening of F Line | September 1, 1995
Technically, Muni's first F Line was the F Stockton, built to bolster service to the 1915 Panama Pacific International Exposition. It ran from Market, up Stockton and Columbus Avenue to North Point, and after a jog down to Chestnut at Van Ness, ended just past the fair entrance at Scott Street. This line ran for 36 years until it was replaced by trolley coach service on the 30 Stockton in 1951.
Today's F Market & Wharves has a lineage that dates to 1979, when historic streetcar service to Fisherman's Wharf and Ft. Mason was proposed in Muni's 5-year plan. Starting in 1982, Muni launched the Historic Trolley Festival, a long-term event held to run historic transit service in the abscence of the beloved cable cars (which were undergoing a system-wide rebuild). From '83 to '87 the city partnered with organizations like the Bay Area Electric Railroad Association, SF Chamber of Commerce, and Market Street Railway to host the events and generate support for permanent service. The success of the Trolley Festivals was immediate, paving the way for the establishment of the F Line in '95.

Historic Streetcars and Buses on 17th St. for the Trolley Festival | June 23, 1983
20 years later, we not only have regular service on the F from the Castro to the Wharf but we've just recently added even more historic streetcar service via the E Line. Launched on August 1, the E Embarcadero Line runs weekends 10 a.m. to 7.p.m. from the 4th and King Caltrain depot to the Wharf, along the beautiful Embarcadero!
Join us next weekend, September 26-27, to celebrate our city's rich transit past during Muni Heritage Weekend! We'll be offering rides on special vintage vehicles — buses and streetcars — that take you back in time to revisit San Francisco and Muni's past. 
Explore more of San Francisco's transit history through the historic photos on the SFMTA Photo Archive website and follow us on Flickr, Twitter, Google+, and Instagram!