City Hall Party Kicks Off Weekend in SF
Once the excitement dies down from the parade across the bay Friday morning, SF will fete the people's palace with a party at Civic Center Plaza. Also this weekend, the city will play host to the 83rd annual meeting of the U.S. Conference of Mayors. Be sure to check their website for possible civic engagement opportunities. 
Otherwise, this weekend will be relatively calm as the city ramps up for all the Pride festivities next week. If you're looking for something more to do this weekend, be sure to check out these event calendars to see what's happening locally: FunCheapSF, EventBrite, SF Weekly, and SFGate.
Like the photo below? Stay tuned for tomorrow's Throwback Thursday, which will feature City Hall highlights from our Photo Archives.
City Hall Centennial
Friday, 6 to 11 p.m.
Civic Center Plaza
If these walls could talk, what would they say? Would they provide pearls of wisdom, offer nuggets of information lost to history, or spin old-fashioned yarns?
For one hundred years now, City Hall has stood at the center of civic and political life in San Francisco. During these ten decades, the ornate granite building has watched in silence as the city has weathered the changing times and has been center stage during some of the city's most joyous, dramatic and tragic moments.
This Friday, the city will gather to celebrate City Hall's centennial anniversary in Civic Center Plaza. This event, which is free to the public, will have live music entertainment, featuring hit songs from the last 100 years, gourmet food trucks, and an after-dark multi-media projection experience on the exterior of City Hall.
Enjoy the festivities by taking public transportation. Utilize the 5 Fulton, 19 Polk, 21 Hayes, 47 Van Ness, 49 Mission/Van Ness, or take the Muni Metro subway to either Van Ness or Civic Center stations.
Muni service note: Service routes in the area may experience minor delays due to increased ridership.
Also, expect increased traffic in the area. Street closures will continue on Fulton Street from Hyde to Larkin, Grove Street from Larkin to Polk, and Polk Street from McAllister to Grove.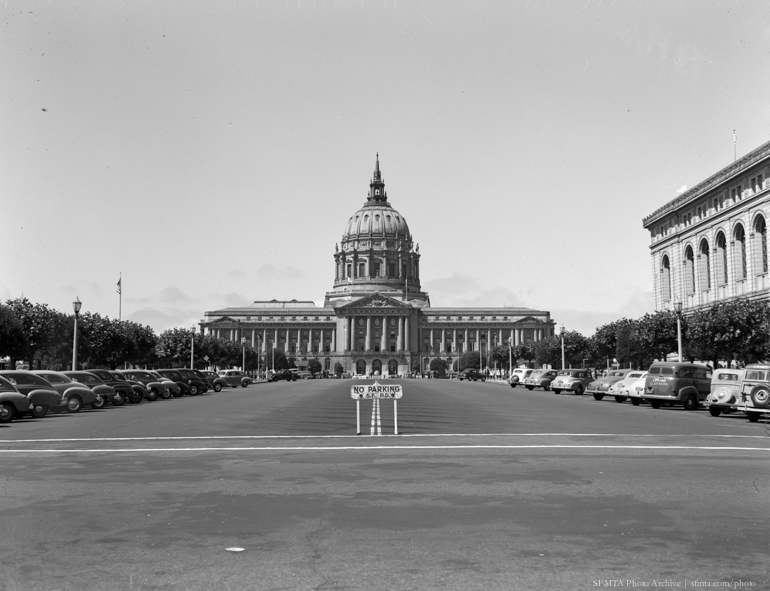 City Hall From Fulton and Hyde on August 18, 1948​. SFMTA Photo Archive
"On Tap" gives you a heads up about the big events in town and what Muni routes and lines will get you to the party. Look for this feature to be posted usually on Wednesdays for a look ahead to the weekend.