Construction Impacts Ramp Up for the T Third's Mission Bay Track Loop
Friday, December 16, 2016
If you travel on Illinois Street between 18th and 19th streets in the Dogpatch neighborhood, you may see traffic lane changes as major sewer work ramps up this month as part of the Mission Bay Loop Project.
The sewer excavation started early this month and is expected to be completed in February. "No parking" signs have been placed around the intersections of Illinois Street from 18th to 19th streets to allow enough clearance for the work to be done.
Once completed, the Mission Bay Loop will benefit riders on the Muni's T Third Line, especially when the Central Subway segment of the line opens in 2019. By providing a place for T trains to turn around, the track loop will allow us to run more frequent service on the line's busiest segment and more efficiently maintain even spacing in the event of delays.
Third Street is already considered to have Muni's most sophisticated system of "transit priority signals," which allow traffic lights to detect Muni vehicles and turn green (or stay green longer). With recent upgrades that extend the hold times of green lights for Muni vehicles, coupled with an increase in service on the T Third, the Mission Bay Loop will provide even better access to San Francisco's southeastern neighborhoods.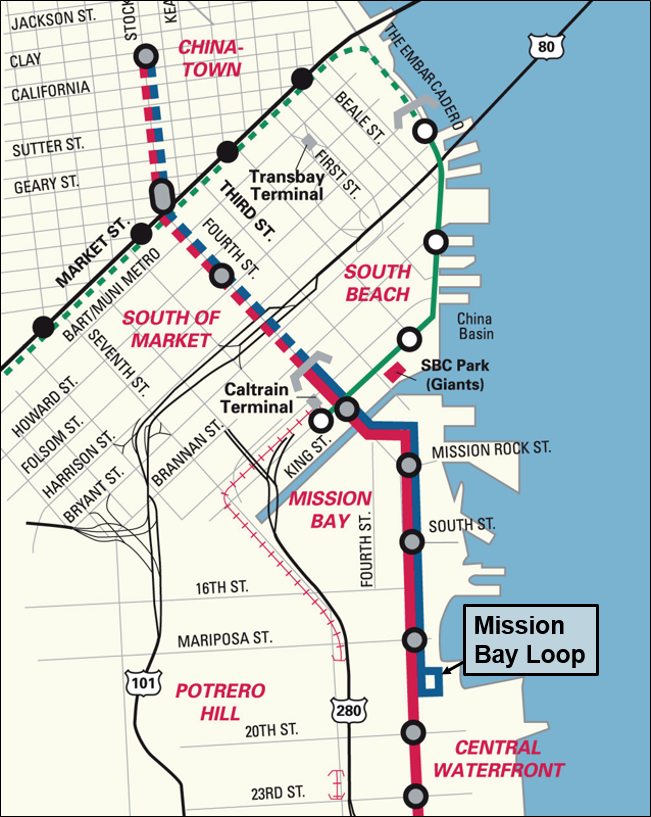 The city's southeastern neighborhoods are growing. Just over a decade ago, one could walk down 3rd Street and see vacant lots and industrial warehouses scattered about.
Now, the area is inhabited by campuses for the University of California, SF and Kaiser Permanente, new mixed-use developments and thriving commercial districts. And with the planned developments of the Warriors Arena, Crane Cove Park and Pier 70, the Mission Bay Loop will be essential to support the growing demand for transit service in this area.
Construction on the Mission Bay Loop started in July and is expected to be finished by about June. For the latest information, including the full construction timeline, be sure to visit the project webpage and sign up for updates.