Elkton Shops Part 1: The First 70 Years
In this two-part blog series, we will look back at the history of one of our city's hardest working transportation properties. For almost 115 years, the Elkton lot, located on San Jose Avenue between Ocean and Niagara Avenues, has been the epicenter of SF streetcar operations. In this post, we will explore the first 70 years at the property when it was known as "Elkton Shops".
Built between 1905 and 1907 by the United Railroads of San Francisco (URR) on a several acre field in the outskirts of the city, Elkton Shops was the most comprehensive transit facility in the city. The new shops, mainly surrounded by farmland, were named after a Southern Pacific Railroad stop just steps away on Ocean Avenue.
A lone cable car sits on a muddy ladder track outside the newly built Elkton Shops in this January 1907 shot.
In 1921, Elkton changed hands, going to the Market Street Railway Company after URR suffered years of financial troubles. During its heyday in the 1920s, Elkton Shops was a powerhouse of repair and production. A staff of over 350 people were responsible for building and overhauling hundreds of streetcars and cable cars to keep the railway's sprawling system running.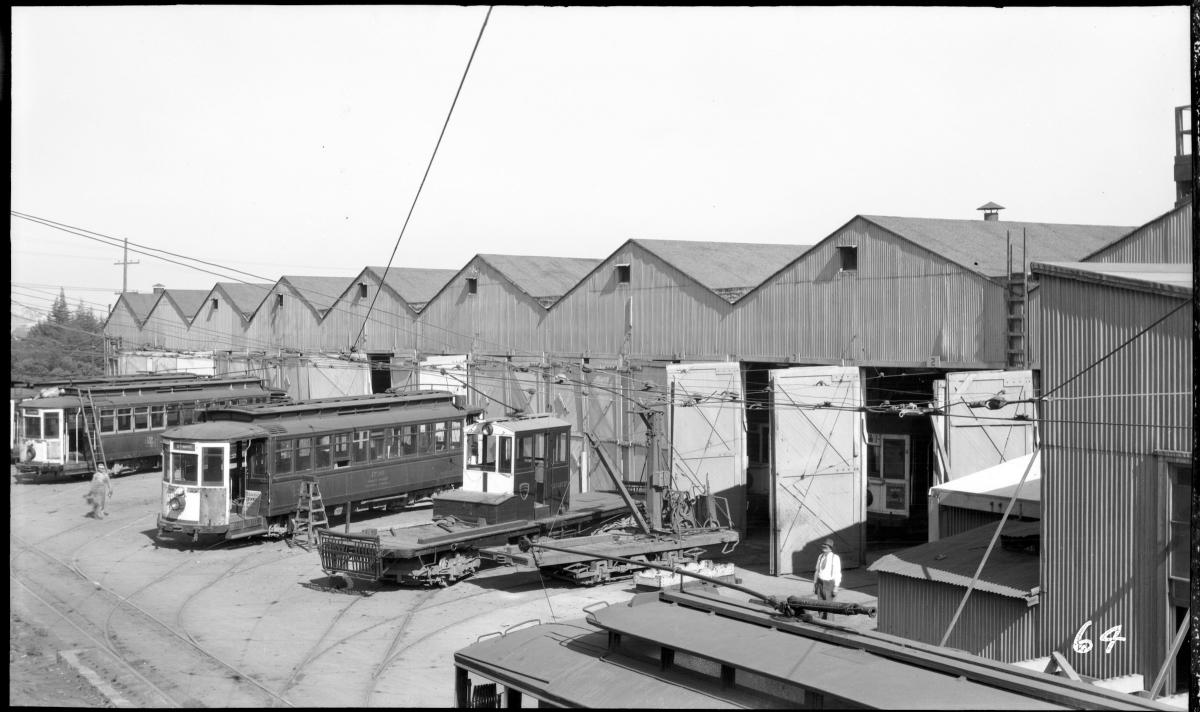 This 1928 photo was taken at the peak of production at Elkton Shops when staff was turning out 26 brand new cars a year on top of 316 complete overhauls and myriad other work.
Every type of job from replacing broken windows and upholstering seats to machining wheels, overhauling electric motors, and painting cars was performed in the shops. According to a 1928 article in the company's newsletter, the average time it took to completely overhaul a streetcar at Elkton was 19 days. On average, 22 cars would be in the shops undergoing the process at any one time.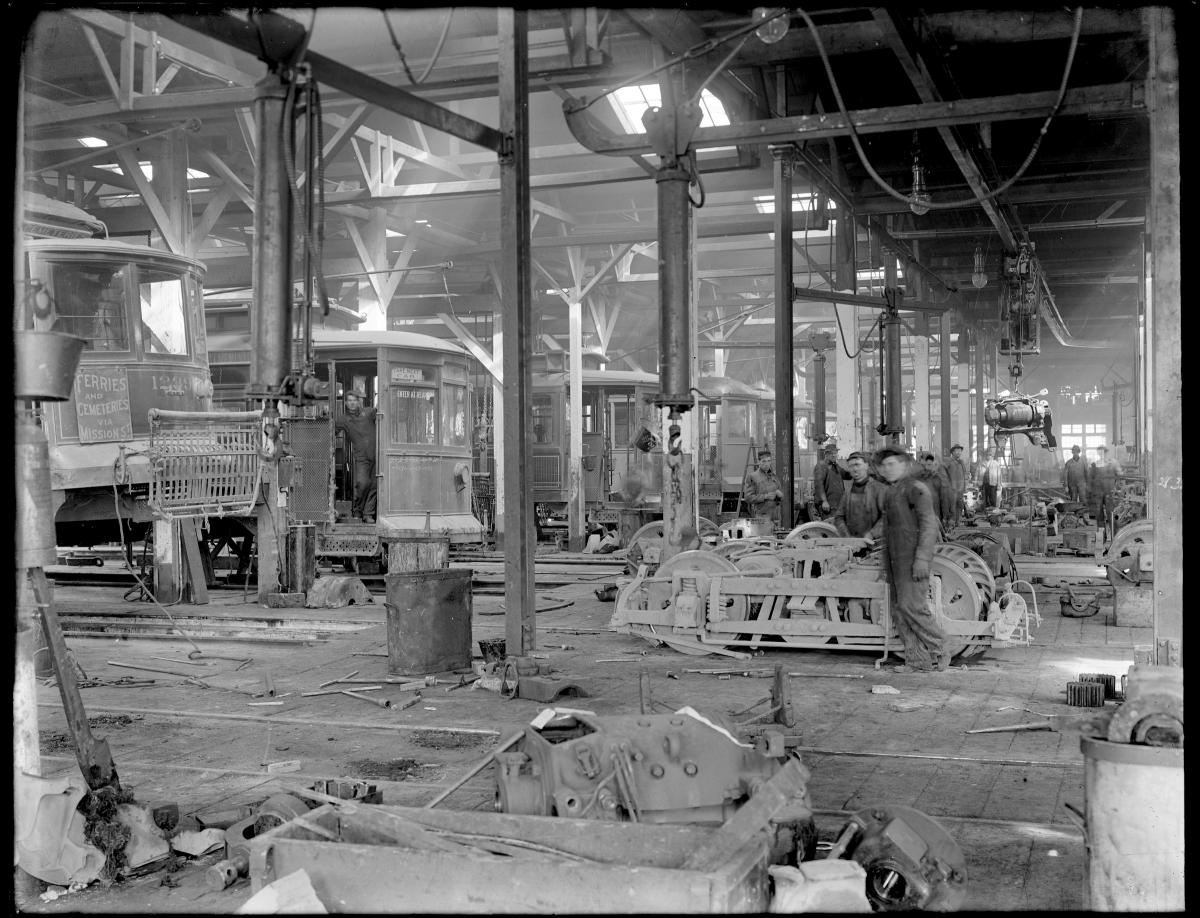 A view inside the overhaul shop in 1912 showing a row of streetcars at left and staff tearing down trucks and motors at right.
In 1944, the Market Street Railway Co. was purchased by the city and Elkton became a part of the now greatly expanded San Francisco Municipal Railway. The heyday of streetcars would soon be coming to an end but the ramshackle old shops continued to hold a valuable place in the future of Muni.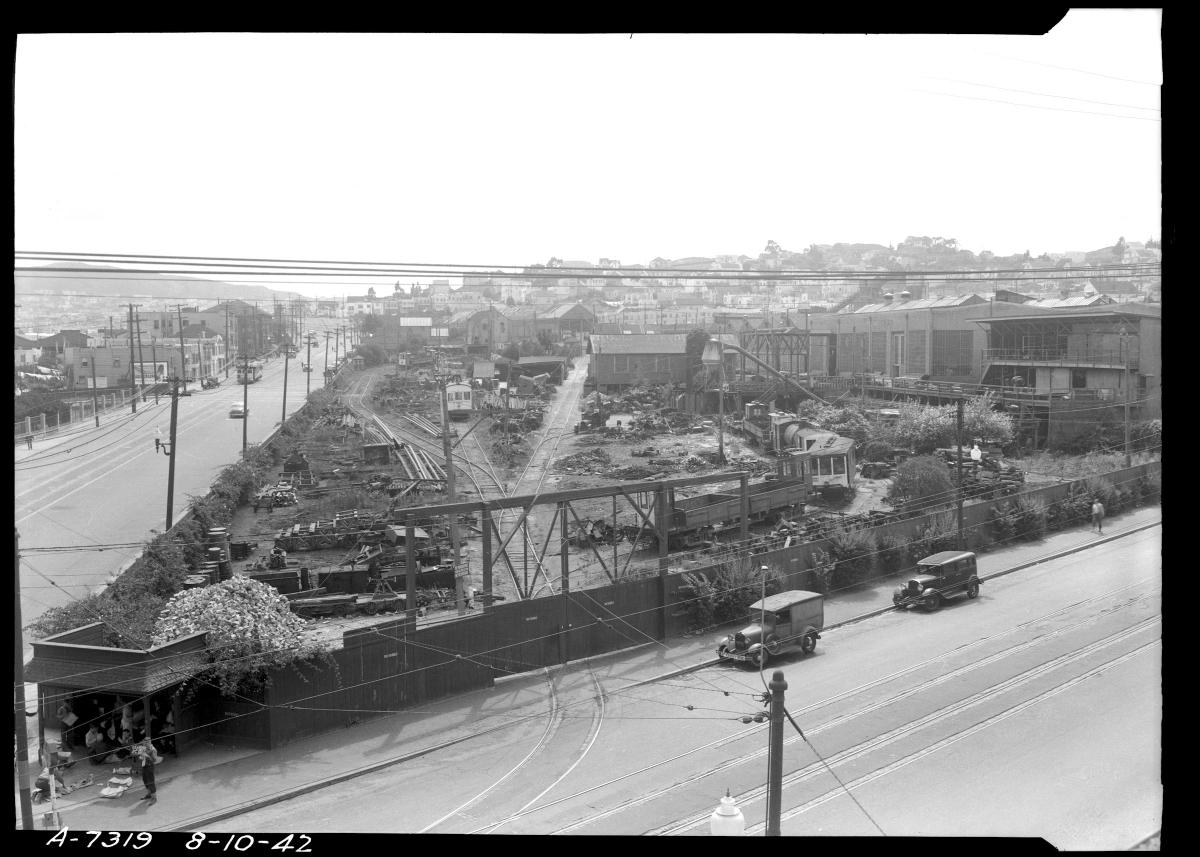 This 1942 shot shows Elkton's rear yard crowded with everything from cobblestones to streetcar wheels.
Following World War II, Muni began quickly expanding its bus fleet and in 1948, Elkton's rear yard was cleared and excavated to build the Ocean Division bus yard. The new yard would provide fueling, maintenance and storage for Muni's growing fleet, including newly leased Mack buses. Elkton Shops remained in service next to the bus yard for another two decades.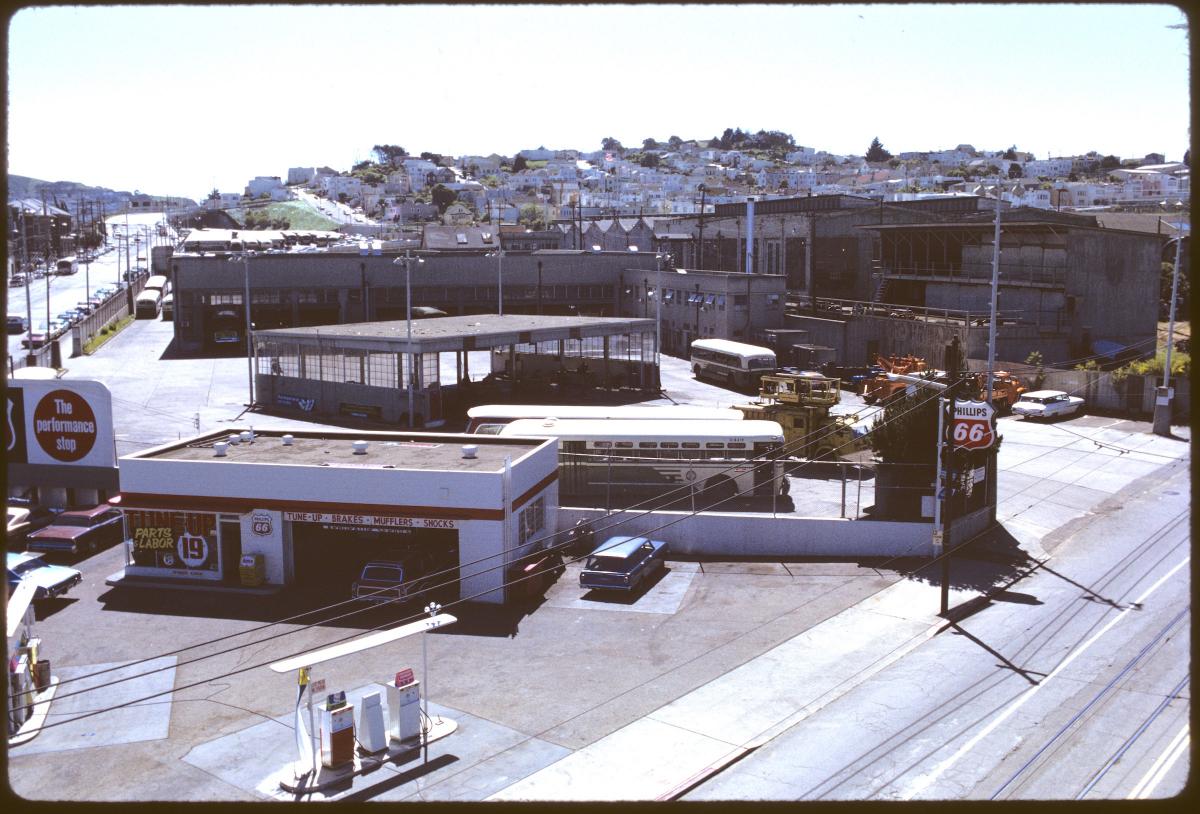 Looking southwest from San Jose and Ocean Avenues, this view shows Muni's Ocean Division in 1972. At the left is a service station, center the fueling and shop buildings and at right are the Elkton Shops.
The death knell for Elkton occurred in the mid-1970s as the city moved to bring Muni Metro to life with "light rail vehicles." As these new trains travelled through a subway underneath Market Street, Muni needed a new facility to house and maintain this brand-new fleet. In 1975, Ocean Division was demolished and construction began on what would become the city's first modern rail repair shop. Just two years later on May 27, 1977, workers at Elkton Shops punched their last timecards in the run-down old building. Four days later, the huge turn of the century shop buildings met their fate with the wrecking ball.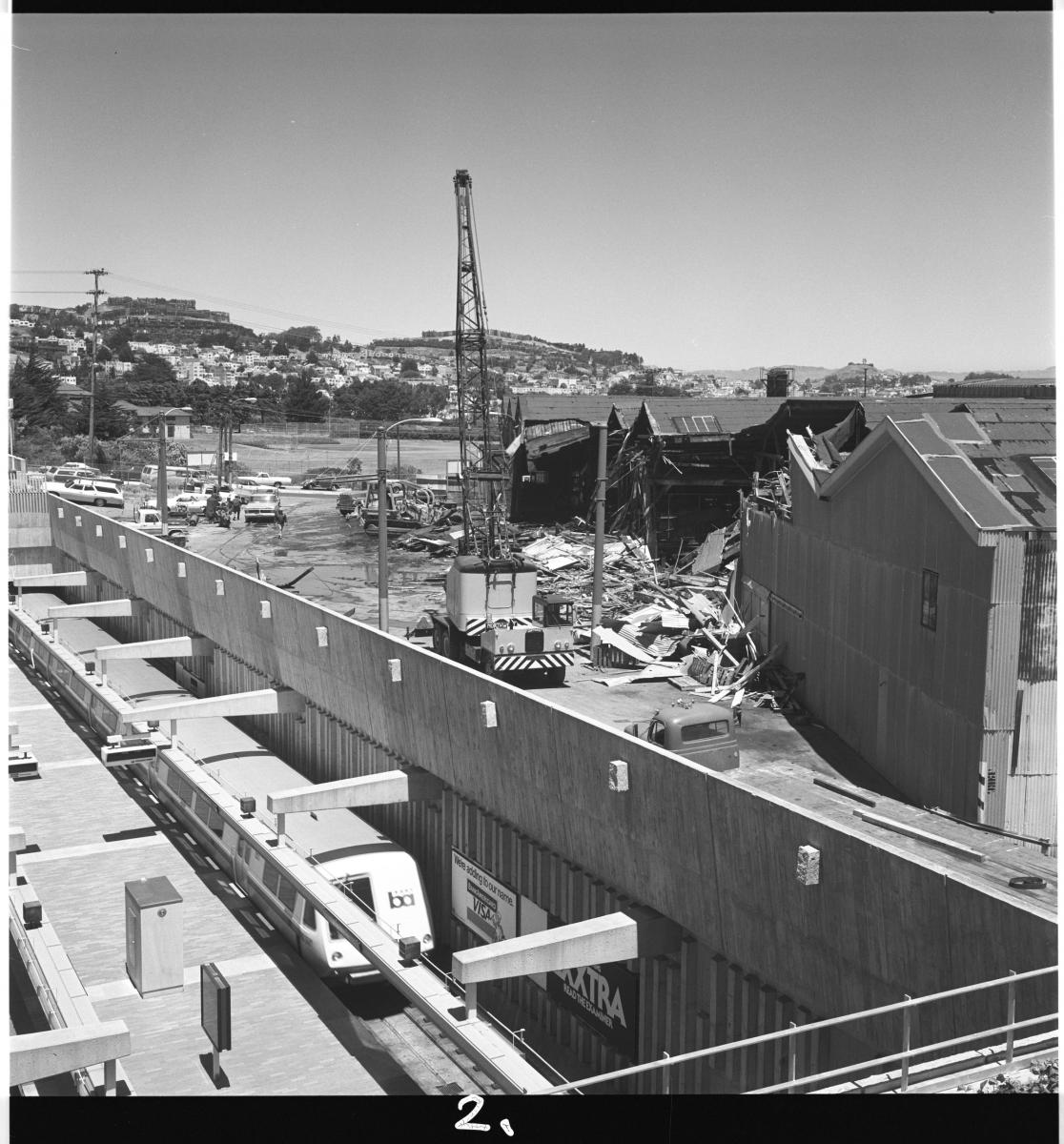 The end of an era came on May 31, 1977 when Elkton Shops was torn down after 70 years of service. In less than 3 years, a rail yard filled with brand new light rail vehicles would stand in place of the old shop buildings.
Tune in next month for part two of this series and learn about the next phase of life at this storied property.