Bulldog Buses - Muni's Mack Coaches Then and Now
Through the years, Muni buses have come from a variety of manufacturers in nearly every shape and size. Here's a look back at one past fleet that stands a little more stoutly than the others-- the Mack buses from the mid-1950s.

Muni officials pose with Mack Truck Company representatives and bulldog mascot in front of the first of a fleet of new Mack buses in November 1955.
After World War II, Muni was in desperate need of new buses, both to replace it's worn out fleet from the 1930s and to convert aged streetcar lines to bus operation. Purchasing new buses was too expensive, so a long-term lease agreement was drawn up with one of the oldest bus makers in the nation. Over the course of 5 years, 450 of the buses with a bulldog mascot were delivered to tackle the streets of San Francisco.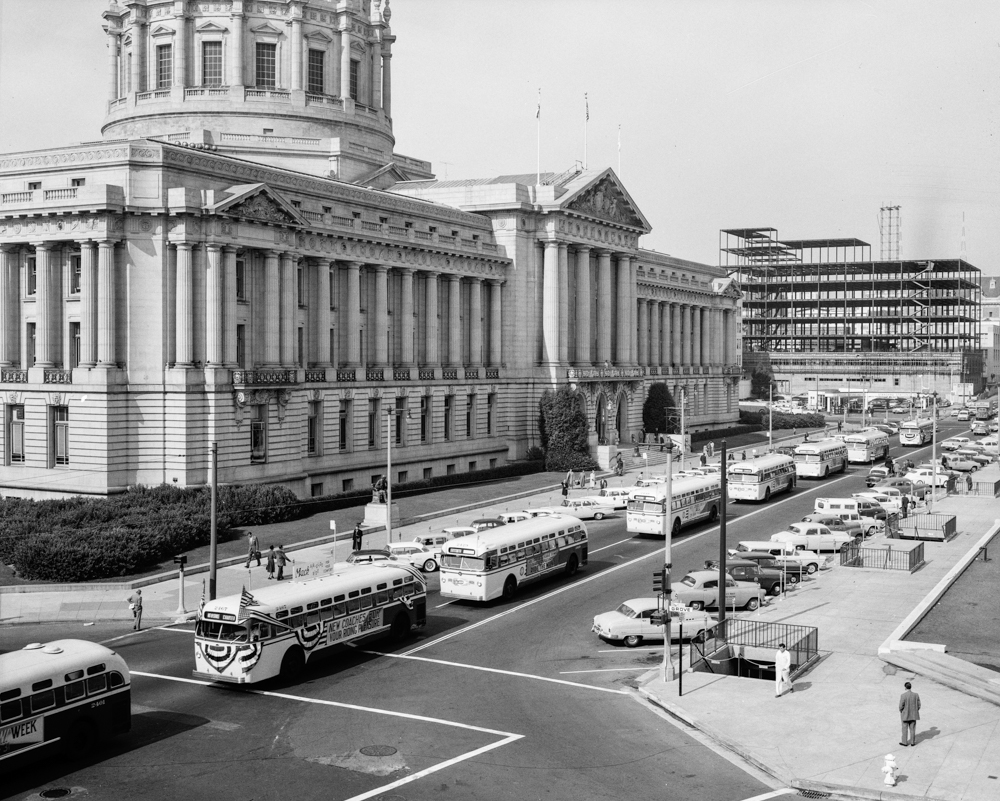 In 1958, Muni held a parade of Mack buses to show off the new fleet to the public. Here, the entourage is passing by City Hall on Polk Street.
The arrival of the Mack fleet allowed Muni to modernize and expand its bus service across the city. Built to seat 48 people and equipped with powerful diesel engines, the Macks were spacious and capable compared to their aged predecessors.

Fitting right in amongst the big-bodied, chrome-covered automobiles of the day, a Mack bus rolls through downtown on Post & Grant in this January 1957 shot.
For over a decade, Mack buses were a staple on the streets of San Francisco, running on many lines from the 2 Clement to the 38 Geary Express seen in the photo above. Starting in 1969, Muni began replacing the Macks with a fleet of GMC buses and by the mid-1970s all but a few had been returned to Mack as per the lease agreement.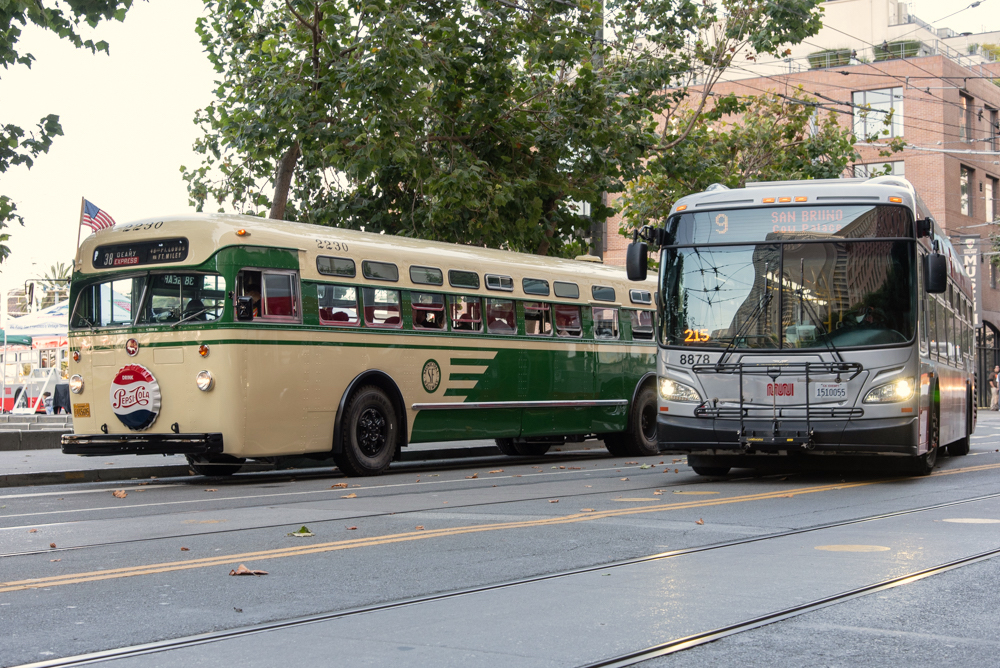 Restored Mack bus 2230 is seen here with a new Muni bus in 2018. Wearing its original Muni "Green and Cream Wings" livery and sporting a 1950s era advertisement on the front, the coach is immaculate inside and out.
Just last year, one Mack coach, No. 2230, made its operational debut at Muni Heritage Weekend. Exquisitely restored by some of Muni's ace bus mechanics (with greatly-appreciated support from Market Street Railway), the bus was out giving free rides for the two-day event. No details were spared in the bus's restoration inside or out. Even period-correct advertisements and passenger signs were recreated for a fully authentic ride!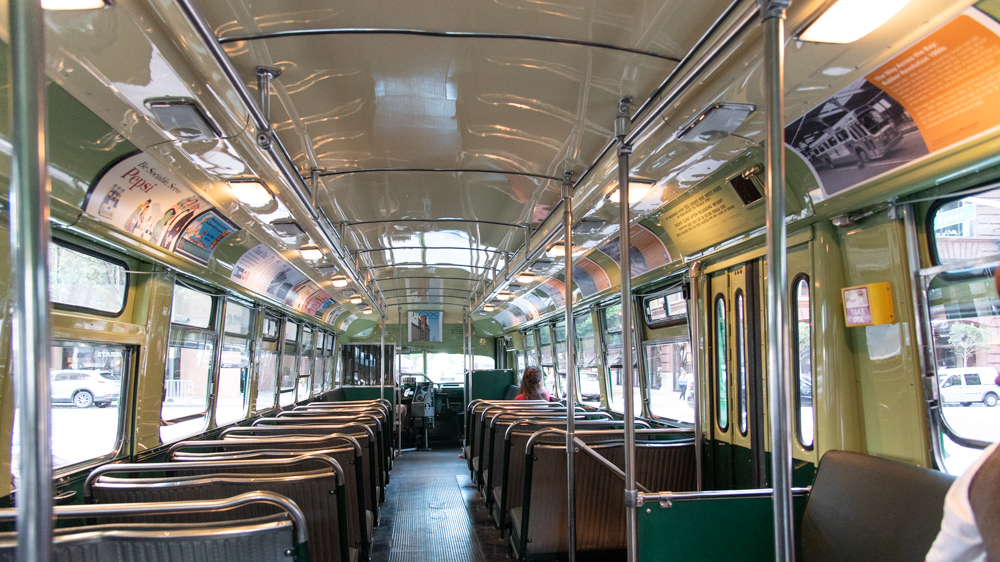 Interior view of restored bus 2230 showing tastefully chromed-out details from seatbacks and stanchions to light bezels and roof panel support bars.
Keep your eyes peeled for this beautiful bus, which is likely to make an appearance again at this years' Muni Heritage Weekend (dates of the event to be announced).
To explore more of SF's transit history through the SFMTA Photo Archive's online galleries and follow us on Instagram.