Elkton Shops Part 2: Green Division and the Start of Muni Metro
Wednesday, November 24, 2021
In part two of our two-part series on one of the city's oldest transit properties, we bring you the history of Muni's Green Division. Green Division, also known as Muni Metro Center, has served as the primary maintenance and repair facility for our rail fleet for over 40 years.
Construction began on Green Division in 1975. This new rail facility would replace Elkton Shops, which was built in 1907. The new shops were built in two phases, first the shop building then the rail yard.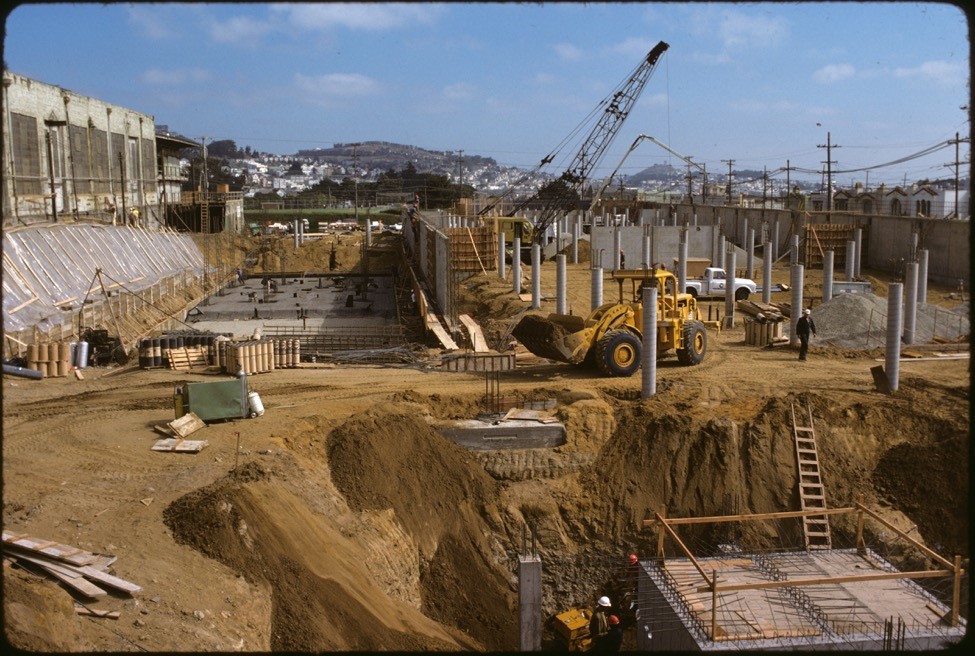 This 1976 photo shows major excavation and concrete work underway for the main shops building of Green Division.  At far left is Elkton Shops built in 1907 by the United Railroads Company.
In phase one of the project, crews demolished the bus yard occupying the eastern half of the property and built a massive new building that would house repair and maintenance shops for a new fleet of Muni rail vehicles. This phase took about two years to complete.
Construction progress on Muni Metro Center in November 1975 shows the main structure of the building taking shape.
By May 27, 1977, the new shop building was completed and employees finished their last day of work in the 70-year-old Elkton Shops. Just a few days later, they moved into a brand-new building and demolition began on Elkton to make way for construction of a large rail yard in phase two of the project.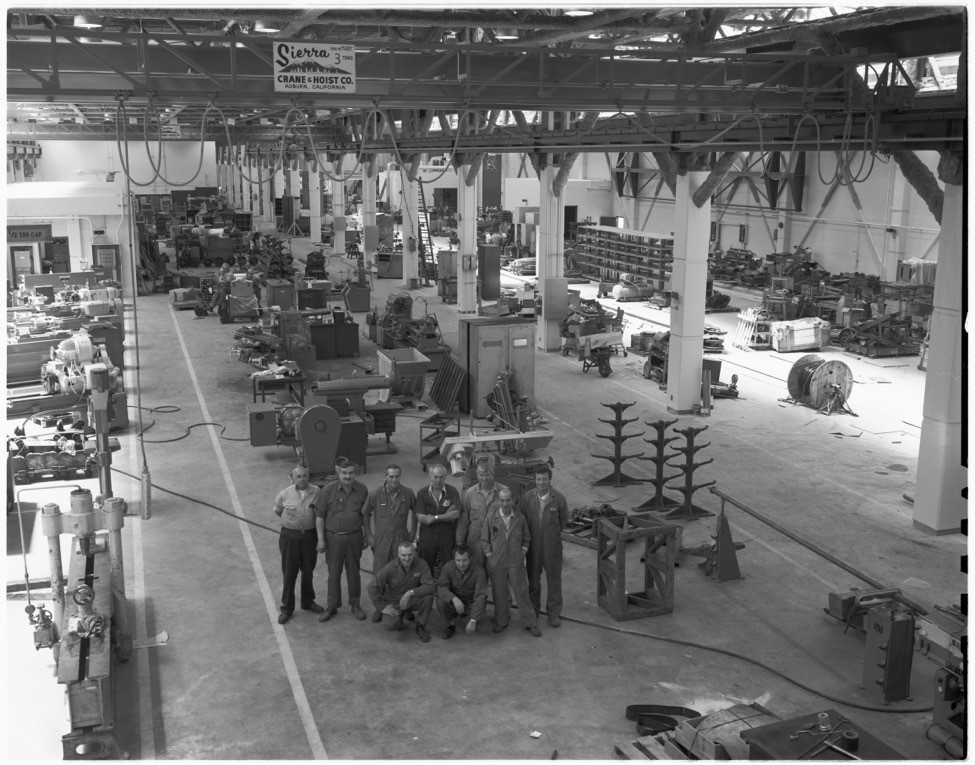 This staff group photo was taken on opening day of Muni Metro Center on June 1, 1977.
Work on the rail yard progressed quickly as Muni was anticipating the arrival of the first light rail vehicles or LRVs, a modernized version of the electric streetcars of the past. The new LRVs were designed and built by the Boeing Vertol company in a joint venture between Muni and Boston's MBTA. The new vehicles would run in the Muni Metro, which combined Muni's surviving streetcar lines with a subway underneath Market Street to create a more integrated rail system.
Work progresses on the rail yard where Elkton Shops once stood in this August 1977 photo.
The arrival of Boeing LRVs came in October 1977 while the rail yard was still under construction. A small crowd of city officials, staff and press celebrated the arrival of the first two cars outside Green Division. In a short time over 100 LRVs would come to form the backbone of all Muni rail lines.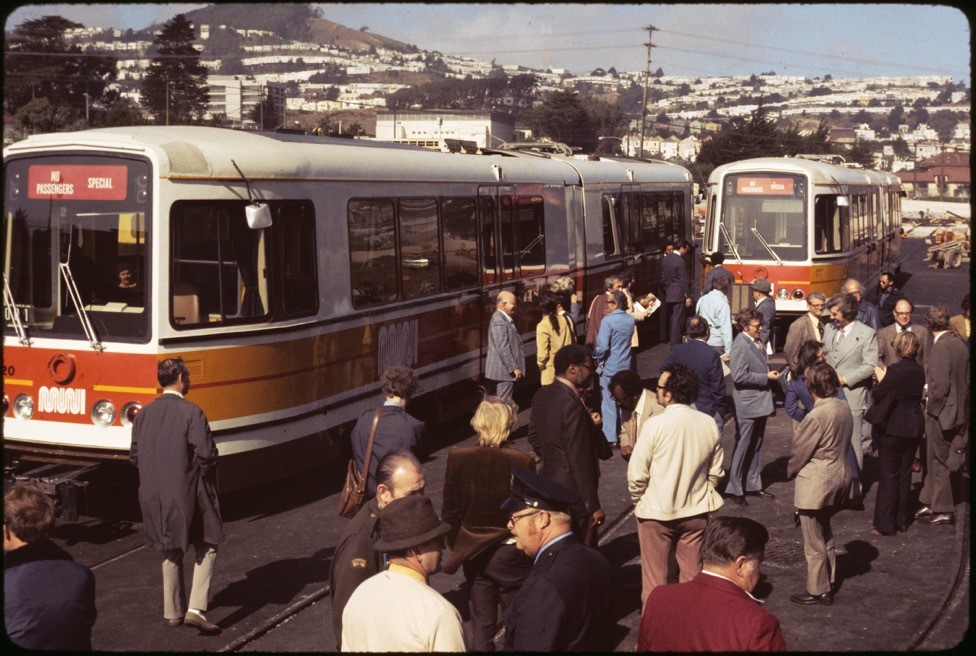 This October 24, 1977 photo shows Muni's first two LRVs on display after arrival from the factory.
On July 11, 1979, Muni Metro Center was dedicated and a new fleet of LRVs waited in the yard to start serving the city. Just one year later, the Muni Metro system and Market Street Subway would open and the railyard's key role in maintaining the new fleet would come into full effect.
This November 1979 aerial shot looking southwest near San Jose and Ocean Avenues shows a newly completed Muni Metro Center and surrounding area.
On May 12, 1987, Muni Metro Center was re-dedicated as the "Curtis E. Green Light Rail Center" in honor of former Muni General Manager Curtis E. Green, who worked his way up from a bus driver to become the first African American appointed head of Muni.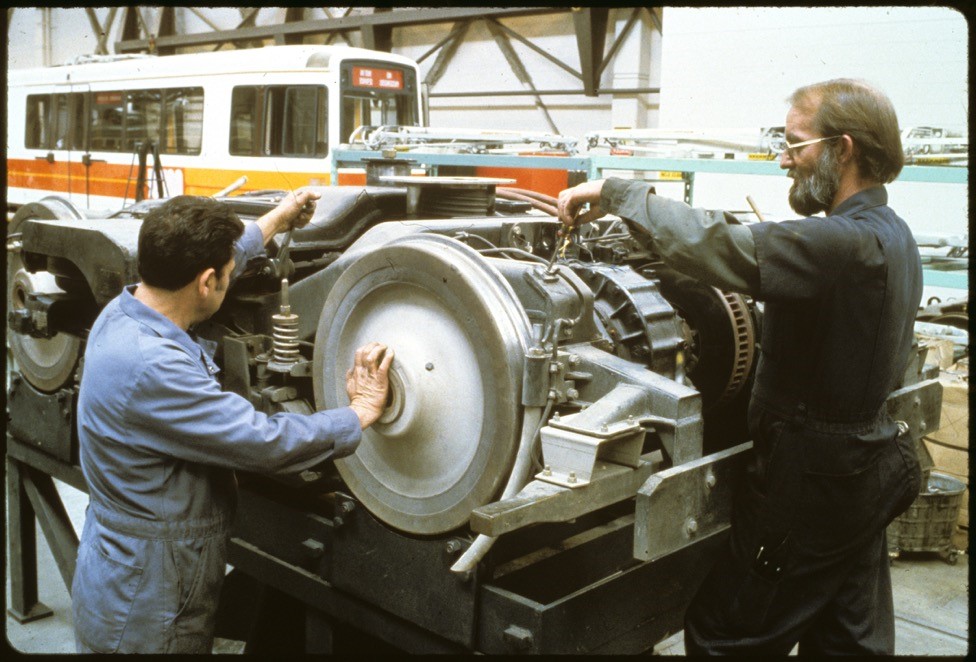 Green Division shop staff work on the truck from a Boeing LRV in this early 1980s photo.
Today, staff at Green Division carry on an over 100-year-old tradition started in 1907 with the United Railroads' Elkton Shops. Working daily performing every job from routine maintenance and inspections to overhauling major components, the shops are critical to moving San Francisco.