Envisioning the Embarcadero: November Workshops Start This Week
Tuesday, November 4, 2014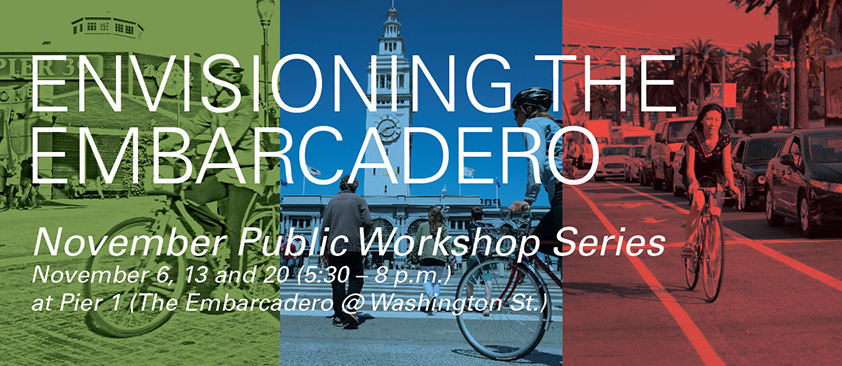 It's no secret that The Embarcadero is one of San Francisco's most popular destinations. When you combine the numerous attractions and sweeping views with its flat terrain, wide sidewalks and lack of cross-streets, it's easy to see why The Embarcadero has become an important gathering space.
But what does come as a surprise is the fact that The Embarcadero is part of the city's "High-injury Network." The High-injury Network is made up of the six percent of city streets that account for 60 percent of severe and fatal pedestrian injuries.
To make The Embarcadero safer and more comfortable for all roadway users, the SFMTA has initiated a planning effort called the The Embarcadero Enhancement Project.
Working with the community we are developing an initial design for a protected bikeway along The Embarcadero from 3rd Street in South Beach to Powell and Jefferson Streets in the Fisherman's Wharf area.
A bikeway is a bicycle facility that is physically separated from the road and the sidewalk. It is expected to improve the safety and comfort of everyone traveling along The Embarcadero by creating separate and clearly defined areas for people walking, biking and driving.
Following a project open house in July, the public is again invited to share their vision for a safer Embarcadero corridor through the November public workshop series.
On the first three Thursdays in November, the SFMTA will host three separate public workshops which will focus on different segments of The Embarcadero (northern, central and southern).
The workshops will take place at Pier 1 (The Embarcadero at Washington Street) from 5:30 to 8 p.m. The first workshop of the series is this Thursday.
Please RSVP for the specific design workshops by using the following links:
We hope you can join us!