Fulton Street Sees Transit and Safety Improvements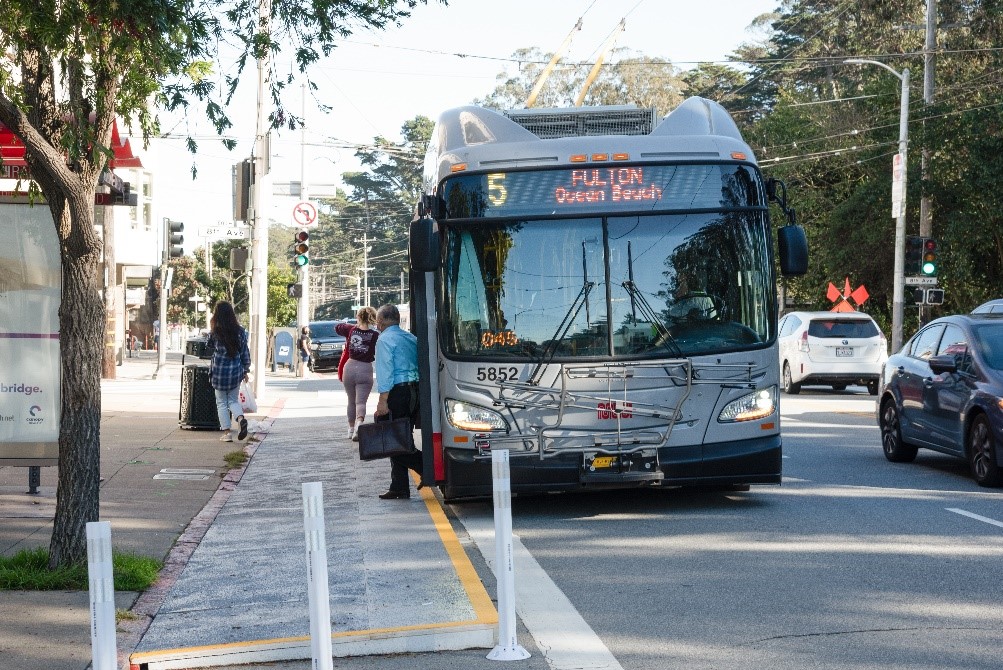 A temporary transit bulb was recently installed at 8th Avenue and Fulton, reducing travel time for the 5 Fulton and 5R Fulton Rapid and making boarding safer.
For those who ride the 5 Fulton or 5R Fulton Rapid in the Richmond District, you may have recently noticed something new about the bus stops on Fulton Street at 6th and 8th avenues. And perhaps you noticed that your bus ride seemed to go slightly faster or with less disruption.
Two new temporary transit bulbs installed at 6th Avenue eastbound and 8th Avenue westbound bring safety and transit benefits to Fulton Street in advance of the planned construction of permanent bulbs and are part of the Fulton Street Safety and Transit Project.
Six permanent transit bulbs between Arguello and 10th Avenue are ultimately planned, which will save time and improve reliability for riders on the 5 Fulton and 5R Fulton Rapid by reducing the time it takes for buses to pull in and out of traffic. The planned bulbs are all located at major entrances to Golden Gate Park, as well as on a stretch of Fulton Street that is part of San Francisco's High Injury Network, the 13% of city streets that account for 75% of severe and fatal injuries. Both Muni riders and people who walk will benefit as the bulbs will expand the waiting area for riders, improve access for people with mobility needs and improve visibility for people walking.
With the installation of these temporary bulbs, we will have completed Muni Forward transit reliability upgrades along the entire route of the 5 Fulton and 5R Fulton Rapid – the first Muni lines to achieve this distinction. The bulbs add to over a decade of improvements to these lines, including:
Installed bus bulbs, traffic signals that stay green longer for buses, and

other Muni Forward reliability upgrades on McAllister and outer Fulton (

2017-2018)

Introduced 60' buses on the 5 Fulton and 5R Fulton Rapid to reduce crowding that will be returning to service soon (2016-2017)

Upgraded and expanded

transit lanes

on Market, Fremont and Beale streets (2014-2021)

Launched the 5R Fulton Rapid, reducing travel times from the Outer Richmond by up to seven minutes (2013)

Made McAllister a two-way street, saving three minutes per trip (2011)

Extended evening service to Transbay Terminal (2009)
Additional safety improvements that have recently been completed on Fulton Street include daylighting (removing parking) at 34 intersections between Stanyan and La Playa streets and the installation of 13 painted safety zones. These enhancements improve visibility for drivers and make it safer for people walking. Soon we expect to install speed radar signs between 38th and 39th avenues and 40th and 41st avenues which will help reduce speeding and improve safety.
The project recently received additional funding with the help of Assemblymember Phil Ting, who secured $1.6 million from the state budget to be used on improvements along Fulton Street. Combined with a Caltrans Low Carbon Transit Operations Program allocation and Proposition K sales tax funds from the San Francisco County Transportation Authority, this funding will allow for improvements that will benefit tens of thousands of Muni riders and make Fulton Street a safer place for people walking.