Animated Map Shows Record Expansion of Transit Lanes
Tuesday, October 26, 2021
An animated map showing the expansion of transit lanes in San Francisco. View as a PDF. Accessible text is available here.
It's been a record year for transit lanes in San Francisco: we've installed nearly 14 miles of new or upgraded lanes since summer 2020. That's the fastest expansion of transit lanes in the city's history. These transit lanes benefit Muni routes that serve nearly two-thirds of current customers. It's all part of our efforts to give transit riders priority on congested streets and improve Muni speed and reliability. Better Muni service means more people will opt to take transit instead of driving, which reduces congestion and supports our environmental goals.
To commemorate this milestone, we've put together an animated map showing the evolution of San Francisco's transit lane network over the last 15 years. We hope you find it as mesmerizing as we do to watch transit lanes expand across the city during this time.
Transit lanes are dedicated to Muni vehicles as well as other buses and taxis in most cases. They help improve Muni's travel time and reliability and protect transit riders from traffic congestion. Red transit lanes were first introduced in San Francisco in 2013 and have proven to be even more effective than non-red transit lanes, leading to about a 50% reduction in violations.
We've been steadily adding to the transit lane network since the 1970s, when the original Transit First Policy was adopted, but the past five years have been especially busy. And as the final map shows, many more transit lanes are fully approved and coming soon, including the much anticipated Van Ness Avenue transit lanes.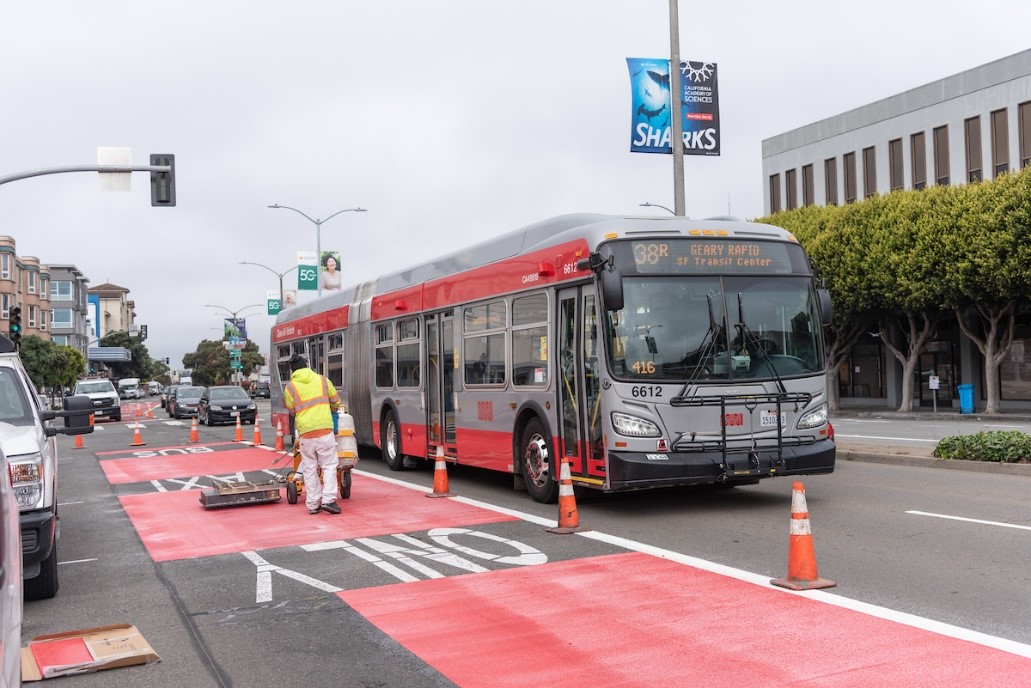 An SFMTA paint shop crew installs new red transit lane on Geary Boulevard
A few highlights to look out for in the map:
Transit lanes on the T Third, installed as part of the line's launch in 2007

The city's first red transit lanes, installed on Church Street in 2013

The major expansion of red transit lanes in 2014, including Geary, O'Farrell, Market, Haight and 3rd streets

The evolution of Market Street in downtown from a short segment of transit lanes in 2006 to full transit lane coverage by 2021

The extension of transit lanes on Geary Boulevard, our busiest bus corridor, in 2018 and 2020 to cover nearly the entire 38 Geary /38R Geary Rapid  lines (with more red paint on its way!)
The upgrading of existing transit lanes on Mission Street in SoMa from part-time to 24/7 in SoMa in 2021 (soon to be upgraded with red paint)
A short but important new transit lane on the 4th Street bridge added in 2021, filling a key gap in the T Third's transit lanes
The record-setting expansion of transit lanes in 2020 and 2021 as part of our Temporary Emergency Transit Lanes program, which benefits nearly half of all current Muni riders
The state's first urban arterial HOV lanes, installed on Lombard Street in September 2021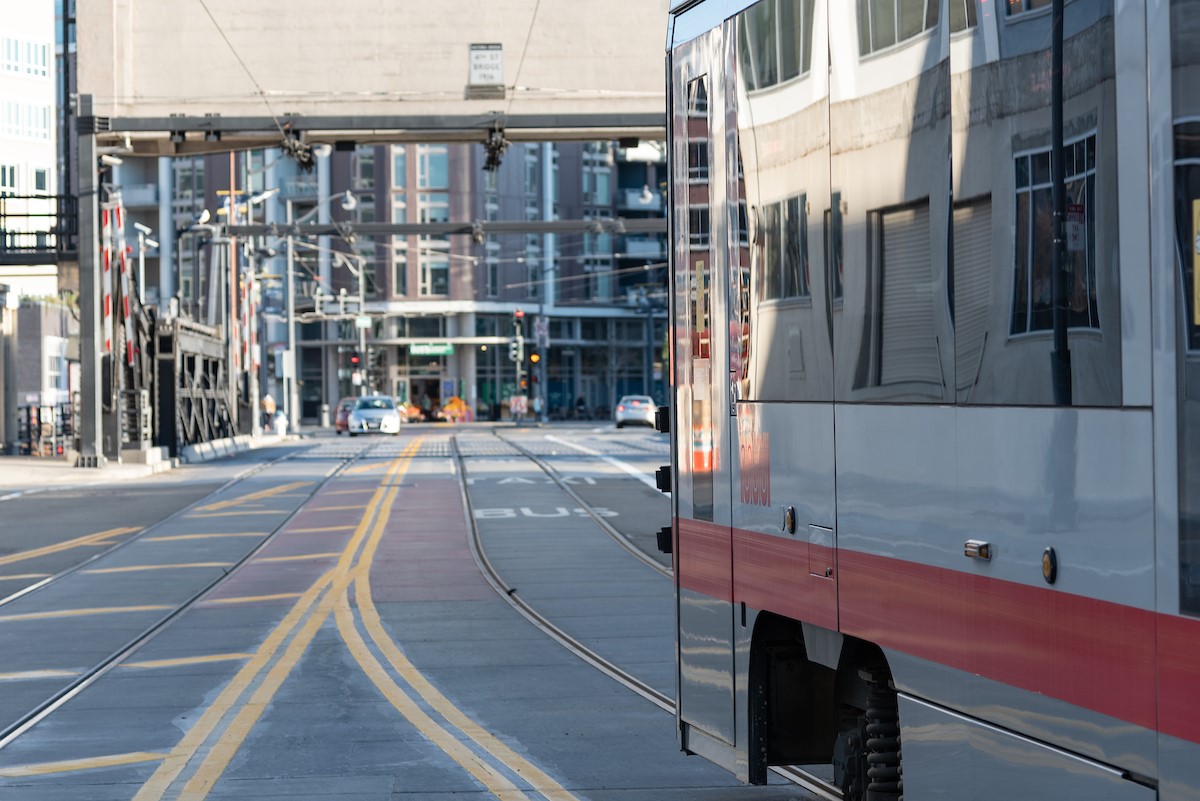 A train crosses a new transit lane on the historic 4th Street Bridge
What's Next
Transit lanes have proven their worth in getting Muni riders where they're going faster yet again this year, and more are on the way. In addition to installing transit lanes that are already approved, we'll be starting outreach on a new round of Muni Forward projects in the coming year to deliver faster, more reliable and less crowded service to Muni customers. These projects will include transit lanes and other transit priority measures that keep Muni moving. Sign up for our Muni Forward mailing list to receive updates about new transit lanes coming your way.
Map Notes
For those who can't get enough detail about transit lanes, here are a few more notes about how we created the map:
We didn't differentiate between one-way and two-way transit lanes on the map, except on Market Street
We included any dedicated lane within a city street as a transit lane, including rail tracks that can't be used by buses. Subways, tunnels and rail rights-of-way that are entirely separate from any roadway (such as the J Church right-of-way through Dolores Park) were not included.
We included HOV lanes on Lombard that serve the 28 19th Avenue bus line, but didn't include a short stretch of HOV lane on Bryant Street because it's not used by transit
In a few cases, transit lanes go away temporarily during roadway construction, such as on 4th Street for the Central Subway. In rare cases, transit lanes are removed because transit is rerouted to a new street, such as the transit lane on Harrison Street that served the old 12 Folsom route before it was eventually rerouted a block north to Folsom Street.
Not all approved Temporary Emergency Transit Lanes on the 43 and 44 lines are shown, as we're monitoring transit performance to help us determine when to move forward with these lanes. Learn more on the 43 Masonic and 44 O'Shaughnessy Temporary Emergency Transit Lanes webpage.