Halloween Weekend is Close at Hand
Wednesday, October 26, 2016
With Halloween falling on a Monday, it will certainly be an unofficial three-day weekend filled with ghosts, ghoulies, zombies, witches and more. Children of all ages will be taking to the streets looking to fill their goody bags with sugary treats. The festivities get started Friday in UN Plaza at 5 p.m. with the final Art Night SF of the year. Be sure to check out the Halloween Guide to see what's going down this weekend. While the Halloween atmosphere should be a festive affair, the San Francisco Police Department has provided some safety tips to ensure that everyone has a fun and safe adventure.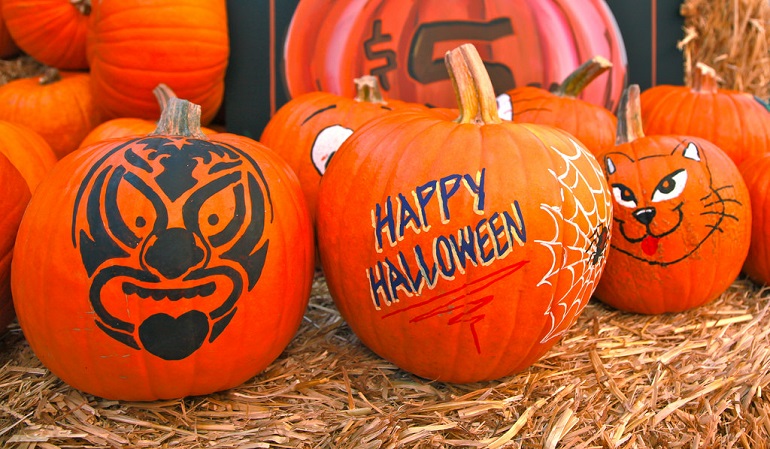 Halloween pumpkins set up in the Castro on October 6, 2013. Photo credit: torbakhopper/Flickr.
Ghost Ship Atlantis
Friday and Saturday, 9 p.m. to 4 a.m.
Dogpatch
Now in its ninth year, the Ghost Ship Atlantis "docks" at Pier 70 for its two night pre-Halloween extravaganza. This year local artists and volunteers will transform Pier 70's three story interactive mezzanine into a special VIP Experience with views of the main and second stages featuring DJs and live bands. Paid admission is required and attendees must be at least 21 years of age.
While the Ghost Ship may not be for kids, there will be Sneak Peek Trick or Treat on Saturday afternoon from noon to 5 p.m. which is free to the public and very much family friendly. Activities will include a Ferris wheel, a bouncy house, face painting and more.
Parking in the area may be limited so consider using Muni's T Third, 22 Fillmore or the 48 Quintara/24th Street.
Muni service note: There are no planned service adjustments, but routes may see minor delays due to increased ridership.
Day of the Dead Procession
Next Wednesday – 11/2, 7 p.m.
Mission District
Coinciding with All Souls' Day, Dia De Los Muertos (Day of the Dead) is a tradition of remembering and honoring family members and dear friends that have passed away. This year's procession will honor the memories of a number of individuals including the victims of the Orlando nightclub shooting, public servants who died in the line of duty, and legendary Mexican singer and composer, Juan Gabriel. In addition to the procession, there is the Festival of Altars at Garfield Square from 4 to 11 p.m.
The procession will take place in the heart of The Mission District commencing at 7 p.m. from Bryant and 22nd streets moving up 22nd Street then across Mission Street down 21st Street and back to Bryant Street.
Whether you're heading into the Mission District to view or participate in the procession, you can take the 12 Folsom/Pacific, 14 Mission, 14R Mission Rapid, 27 Bryant, 48 Quintara/24th Street, 49 Mission/Van Ness, 67 Bernal Heights routes or BART to 24th Street station.
Muni service note: due to the procession route and the large number of anticipated participants, the 12 Folsom/Pacific, 14 Mission, 14R Mission Rapid, 27 Bryant, 48 Quintara/24th Street, 49 Mission/Van Ness and 67 Bernal Heights will be affected.
Temporary J Church and K Ingleside Service Changes Reminder:
Due to Balboa Park Station Area and Plaza Improvement construction work, there are now temporary stop changes in effect for the J Church and K Ingleside lines at Balboa Park Station. These stop changes will be in place through the end of the year. For details, please read our September 1 blog post.
Daylight Saving Time Reminder:
We fall back one-hour next Sunday, Nov. 6 as Daylight Saving Time ends at 2 a.m. While most smart phones will make the time adjustment automatically, don't forget to wind those watches and clocks back one-hour.
On Tap for next weekend: Golden Gate Half Marathon and Veterans Day Parade
"On Tap" gives you a heads up about the big events in town and what Muni routes and lines will get you to the party. Look for this feature to be posted usually on Wednesdays for a look ahead to the weekend. Check out our Weekend Traffic & Transit Advisory for more details.