Initial Muni Forward Improvements Well Underway on Taraval Street
Tuesday, February 21, 2017
Over the past month, we've been rolling out the initial Muni Forward safety treatments along Taraval Street as part of the L Taraval Rapid Project. Despite the ongoing rain, we've made progress on every component, including the "clear zones," upgraded boarding zones and transit-only lanes.
Here's a look at our progress on Taraval so far.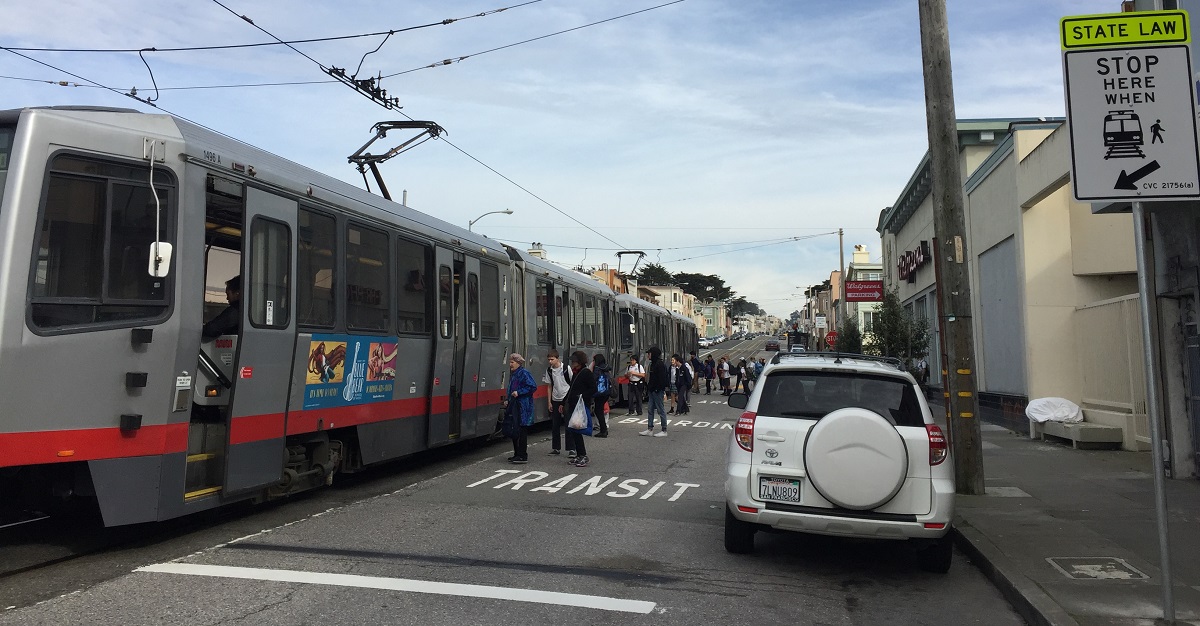 Pilot boarding zone upgrades on Taraval at 40th Avenue.
Six-Month Boarding Zone Pilot Upgrades
We're happy to report we've finished installing boarding zones as part of the six-month pilot project designed to get drivers to stop behind loading trains. With street markings, signs and other initial measures, we hope to increase the rate of drivers who stop from 70 percent to 90 percent. Safety is our top priority, and if these measures don't meet that goal, we plan to install concrete boarding islands.
The pilot locations include Taraval at 26th, 30th, 32nd, 35th and 40th avenues. We expect to officially kick off the six-month pilot evaluation in March.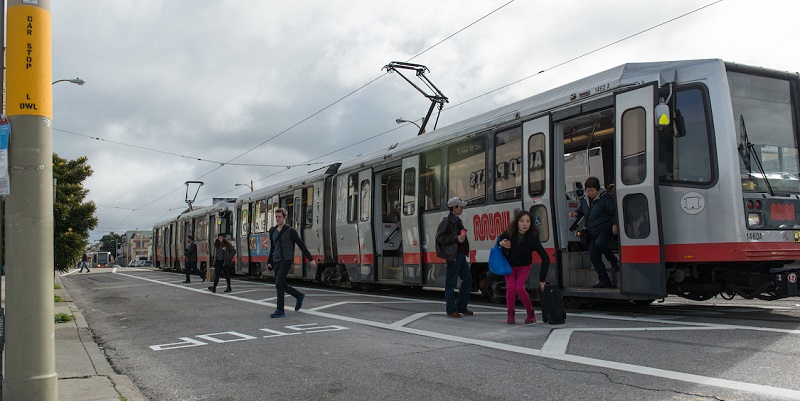 Passengers alight from a Muni train in a clear zone.
Clear Zones
We've installed "clear zones" at outbound L stops on Taraval at 30th, 32nd and 40th avenues, and at 42nd and 44th avenues in both directions.
Clear zones provide separation between the track lane and the traffic lane, giving riders a safe space to step off Muni. Boarding islands will replace these clear zones as part of the street reconstruction in 2018.

A driver stopped behind a loading Muni train at a newly-striped boarding zone pilot location on Taraval at 40th Avenue.
How to Treat Clear Zones and Pilot Boarding Zones
Drivers: At every Muni stop with a clear zone or pilot boarding zone, drivers are required to stop behind a train while the doors are open. At pilot boarding zones, once a train has closed its doors, you may drive over the marked "transit boarding area." However, clear zones are intended to divert drivers to the far right lane near the curb, so make sure not to drive over the chevron striped area.
Muni Riders: The clear zones and pilot boarding zones are intended to keep you safe while getting on and off Muni. However, please make sure not to stand and wait in them.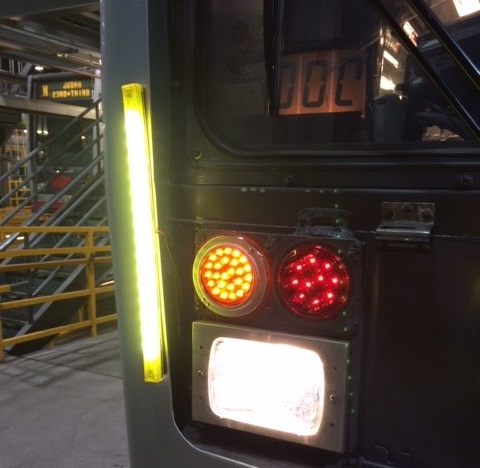 Flashing Lights on the Back of Muni Trains
To complement the boarding zone pilot measures, we're installing flashing lights on the back of Muni trains to provide a more visible signal to drivers when a train has stopped to load passengers. We expect to have the first flashing lights installed by the end of the month.

SFMTA crews installing transit-only lanes on Taraval between 42nd and 43rd avenues. 
Transit-Only Lanes
We've completed the first few blocks of transit-only lane markings on Taraval in both directions between 45th and 42nd avenues, and continue to extend them eastward to 15th Avenue. As a reminder, the impacts of these lanes will be evaluated for a year to identify any necessary adjustments or mitigations.
What's In Store This Week
This week, we plan to continue installing the transit-only lanes on Taraval eastward from 42nd Avenue. We're also aiming to stripe the remaining clear zones at 19th and 26th avenues, and finish installing all painted safety zones at 20th, 21st, 22nd, 24th, 33rd and 38th avenues. On Saturday, eight L stops will also be removed to make the distances between stops similar to those on lines like the N Judah.