Labor Day Weekend: Concert at AT&T Park and BART Station Closure
Wednesday, August 31, 2016
Holiday Service Schedule and Enforcement Reminder:
This Monday, Labor Day, Muni will operate on a Sunday schedule.
Also on Monday, seven-day street sweeping and parking meters (including those meters on Port of San Francisco property) will be enforced. Residential permit, Monday through Friday street sweeping, and commuter tow away areas will not be enforced. For complete details visit the holiday enforcement schedule webpage.
Regional Transportation Reminder:
During the Labor Day holiday weekend, BART closures between Daly City and Glen Park stations will be in effect from Saturday through Monday. This project runs until October 16. Muni will be providing free bus shuttles and extra service on the J Church, 14R Mission Rapid, and 49 Van Ness/Mission. For details, check out our July 18 blog post.
Event: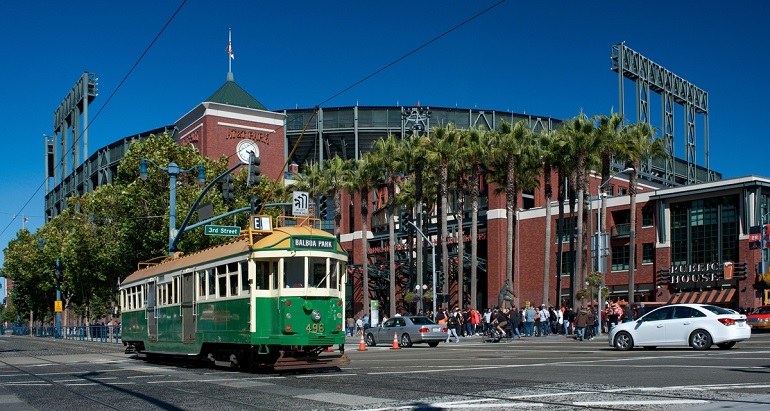 Northbound E Embarcadero Line streetcar passing AT&T Park on August 26, 2012. SFMTA Photo Archive
San Francisco Fest 2016
Sunday, 3 p.m.
AT&T Park
Once upon a time the Oakland Coliseum was the setting for series of popular midday concerts called "Day on the Green." The brainchild of legendary promoter Bill Graham, these concerts featured a who's who of the music world, including the likes of the Eagles, Led Zeppelin and the Rolling Stones, thrilling Bay Area fans for almost two decades.
Looking to recapture a little bit of that old concert magic, San Francisco Fest 2016 On The Green brings together five acts with Bay Area connections: Santana, Journey, Tower of Power, the Steve Miller Band and the Doobie Brothers for an afternoon of great music in what is arguably the best looking baseball stadium in the country, AT&T Park. Linking the present with the past, together these groups played on 12 of Graham's "Day on the Green" shows.
If you're planning on heading out to the show, buy your fare in advance with MuniMobile and let Muni take you to AT&T Park. Service on the N Judah, T Third, E Line, 10 Townsend, 30 Stockton, 45 Union/Stockton, and 47 Van Ness will get you to or near 24 Willie Mays Plaza.
For complete details on taxis, biking, and parking visit our service alert page.
Muni service note: Muni Metro will provide addition ballpark shuttle trains to assist fans with both pre- and post- concert service. Patrons should expect minor service delays near the ballpark due to heavier pedestrian and vehicle traffic.
On Tap for next weekend: Chinatown Moon Festival, Sunday Streets: Western Addition, Ghirardelli Chocolate Festival, and the Giant Race.
"On Tap" gives you a heads up about the big events in town and what Muni routes and lines will get you to the party. Look for this feature to be posted usually on Wednesdays for a look ahead to the weekend.