Making Muni Heritage History – In Photos
Thursday, September 29, 2016
In celebration of the Muni Heritage festival this past weekend, a plethora of vintage buses and rarely-seen streetcars and cable cars made historically significant trips around San Francisco. Here's a photo look-back at the fun-filled event, which marked the 75th anniversary of Muni's electric trolley coaches.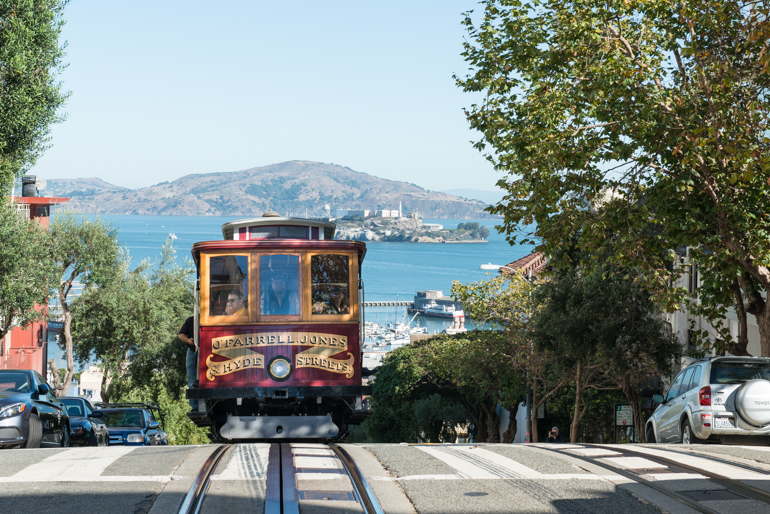 Cable Car 42, marked for the O'Farrell, Jones and Hyde Line, crests the Hyde Street hill at Chestnut Street on September 24, 2016.
Kicking off the day on Saturday, former California Cable Railroad Company Cable Car 42 rolled the clock back 62 years by taking a special trip over the Hyde Street hill, a voyage it's not done since the line was changed in 1954.

Trolley Coach 506, which arrived in 1941, on static display with 1970s Flyer Coach 5300, which ran loop service on the R Howard/41 Union, Muni's first electric trolley bus route.
In addition to Car 42's special run, vintage Muni Trolley Coaches 776 and 5300 offered free rides on a "throwback" loop of Muni's first trolley coach route, the R Howard.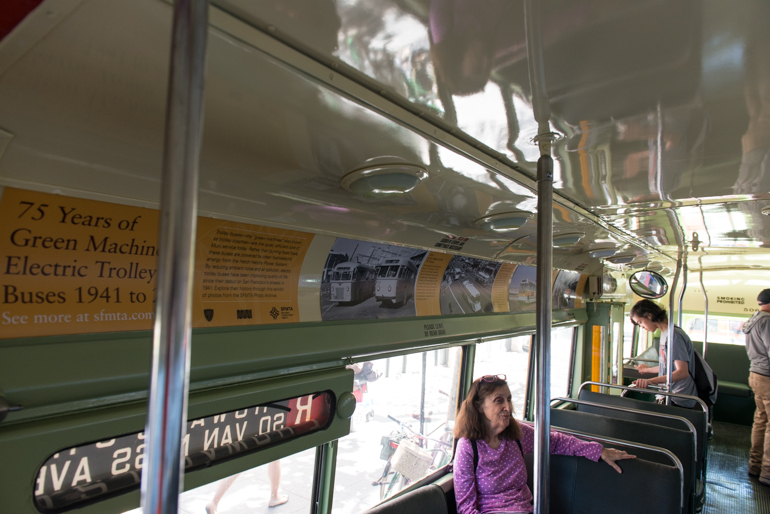 Photo cards installed in Coaches 506, 776, and 5300 told the story of Muni's 75 years of electric trolley buses.
For those who wanted to dig a little deeper into Muni history, we featured a special SFMTA Photo Archive exhibit inside historic trolley coaches, including #506 -- one of Muni's first.

Muni's 1938 White Motor Company coach #042 on layover at Steuart and Mission streets. This bus is not painted orange and black to wow Giants fans or to celebrate Halloween, but wears the same color scheme as when it first operated on the streets of San Francisco​.
We also had a surprise visit from Motor Coach 042, which has been out of commission for the past two years, but was revived to provide free loop service through Union Square along with Muni's 1969 GMC coach 3287.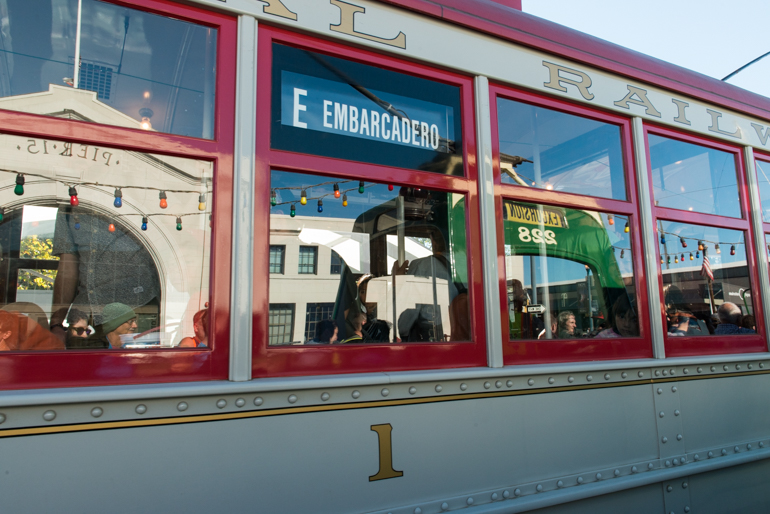 "Boat Car" 228 is reflected in the windows of Muni's Streetcar 1, which ran service on the E Embarcadero. Free trips were enjoyed by many on the open-air boat car in the beautiful early fall sunshine.
Many thanks to all the visitors who came out to make this year our biggest and busiest. And huge thanks to all the Market Street Railway volunteers and SFMTA staff – including organizers and Muni operators, inspectors and mechanics – who made this event go off without a hitch.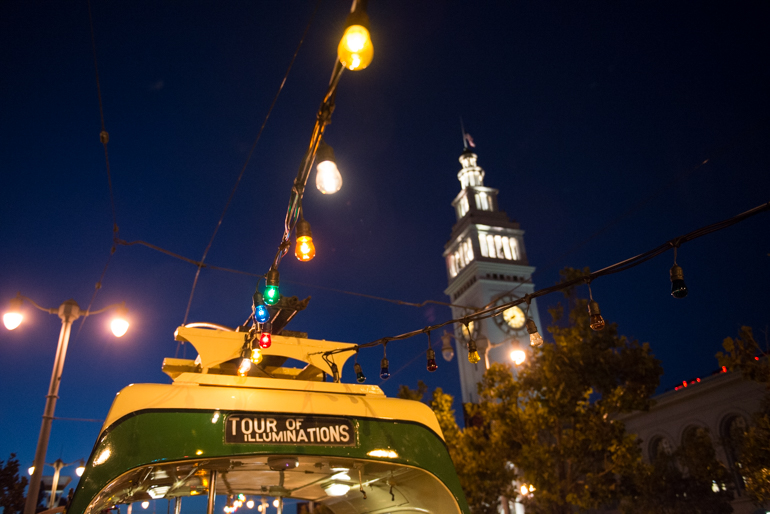 Streetcar 233, Muni's second "boat tram", passing the Ferry Building at the end on the evening on Thursday, Sept. 22. This car was out for a special charter trip to honor SFMTA Board of Directors' Chair Tom Nolan and to kick off the weekend festivities early.
If you missed the action, see the full set of photos at the SFMTA Photo Archive website and follow us on Twitter and Instagram to see all the great #MuniHeritage posts!