Thursday, January 11, 2018
Today, the SFMTA joined San Francisco Beautiful and Supervisor Sandra Fewer on the Polk Street steps of City Hall to kick-off the third year of Muni Art. For the first time the project collaborated with the Poetry Society of America's Poetry in Motion® for the theme "The Art of Poetry in San Francisco". The five winning local artists and poets will have their original work displayed on 100 Muni buses beginning January and running through April, 2018.

Featured artists and attendees of the launch event look at work installed in a Muni bus.
The 2018 Muni artists are:
Donavon Brutus
Mara Hernandez
Tsungwei Moo
Randi Pace
Janet Rumsey
For more info on the artists and their work, go to: sfbeautiful.org/muniart
---
The five local poets and poems are:
Juan Felipe Herrera – "Thich Nhat Hanh I Step With You"
Diane di Prima – "To a Student"
Kay Ryan – "Relief"
Brynn Saito – "Traffic"
Charif Shanahan – "Love Poem Three Autumns Later"
---
In addition to artistically interpreting the five poems, each artist has three additional panels to reflect the 2018 theme that will line both sides of the bus interior display space.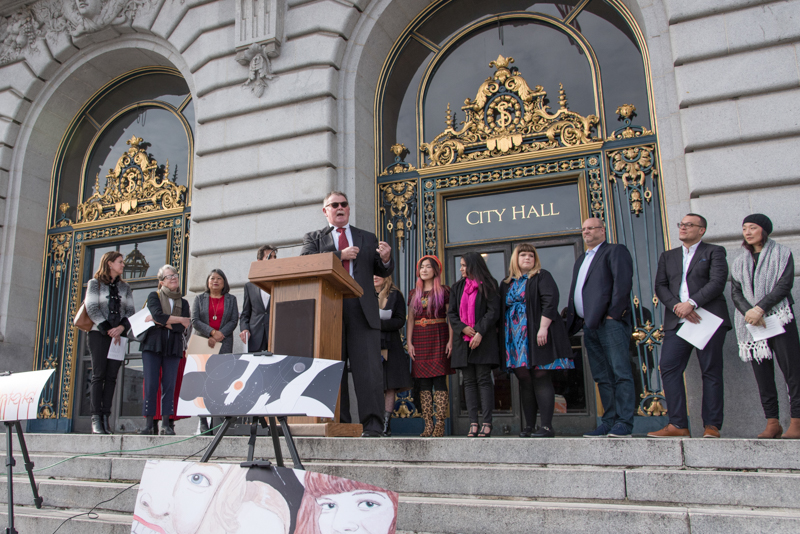 SFMTA Director of Transit John Haley congratulated the artists at today's press conference.
City leaders joined local artists in a celebration that will culminate in local art being showcased on Muni buses crossing the city--- a moving museum of sorts.
"The SFMTA is committed to improving the customer experience and this program makes for a pleasant riding experience," said Ed Reiskin, SFMTA Director of Transportation. "From new vehicles rapid routes and increased service, to art and poetry, we're doing everything we can to make the ride more enjoyable."
Supervisor Fewer, who is co-hosting the event said, "I am thrilled to co-host the kick-off of Muni Art 2018, and be a part of bringing vibrant visual arts and poetry to San Francisco's public transit riders.

SF Beautiful Director Darcy Brown spoke about the Muni Art program.
This year, the Muni Art program is funded by members of San Francisco Beautiful, AT&T, the Wilsey Foundation, the Zellerbach Family Foundation and the Union Square BID. Muni Art is in its third year. For more details on the final five winners of the Muni Art Project, visit sfbeautiful.org/muniart.