Muni Fare Increases Coming July 1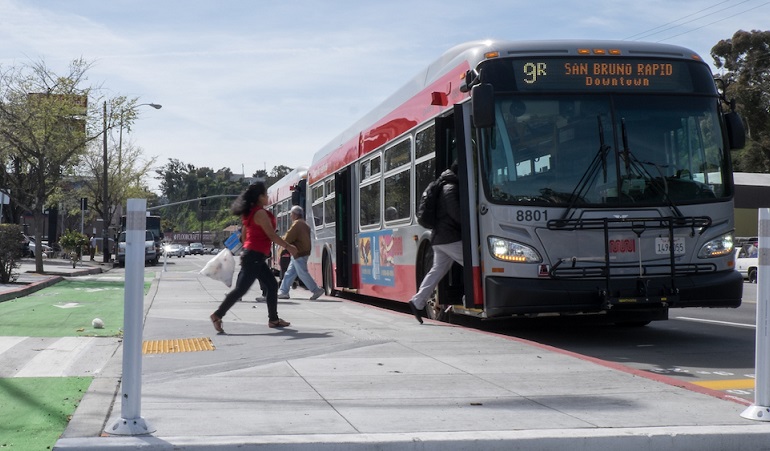 A 9R San Bruno Rapid Muni bus at a stop with a new bus boarding island on Bayshore Boulevard at Flower Street.
Starting July 1, Muni fare rates will increase for single-trip fares, by up to 25 cents, and for monthly passes, by up to three dollars.
| | | |
| --- | --- | --- |
| Single-Trip Fares | Current | July 1, 2017 |
| Regular Adult: Cash and Limited-Use Tickets (from Metro station machines) | $2.50 | $2.75 |
| Regular Adult: Clipper Card and MuniMobile App | $2.25 | $2.50 |
| Discount* Adult: Cash and Limited-Use Tickets | $1.25 | $1.35 |
| Discount* Adult: Clipper Card or MuniMobile App | $1.00 | $1.25 |
| | | |
| --- | --- | --- |
| Monthly Passes | Current | July 1, 2017 |
| Adult "A" Monthly Pass (Muni + BART within San Francisco) | $91.00 | $94.00 |
| Adult "M" Monthly Pass (Muni only) | $73.00 | $75.00 |
| Adult Lifeline Monthly Pass (Low income) | $36.00 | $38.00 |
| Discount* Monthly Pass (Muni only) | $36.00 | $38.00 |
*Discounted rates are available for youth (5-18), seniors (65+), people with disabilities and Medicare recipients.
Paratransit fares will have similar increases, but rates will remain the same for single-trip cable car fares and multiple-day Muni Passports. All fare changes can be found on our Fares and Passes webpage.
While nobody loves to pay more, Muni fares must keep pace with rising costs and inflation to keep the system working safely and efficiently. To help ensure regular, lower fare increases, fare rates are adjusted by a formula every year under our Automatic Fare Indexing Policy, and approved by the SFMTA Board of Directors as part of the fiscal year budget.
Making Muni Faster, More Reliable and Equitable
The previous set of fare changes in January were an exception to the automatic fare indexing rule. In that case, we introduced changes to fare policies, including a 25-cent discount for single-trip Muni fares paid with a Clipper card or the MuniMobile app to encourage faster, cash-free payments. Like a growing number of transit agencies, we introduced that discount to help Muni vehicles spend less time boarding at stops. Unlike any other major American transit system, we also launched all-door boarding toward that end in 2012, which both made Muni trips faster and increased fare payments.
A reminder to all Muni riders: Clipper and MuniMobile are the quickest, most convenient ways to have your fare at hand. And once you get your Clipper card, be sure to register it and set up autoload payment so you never have to worry about refilling it.
To help ensure that Muni is accessible to the disadvantaged communities that depend on it, we've continued to expand and promote our free and discounted Muni fare programs (we're investing $21 million in them this current fiscal year alone). And last February, our Board of Directors de-criminalized fare evasion for youth, which was enabled by a change in state law we successfully advocated for.
All revenue from Muni fares goes toward making your Muni ride safer, quicker and smoother. As part of Muni Forward, since 2015 we've launched the biggest expansion in service since the 1970s and upgrades like red transit-only lanes. And a new generation of quieter, more reliable Muni vehicles continues to roll out on the streets – new diesel buses, electric trolley buses and, later this year, new Metro trains.