Muni Heritage Weekend: 100 Years of Muni Buses and the J Church
Tuesday, September 5, 2017
Muni history comes alive once again this weekend as we and the San Francisco Railway Museum roll out some of San Francisco's most unique and rarest vintage vehicles. Muni Heritage Weekend is this Saturday and Sunday, Sept. 9 and 10, from 10 a.m. to 5 p.m.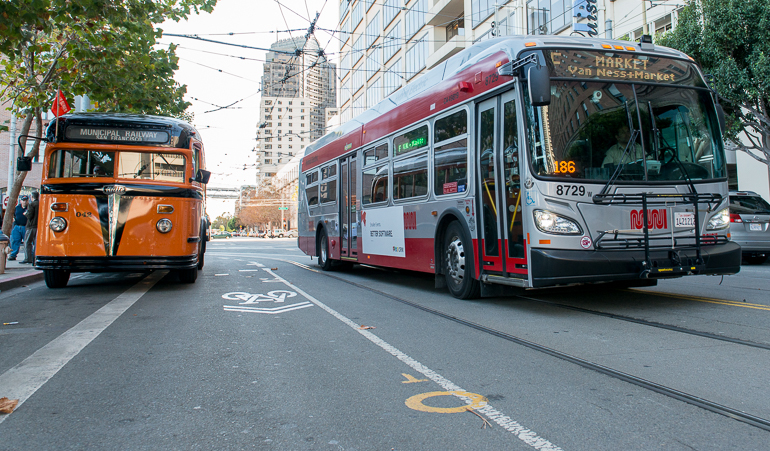 Muni Heritage Weekend features free rides on historic buses and streetcars that are not usually in service ― a rare opportunity to experience Muni history firsthand.
For the sixth annual event, we'll celebrate the centennials of the J Church rail line and the start of Muni bus service. To live it up for these grand milestones, we're bringing out some of our most charming vintage vehicles for free rides, fun activities and exhibits at the SF Railway Museum at 77 Steuart Street, just across The Embarcadero from the Ferry Building.
Historic Streetcar Rides on the J Church
The J Church got its start on Aug. 11, 1917, and to celebrate the line's 100th birthday this weekend we'll run historic streetcars, including Streetcar 1, Muni's very first streetcar from 1912, on the J's original route from the Ferry Building down Market Street through Dolores Park to Church and 30th Streets. Don't miss your chance for a special ride along one of Muni's most scenic lines.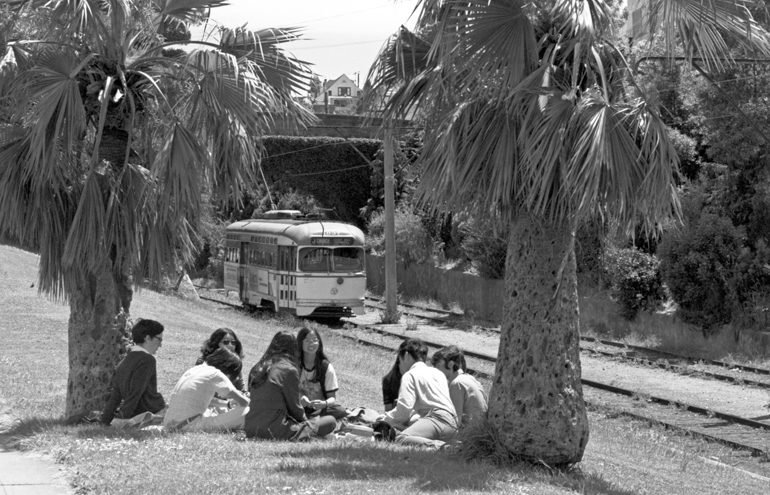 In this 1972 photo from the SFMTA Photo Archive, a historic streetcar passes by San Franciscans enjoying Dolores Park.
Historic Buses Out for Rides and Display
To honor 100 years of Muni bus service, which launched with Muni's first bus route on Sept. 1, 1917, we're rolling out several vintage buses in a rainbow of past colors and styles. On display across from the Railway Museum will be a 1957 Mack bus currently undergoing restoration (for display only – sorry, no boarding), as well as one of our newest New Flyer hybrid-electric buses, which you'll be able to board to enjoy a must-see photo exhibit on Muni's bus history. Additionally, retro coaches from the 1930s to 1990s will be in service on special excursion routes to North Beach and back.

Catch a ride on a retro Muni bus just like this maroon and gold one at Muni Heritage Weekend. The image above was taken on the 38 Geary Route in 1969.
In addition to vintage buses, the ever-popular open-top "boat" tram will cruise The Embarcadero, as will the "dinky" Streetcar 578, one of the oldest operating streetcars in the country. Several other vintage streetcars are slated to be out in addition to those that regularly run on the F Market and E Embarcadero lines. Check out our Muni Heritage Weekend page for full details.
Grab your family and friends and come on down for one of San Francisco's most fun and unique weekends of the year. Connect with us on Instagram and Twitter by posting with the hashtag #MuniHeritage, and check out more historic photos from the SFMTA Photo Archive online.