Muni Keeps Moving Forward: More Service Improvements Launch April 23
Wednesday, April 13, 2016
One year after Muni's biggest service increase in decades, we're proud to roll out a fourth round of service improvements on April 23.
These Muni Forward improvements will reach customers in every corner of the city with:
More frequent service on 18 lines
 
Expanded service hours on eight lines
 
New BART connections on two routes
 
Two new Owl routes to expand 
More frequent service
We're increasing frequency on Muni lines of all sorts — from Muni Metro to community connector routes.
More weekend service on all Muni Metro (J, K, L, M, N & T) lines:
Saturday service increased to every 10 minutes
Sunday service increased to every 12 minutes
Service increases on the following bus routes (full details here):
1 California
2 Clement: Extra electric trolley bus service along Sutter Street, to California Street and Presidio Avenue
6 Haight/Parnassus
7 Haight/Noriega
10 Townsend
12 Folsom
28 19th Ave
31 Balboa
35 Eureka
37 Corbett
Expanded hours for Rapid and express routes
We'll also extend weekday service hours on our Rapid and express routes that whisk San Franciscans across the city:
14 Rapid​: All-day service to Daly City BART (currently peak only)
28R 19th Avenue Rapid: Will run Monday through Friday, 7 a.m. to 7 p.m.
Richmond Express routes: Service until 7 p.m. on the 1AX, 1BX, 31AX and 31BX.
30X Marina Express: Service extended to 7 p.m., bigger buses for more capacity and  stop consolidation along Chestnut Street for a faster trip.
57 Parkmerced: Service will begin at 5 a.m.
E Embarcadero: This weekend-only historic streetcar line, launched last year, will now provide service on weekdays from 10 a.m. to 7 p.m.
Improved route alignments
We're also adjusting a few Muni routes to enhance BART connections and north-south trips in the western neighborhoods.
18 46th Ave.: Minor change to outbound route turning from Sloat Blvd. onto Skyline Blvd. (instead of Sunset Blvd.) to better serve the Janet Pomeroy Center.
28R 19th Ave. Rapid: Major change – new northern terminal at California and 6th Ave.; southern extension via Balboa Park BART and Mission St. at Geneva Ave.
35 Eureka: Extension to Glen Park BART station via Chenery St.
New Owl routes
We're not done yet. Two new Owl routes will provide customers All Nighter service every 30 minutes along portions of the 44 O'Shaughnessy and the 48 Quintara-24th Street.
The 44 Owl will run between Glen Park BART to its current terminus in the Bayview.
The 48 Owl will run between Noe Valley and its current terminus on 3rd Street.
There is one last public comment opportunity for the new Owl service when it comes before our Board of Directors on Tuesday, April 19 for final legislative approval.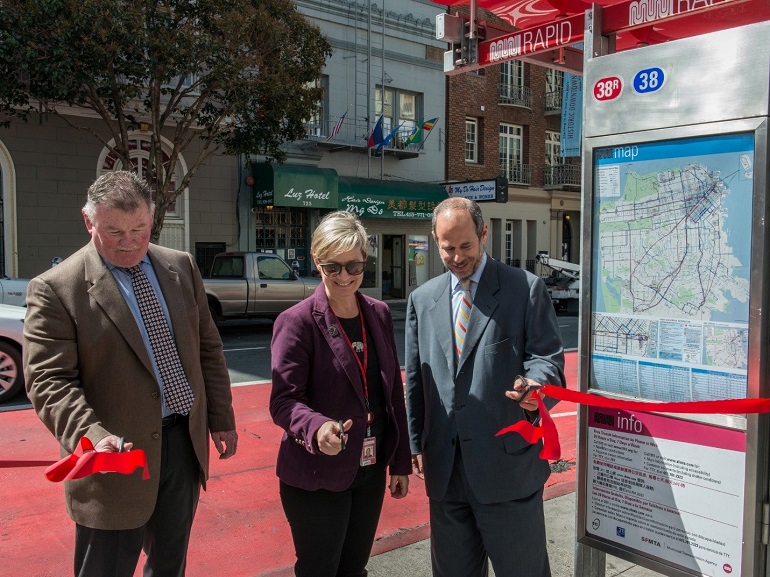 SFMTA Transit Director John Haley, Board Member Cheryl Brinkman and Director of Transportation Ed Reiskin unveil the new Muni map and the Rapid Network branding in April 2015.
Happy one-year anniversary to Muni's Rapid Network
It was one year ago that we launched our Muni Rapid Network, our new Muni map and the first of our new 60-foot buses.
Since then, we've ramped up our efforts to roll out more service and transit-priority street designs – and we're seeing results. Our on-time performance is up, especially on our Rapid Network and routes that have seen service increases in the past year. At the same time, crowding is going down on some of our busiest bus routes. And the most exciting part? There's plenty more coming for Muni Forward.
We're proud to fulfill the promise we made in March 2014 when our Board of Directors approved our plans for Muni Forward (then known as the Transit Effectiveness Project). With this latest push, we'll hit our target of delivering a 10 percent service increase by 2016.
Of course, we're eager to hear what you think about all of these improvements – let us know at TellMuni.com.