Muni's Unsung Heroes of Black History
Thursday, February 27, 2020
Black History Month is a great opportunity to tell big important stories, but also to highlight the smaller, less noted stories of everyday people. This week, we're looking back through Muni history at a few people whose day-to-day achievements may not have made headlines but whose contributions nonetheless made a difference to breaking down racial barriers in San Francisco's transit industry.
In September 1950, Muni started the "Courtesy Citation" program to honor the hard work of Muni operators. Operators who received commendations from the public would be recognized in the railway's newsletter and entered into the running for "Muni Man of the Month", an award that brought greater recognition in the form of a $50 check and a special card featuring the winner's photo inside Muni vehicles.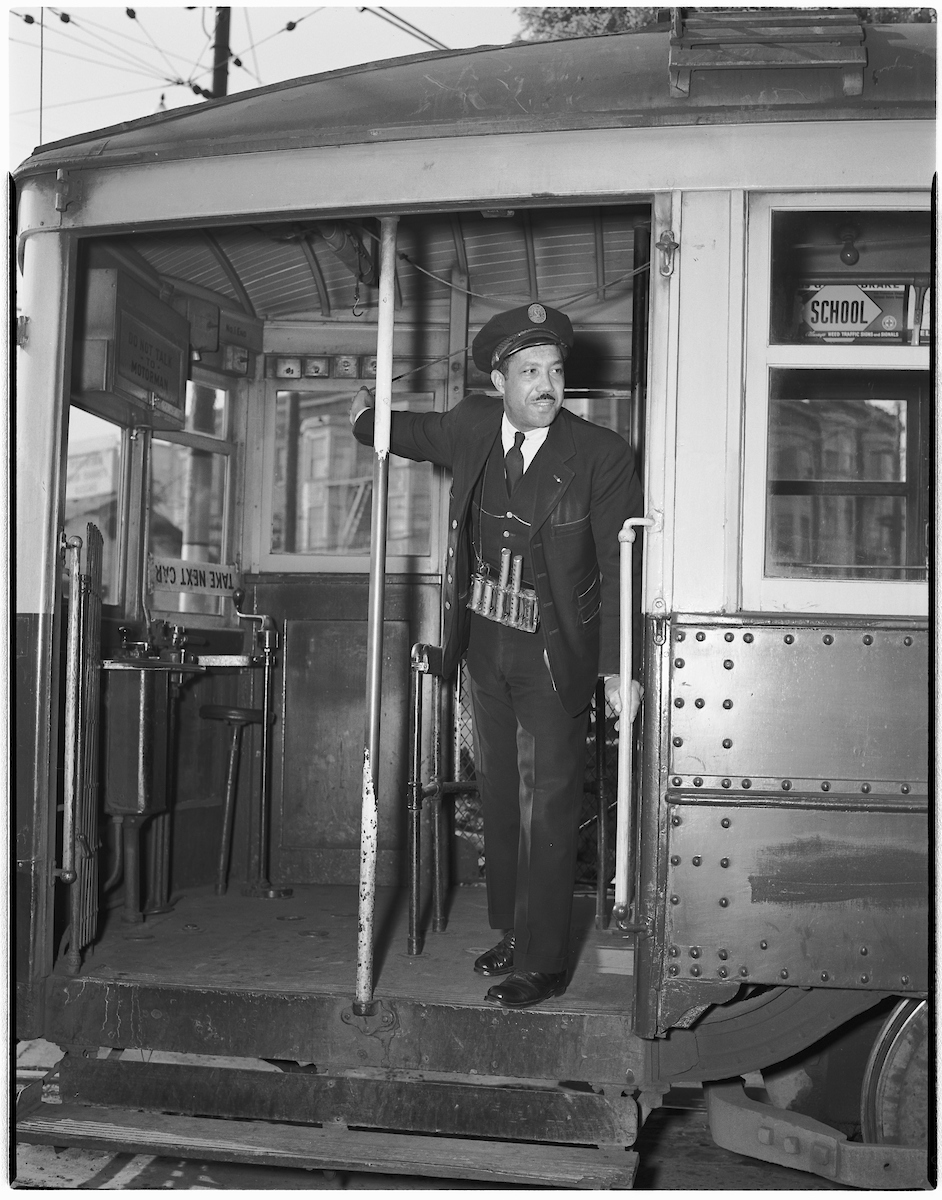 Lilburn Delaney, conductor on the H Potrero streetcar, leans out the back platform of a car in this 1948 photo.
Right away, nominations came in for many black Municipal Railway transit operators who were recognized by riders for their excellent public service. Lilburn Delaney became the first African-American man to be given the honor of "Muni Man" in February 1951. Delaney started at Muni in September 1945 as a conductor on the H Potrero streetcar line and at the time of his award, was a trolley coach operator on the 5 McAllister.

Reginald Simpkins poses for a portrait at the Muni Photo Lab in this 1951 shot. Winners of the Muni Man award like Simpkins were honored with a $50 check and advertisements featuring their photo inside Muni vehicles.
Several months after Delaney, Reginald H. Simpkins was honored as top operator in September of that year. Simpkins, a driver on the 43 Roosevelt bus route, had no shortage of praise from riders on his bus. One letter noted how Simpkins "never loses his dignity or efficiency..." even during busy and stressful rush hour runs and "his sense of humor is so outstanding that it is a real pleasure to ride on his bus."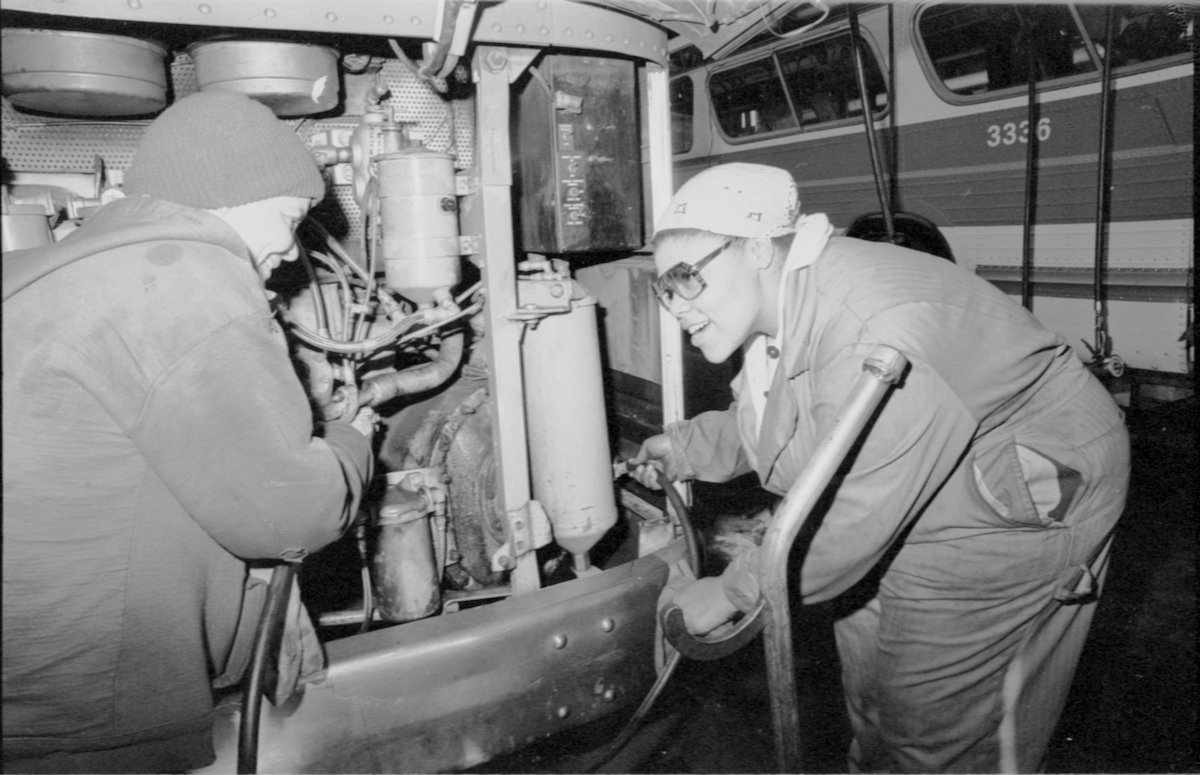 Beverly Hopkins (Right) and Helen Carson make repairs to a bus at Woods Division.
In June 1978, Beverly Hopkins became one of the first black women to join the maintenance crew at Woods Division. By the time of Beverly's hiring in the late 1970s, the Muni staff newsletter says the eight newly hired women comprised the "largest number of female automotive service persons ever to work for Muni shops. The need was there and they were qualified."

Evelyn Wells, Muni's first female Inspector poses while at work in the field in this 1979 shot.
Evelyn J. Wells holds the honor of being the first African American woman to be appointed as a Muni inspector (badge #54). As an inspector, she was responsible for supervising service, helping investigate accidents, and clearing up delays on bus and rail lines. Working previously as an N Judah operator, Wells began as an inspector in May 1979 at age 28.
These brief highlights barely begin to tell the full story of the contributions or struggles of people of color in San Francisco's public transit history. While much focus goes to major figures and big breakthroughs in history, the day in day out work of these "unsung heroes" went a long way to break down racial barriers within the industry.