New Glimpses of SF Transit in the 'Modern Mid-Century'
Thursday, September 1, 2016
"Modern mid-century" styles in fashion and design are enjoying a revival these days, and now is the perfect time to check out the SFMTA Photo Archive for a look back at San Francisco in the sleek mid-century era. 
With recent additions, as of this month our archive contains over 350 rarely-seen images of the City by the Bay taken between 1946 and 1975. Here are a few of our favorite selections from these newly-released images.
In the image below from 1947, staff at the Muni office and car barn located at Turk and Fillmore streets are tidying up a streetcar from the 22-Fillmore route. 
By the late 1940s, the growing modernist mood of the era favored buses over the streetcars that rumbled through the Great Depression and World War II, which seemed old-fashioned and out of style.
In the 1950s, trolley coaches—buses with electrical overhead power—were becoming more prevalent in San Francisco. Powered by Hetch Hetchy reservoir's hydro-electricity these buses ran cleaner and powered uphill with more vigor than their motorized counterparts.
The image below from 1958 shows trolley coaches are taking Giants baseball fans to-and-fro at Seals Stadium on 16th and Bryant streets. At the time, the fare for a Muni ride was "15 cents anytime, anywhere."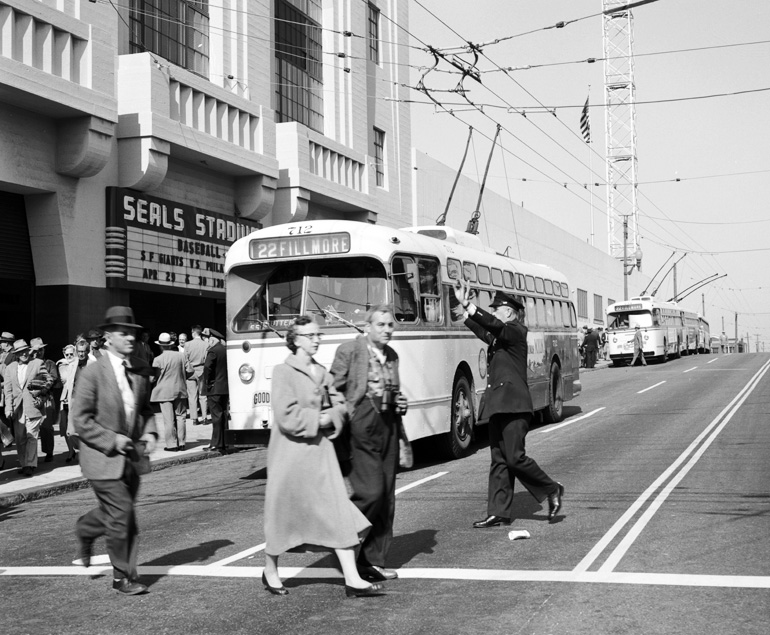 During the 1960s and 1970s, the BART and Muni Metro subways were built below Market Street. Muni's streetcar lines continued to operate during the construction, and clever solutions were somtimes need for them to navigate the obstacles.
In the image below from 1973, a streetcar headed for the Twin Peaks tunnel along the L Taraval line glides on temporary elevated tracks over the excavation site for the Muni Metro Castro Station.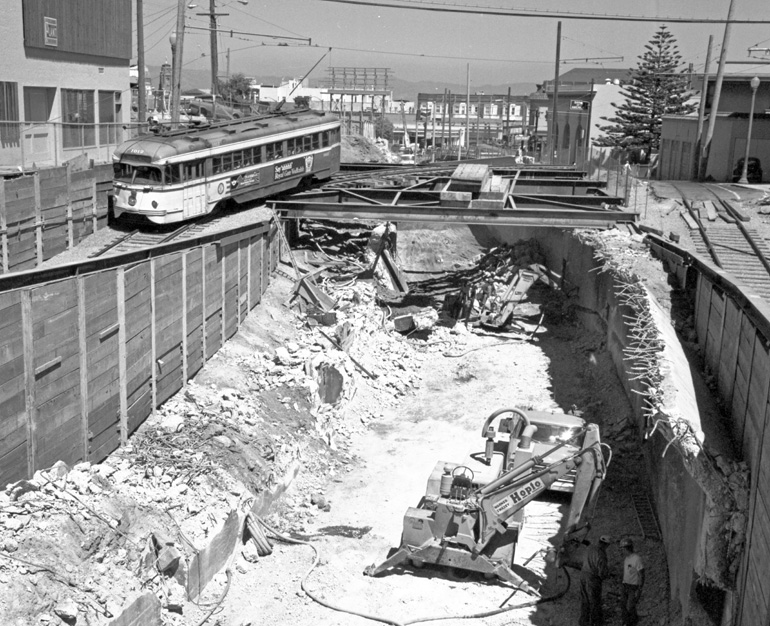 If this glance through the past wasn't enough to satisfy your curiosity, there are plenty more photos to explore at the SFMTA Photo Archive online and on Flickr, Twitter and Instagram.
For a chance to see some of the vintage vehicles shown above in person, don't miss Muni Heritage Weekend on September 24th and 25th, 2016 - keep your eye out for updates.