New Routes to School for In-person Instruction
As SFUSD considers a return to in-person instruction on campus, many families are adapting how they will travel to school and work and SFMTA is proud to provide a strong set of mobility options to help facilitate school trips. Bicycling, scooting, skateboarding and walking to school have never been more accessible in San Francisco.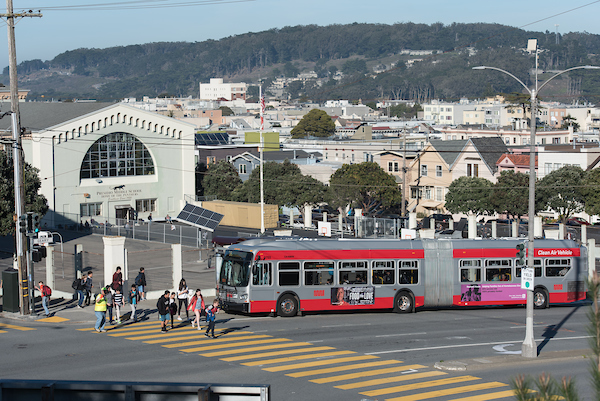 Presidio Middle School
Nearly 30 Slow Streets introduced during the shelter-in-place limit through traffic on certain residential streets with signage and barricades. Slow Streets has significantly expanded the network of low-stress routes families can more safely use to get to schools by walking or bicycling. The SFMTA's Safe Routes to School team is here to help students get to school safely and sustainably, with resources and trainings on how to walk or bike to school and use the city's new Slow Streets.
As San Francisco emerges from the pandemic, planning for schools to reopen campuses has been at the forefront of the SFMTA's Transportation Recovery Plan, our framework for expanding our services and operations as public health orders are modified and demand for travel increases. In 2020, a team led by SFMTA traffic operations engineer Andre Wright evaluated drop-off and pick-up needs at 114 San Francisco Unified School District schools. SFMTA staff are available to assist schools in expanding access to transportation options and safe drop-off planning with our smallest San Francisco residents in mind. 
While we've had to make tough choices about Muni service during the pandemic, we have strategically invested in key school routes like the 29 Sunset and 44 O'Shaughnessy and have developed a core network of very frequent service along our major corridors. As school demand kicks-in, the SFMTA  may also reintroduce "school trippers," the supplemental Muni routes that begin after school hours to serve middle and high schools throughout the city, if needed.
This higher frequency along our core network and extra service on major school routes is complemented by the fact that over 90% of San Franciscans are within a quarter mile of Muni, with even more coverage expected by the time school starts in fall.
To help families take the guesswork out of planning trips, the SFMTA is developing a new Multimodal Transportation map of San Francisco that will launch later this spring. The map combines walking, bicycling and Muni options for getting around. For example, if the Muni route the family used before the pandemic is not in service, they may see an alternate route, or that there's a slow street or a bike lane in their neighborhood that they may feel comfortable using to get to school.  The Multimodal Transportation map aims to help families navigate travel options and choose the modes that work best for them.
In addition to our work to make sure Muni is ready for back to school, we are proud to be offering our Free Muni for Youth program that provides free Muni to low-income youth ages 5 to 18 living in households making less than the Bay Area Median Income. To help cover Muni fare for students, SFMTA recently partnered with SFUSD to identify 25,000 additional students who would qualify for the Free Muni for Youth program based on their Free/Reduced lunch registration. Letters are being sent to these families that will act as applications that can be signed and returned to sign-up, and an online application will also be available. Anyone who has qualified for the program and received their card is enrolled until they are 19 years old and does not need to reapply.
While taking Muni continues to be a low-risk activity for COVID-19 transmission, the health of Muni customers is a top priority and we are taking extra precautions to limit exposure. Muni car cleaners and station custodians are cleaning and sanitizing vehicles and high-touch surfaces daily with safe, strong disinfectants. We are seeing over 95% mask compliance and families riding Muni to school as the pandemic persists can help by wearing a mask on board and when waiting for Muni.
Whether your family finds a new route to school on two wheels, six wheels, by walking or by rail, we think you'll find transportation has recovered from the pandemic healthier than it was before. No matter how your family chooses to get to school as in-person instruction reopens, SFMTA is committed to helping you get there.
Graphic showing physical distancing at Muni stops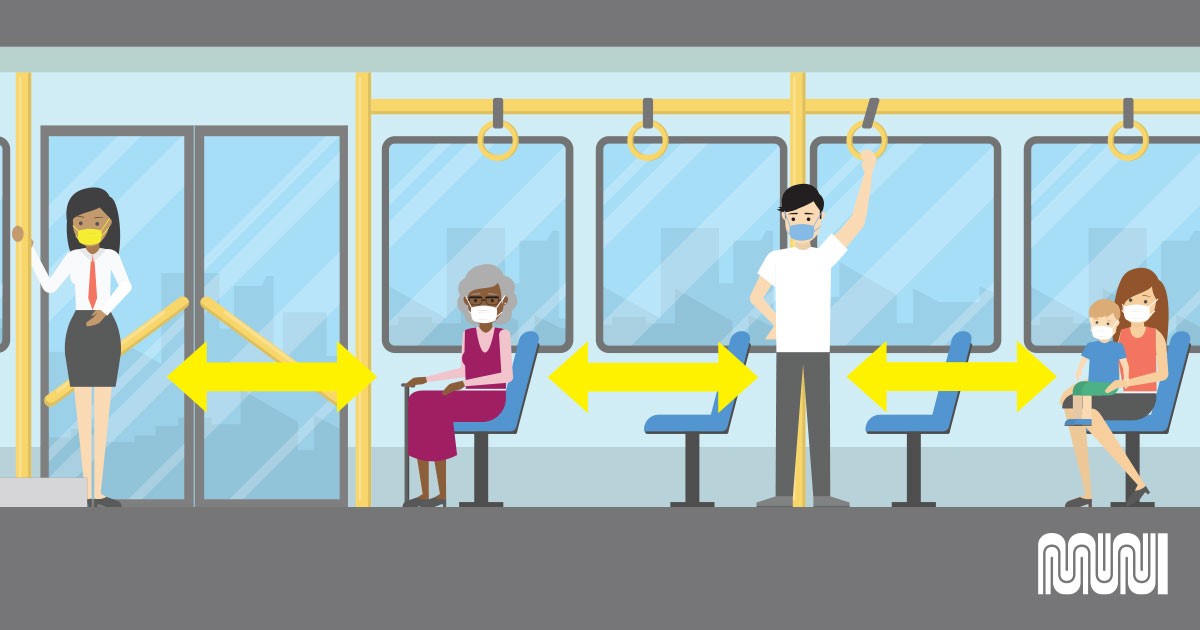 Example of physical distancing on Muni buses: Wear a mask or face covering and give space for fellow riders.