Transportation Recovery Plan
Project Introduction
As the COVID-19 public health orders are adjusted and shops and businesses open up, we have a plan for San Francisco's transportation system to reopen with care and to help our city be more resilient. 
The SFMTA Transportation Recovery Plan (TRP) is guided by the city's evolving public health orders and recommendations from the San Francisco Department of Public Health, and its levels respond to incremental increases of community and economic activity. The plan includes meeting transportation needs driven by the health crisis. It also works to solve existing transportation problems so that they do not hamper recovery efforts.
A thoughtful and equitable plan allows us to better serve our customers and help support the city and region's economic recovery.
Our Recovery Values
The recovery will require difficult trade-offs and changes; as we confront these, the SFMTA will be guided by the following values:
Prioritize the protection of the health and safety of SFMTA employees and the public as we recover

Support a transportation system with infrastructure and services that drive economic activity and is the backbone of San Francisco's social fabric

Commit to equity, safety, customer service and addressing environmental sustainability, as informed by our Strategic Plan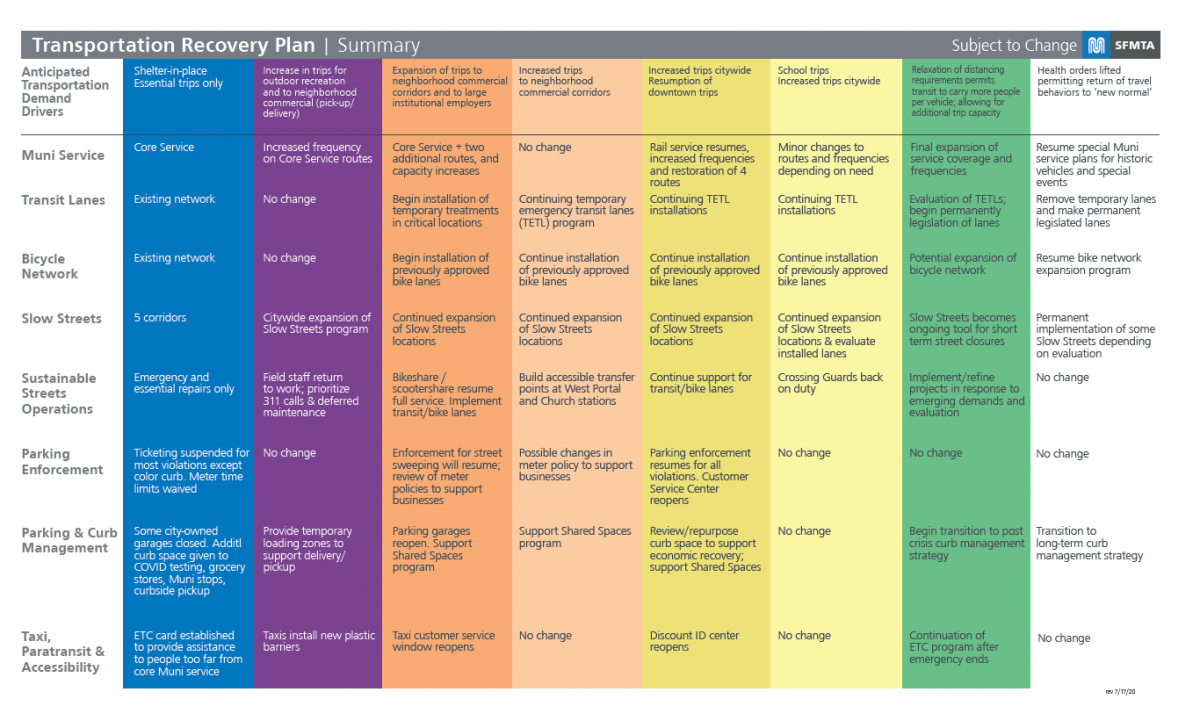 (Accessible version of TRP Chart)
What is the SFMTA Transportation Recovery Plan (TRP)
The Transportation Recovery Plan is our framework for expanding our transportation services and operations as the Public Health Orders are modified and demand for travel increases.
The TRP:
Aligns with advice of San Francisco Department of Public Health experts.

Responds to changes in permitted activities and as economic activity ramps up.

Adjusts to evolving health conditions, new transportation data and input from stakeholders.

Brings back our employees while minimizing health risk.

Addresses longstanding problems and helps us plan for longer term recovery efforts; in short, it allows for transportation to return better than it was before.

Lays out the sequencing of how SFMTA will bring back transit service as well as street operations.

Incorporates efficient modes of transportation through tools like bike lanes, Slow Streets, transit lanes, paratransit and taxis.

Supports small businesses and communities through tools like street closures and curb management. 
Challenges 
In the process of recovery, the Transportation Recovery Plan addresses the following challenges: 
Congestion: A quick return of traffic congestion above pre-COVID levels, as Bay Area residents resort to driving in order to gain physical distance on their commute. 

Fiscal: Resourcing and budgetary issues as we are called upon to move an increasingly larger number of people, despite health precautions requiring several times more space per person, while contending with reduced revenues caused by a depressed economy. 

Available Staff: Staffing shortages that could make it difficult to keep pace due to both COVID-related absenteeism and new operational realities such as an acute need for car cleaners. 

Staff Confidence: Concerns about personal health and safety, like exposure to COVID-19 and/or increased assaults on staff, are an existential threat to service if employees are afraid of coming into work and stay home en masse. 

Face Covering Compliance: Physical distancing means that

Muni buses can only carry one-third of their usual passenger load

 from pre-COVID-19 levels. 100% compliance with face coverings would enable greater Muni service and support reduced the risk of transmission. 

In addition to the above challenges, the TRP will require careful consideration of many trade-offs and adjustments to changes. 

Muni's Recovery
The TRP makes the best use of our limited resources to adapt Muni service to minimize risk to our employees and the public, meet changing health guidance and trip needs and support a strong economic recovery.
Core Service
Since April 8, Muni has been operating a COVID-19 Core Service Plan to respond to staffing availability related to the pandemic and adhere to public health orders, including for cleaning and physical distancing. The Core Service Plan keeps 90 percent of San Franciscans within one mile of a transit stop and supports essential trips that cannot be made any other way. Like many other cities, our current ridership during the COVID-19 emergency is more likely to be Black, Indigenous, people of color, individuals of lower income and those without housing.
As staff availability has improved, we have added back some modified routes to increase connections to essential services and put more frequent service and larger buses on routes with crowding to provide more space onboard to physically distance from others, thereby minimizing risks to customers and operators. 
Physical distancing means that Muni buses can only carry one-third of our usual passenger load from pre-COVID-19 levels. This means that it now takes about 3 buses to move the same number of people as one bus did back in January. 100% compliance with face coverings would enable greater Muni service and reduce the risk of transmission.
A Broader Increase of Muni Service
As we are able, Muni is increasing levels of service to coincide with increases in permitted activities and to support the city's economic recovery. In addition to reducing crowding, we are adding service to provide more connections to neighborhood commercial districts as businesses gradually reopen.
When school starts, we anticipate an increased demand for travel citywide. Subsequently, there will be a return to downtown as workers return to working onsite. To meet that demand, we are planning to add back rail service concurrent with students' return to school. In addition to increasing capacity to and from downtown, rail service will also free up buses that are currently used to provide service on light rail lines to be used to increase service on routes that serve schools.
Our ability to increase Muni service as public health restrictions lessen depends on our ability to minimize health risk and increase availability of staff as well as sufficient budget to do so. Due to the coronavirus pandemic, the SFMTA, like transportation agencies across the country, is contending with a decrease in the revenues needed to fund Muni service. With fewer funds available, the SFMTA is reevaluating how we deliver transit service in order to maximize our limited resources and minimize risk to operators and customers.
We are also addressing past problems, like subway crowding and transit delay, so that they do not hamper recovery efforts. For example, to keep service in the subway moving, which is particularly critical for minimizing health risks for passengers and operators, we will be bringing back some Muni metro routes as surface-only and customers will transfer at Church and at West Portal to high capacity subway shuttle service.
The SFMTA is being strategic as we increase Muni service. Decisions will continue to be based on:
Data for ridership trends and where ridership is highest

Equity efforts like the Muni Service Equity Strategy to prioritize transportation for those with the fewest options

Locations of essential services like hospitals, grocery stores, as well as neighborhood commercial districts

Increasing frequency on routes with crowding to provide more space onboard to physically distance 

Feedback from operators, policymakers and the public
COVID-19-related Service Changes
Since March, the SFMTA has modified Muni service based on the above data inputs and staffing availability. More details can be found in blog posts about each of the service changes. See below for an overview of all Muni COVID-19-related service changes. 
January 23, 2021:  With nearly a year of COVID-19 transit planning experience and after working closely with key Muni Service Equity communities and listening to public feedback, the SFMTA was able to prioritize vehicle and operator resources to restore service and improve frequencies on multiple routes, including: 15 Bayview-Hunters Point Express, 22 Fillmore, 27 Bryant, 55 Dogpatch and the T Third Muni Metro surface rail. Details can be found in this blog post.

December 19, 2020:  The SFMTA began phasing Muni Metro rail back into service by restoring the J Church surface route to free up buses for additional service changes in January. Details can be found in this blog post.

August 22, 2020:  To provide more vehicle capacity for essential travel and physical distance, the SFMTA reopened the subway system and restored Muni Metro train service with temporary new route configurations for the J Church, K Ingleside and L Taraval, and a subway-only shuttle. Details can be found in this blog post. On August 25, the subway had to be closed again for critical repairs and Muni Metro reverted to bus service. Read about the subsequent subway repairs in this blog post.

June 13, 2020:  To support the community's economic recovery and with additional staffing available, the SFMTA increased Muni service and frequency by adding select routes into service, extending current routes, and improving frequency on routes with crowding. Restored routes (including shortened routes) include: 7 Noriega, 30 Stockton, and 43 Masonic.  Details can be found in this blog post. 

May 16, 2020:  The SFMTA increased frequency on a number of lines in Muni's existing Core Service Network and reinstated the 9R San Bruno Rapid. Find out which routes increased in frequency to address higher passenger volumes. 

May 4, 2020:  The M Bus returned as a partial "Community Shuttle" between Balboa Park and West Portal station. For more details, see the blog post. 

April 25, 2020:  With additional staff resources, the Core Service network was updated by adding back modified routes and increasing bus frequency on others. Service additions increased coverage across the city and improved connections to additional essential services. Restored routes (including shortened routes) include: 5 Fulton, 12 Pacific, 28 19th Avenue and 54 Felton. The SFMTA also launched the Essential Trip Card to help older adults and people with disabilities take and pay for essential trips in taxis. Details can be found in this blog post about restoring some of our service. 

April  8, 2020:  With very limited staffing, service was reduced to a temporary COVID-19 Core Service Network comprised of Muni's 17 most-used lines, ensuring service was within one mile of all San Franciscans. This network provided service on our busiest lines with the highest demand during the pandemic. See the blog post on how Muni prepared to deliver essential trips only. 

March 30, 2020:  The SFMTA implemented subsequent service changes in response to a decline in ridership and staffing availability. These service adjustments focused on routes where redundant service provided more capacity than was needed. All Rapid routes, except for the 14R Mission Rapid, were temporarily discontinued. All Muni Metro and light rail routes were replaced by buses, using stops from the early morning Metro bus service. Closing the Muni Metro underground system allowed us to redirect custodial resources to other, higher-use facilities and minimizes risk to our station agents. Find more details in our blog post from March 26. 

March 17, 2020: In response to a steep drop in ridership and staff availability due to the COVID-19 shelter-in-place order, most express routes, as well as 88 BART Shuttle, and E Embarcadero Streetcar routes were temporarily discontinued. Additionally, in order to reduce risk to operators, Cable Car and F Market service transitioned to using buses, which are equipped with operator security partitions.  
Protecting Muni Customers with Transit Lanes
As congestion returns, we'll need to act quickly to move more people with fewer resources. The people who are riding Muni amidst this pandemic are more likely to be essential workers and less likely to have other travel choices. Hundreds of thousands of people have no choice but to use Muni to return to work or perform essential trips as the economy reopens. Their trips should not bear any more risk than those of people who can drive, walk or bike. From our bus operators to grocery store and health-care providers, we are committed to prioritizing the safety and transport of the essential workers who keep this city going.
Creating temporary emergency transit lanes can help protect customers' health by improving Muni travel times and reducing crowding. Transit lanes allow buses to complete their routes in less time and turn around back into service more quickly, picking up customers more frequently to reduce crowding and provide more space on board to maintain distance.
Community input and data will be essential parts of evaluating any temporary transit lanes ​with a focus on health, safety and equity. Except when there is a public process to make a lane permanent, temporary lanes will automatically be removed 120  days after the emergency order is lifted.
Additional information can be found on the Temporary Emergency Transit Lanes webpage SFMTA.com/TempLanes.
Transportation Demand Management
If congestion returns worse than before the crisis, it will cripple our economic recovery, particularly for small businesses that rely on the support of workers returning to businesses or offices. Congestion is returning quickly and increasing above pre-COVID as economic restrictions are adjusted and people are afraid of sharing a vehicle with others.
We encourage employers to continue telecommuting policies and secondarily staggering work hours to shift travel to off-peak times to reduce congestion as physical distancing requirements remain.
We are also engaging regionally with the Metropolitan Transportation Commission, fellow transit providers and industry groups on managing travel demands.
The Post COVID-19 Transportation System
The COVID-19 pandemic has changed our transportation system; the crisis's impact will be felt far beyond the end of the shelter-in-place order. With limited resources, the SFMTA's number one goal for its TRP is to protect the health and safety of SFMTA employees and the public as we recover. 
How employers can do their part:
Support your staff in teleworking: Employees who can telework are required by law to do so, and we encourage employers to emphasize this to their employees. This is the right thing to do to protect ourselves and our vulnerable community members and will likely be the new normal for the near-term.

Encourage walking and biking to workfor those who must work outside of the home: We know many people can't work from home. When possible, we encourage people to walk or bike to the office.

Implement staggered work shifts, and plan for staggered work shifts for when employees return to the worksite. This reduces transmission risks associated with large numbers of people entering, exiting and congregating at the same time.
If you are riding Muni:
Try and ride off-peak when fewer people are on the vehicle

Wear a mask, it's required

Keep your distance (as much as possible)

Use a strap to hang on if you need to stand
We're in this together: If we all do our part, we'll get back to normal on the fastest path possible.