New Year's Weekend: Free NYE Muni service and Fare Changes
Wednesday, December 28, 2016
Sponsored by 76, Ride Muni Free New Year's Eve, now in its 17th year, includes all Muni routes and lines – even the cable car lines. Faregates will be set for "fare-free" until early Sunday morning.
Remember, there will be no need to tag your Clipper Card during the complimentary Muni service period between 8 p.m. on Saturday, Dec. 31 to 5 a.m. on Sunday, Jan. 1.
Visit our New Year's Eve service page so you can plan your year-end celebrations and leave the car at home.
Holiday Muni Service Schedule
Muni will operate on a regular Sunday service schedule on New Year's Day (Jan. 1), which is this Sunday, as well as on Monday, Jan. 2.
Now thru Friday, Dec. 30: Muni continues to operate on a weekday, non-school schedule with the following commute-hour service routes suspended for the week:
1AX/BX, 7X, 14X, 30X, 31AX/BX, 38AX/BX, 41, 81X, 82X, 83X, 88, NX, N Judah Cole Valley Shuttles and the Castro Shuttles.
For details, visit our Holiday Service alert page.
Parking Enforcement on New Year's Day
New Year's Day (Jan. 1): There will be no enforcement of parking meters or restrictions for seven-day street sweeping, Monday through Friday street sweeping, residential parking permits or commuter tow-away zones.
Monday, Jan. 2: Parking meters and restrictions for seven-day street sweeping will be enforced.
However, there will be no enforcement of parking restrictions for:
Monday through Friday street sweeping;
Residential parking permits;
Commute hour tow-away zones
For complete details, visit the holiday enforcement schedule webpage.
Reminder — Fare Changes to take effect on January 1
Starting on January 1 Regular Adult Cash or Limited Use Ticket fares and Discount Cash or Limited Use Ticket fares will both increase by .25 cents to $2.50 and $1.25, respectively. The Adult Monthly "A" Pass and Discount Monthly Pass will also see increases.
For complete details on the upcoming fare and monthly pass changes, please visit our October 17 blog post.
Event: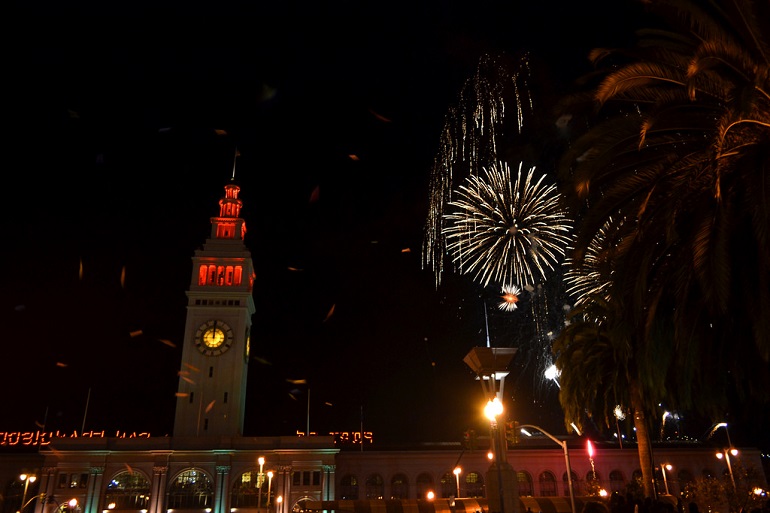 Celebrating the New Year along The Embarcadero on January 1, 2012. Photo credit: Mike Norton/Flickr
New Year's Fireworks Show
Saturday, 11:59 p.m.
The Embarcadero
Unbelievably it is that time of year again when we take stock of all that occurred during the past 12 months and say goodbye to 2016. Kick off the new year right by heading to The Embarcadero for an annual tradition as the city's picturesque waterfront is lit up by a colorful, awe inspiring and booming pyrotechnic display. It will be a chilly night, so remember to dress warm.
Take advantage of Muni's complimentary service to the Muni Metro to Embarcadero Station as well as any Market Street bus route or the 14 Mission to Market and Steuart streets.
Muni service note: Routes near the event may see delays due to heavier ridership during evening and late night trips.
Van Ness Construction Reminder:
All left turn lanes on Van Ness Avenue have been removed with the exceptions of those at Broadway (southbound), Lombard (northbound), and temporarily at Hayes (northbound).
North and southbound lane re-configurations on Van Ness Avenue between Jackson and Greenwich streets are now in effect.
For complete details on these changes, please revisit our November 4 blog post.
Temporary J Church and K Ingleside Service Changes Reminder:
Due to Balboa Park Station Area and Plaza Improvement construction work, there are now temporary stop changes in effect for the J Church and K Ingleside lines at Balboa Park Station. These stop changes will be in place through the end of the year. For details, please read our September 1 blog post.
"On Tap" gives you a heads up about the big events in town and what Muni routes and lines will get you to the party. Look for this feature to be posted usually on Wednesdays for a look ahead to the weekend. Check out our Weekend Traffic & Transit Advisory for more details.