Quicker Transit Fixes through Muni's New Quick-Build Program
The SFMTA runs one of the most complex transit systems in the country. Many of the thorny challenges facing Muni require multifaceted solutions that take time to deliver. But sometimes a simple, street-level fix is the right tool for the job. The Transit Priority Quick-Build Program, approved by the SFMTA Board of Directors last week, clears a path for improving Muni service quickly on our most heavily-used lines and at the biggest "hotspots" for delay to Muni customers.
Introducing the Transit Priority Quick-Build Program
Modeled on the SFMTA's Vision Zero Quick-Build effort for faster delivery of traffic safety improvements, the Transit Quick-Build Program focuses on reducing needless delay to transit riders using proven, fast-to-implement solutions. Many times, it can be as simple as painting a curb, moving a bus stop or adding a traffic sign. Improvements can be implemented following public outreach and a public hearing, without requiring additional approval by the SFMTA Board. This can get projects on the ground months or even years faster than the current process.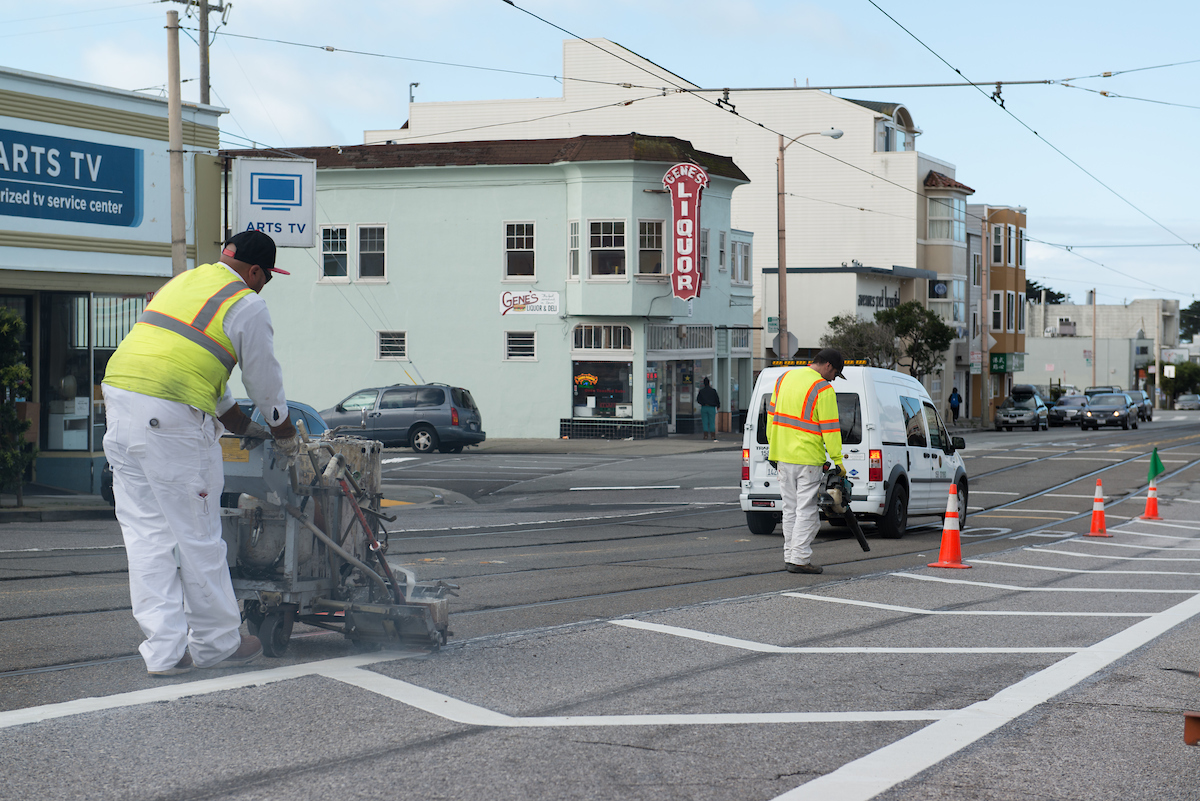 As a community, San Franciscans place a high value on putting transit first. The Board of Supervisors first adopted the City's transit-first policy in 1973, and voters have repeatedly reaffirmed their support in 1999, 2007 and 2014. The Transit Priority Quick-Build Program is a Muni Forward initiative that turns those values into action.
The program is one of the first recommendations to be implemented from the Muni Reliability Working Group, which was sponsored by Mayor London Breed, Supervisor Rafael Mandelman and Supervisor Aaron Peskin to improve Muni service. By using solutions to give priority to buses that often carry 100 or more people over cars that often carry just one, we can manage our streets to move the most people and reduce traffic congestion in a sustainable way.
Delivering Muni Forward Faster with Quick-Build Improvements
The Muni Forward program invests in transit priority street upgrades to improve Muni service. To date, over 60 miles of transit priority projects have been approved since 2014, with over 40 miles built. Transit Priority Quick-Build projects will speed up implementing the next round of Muni Forward improvements so that Muni customers experience the benefits now – not years from now.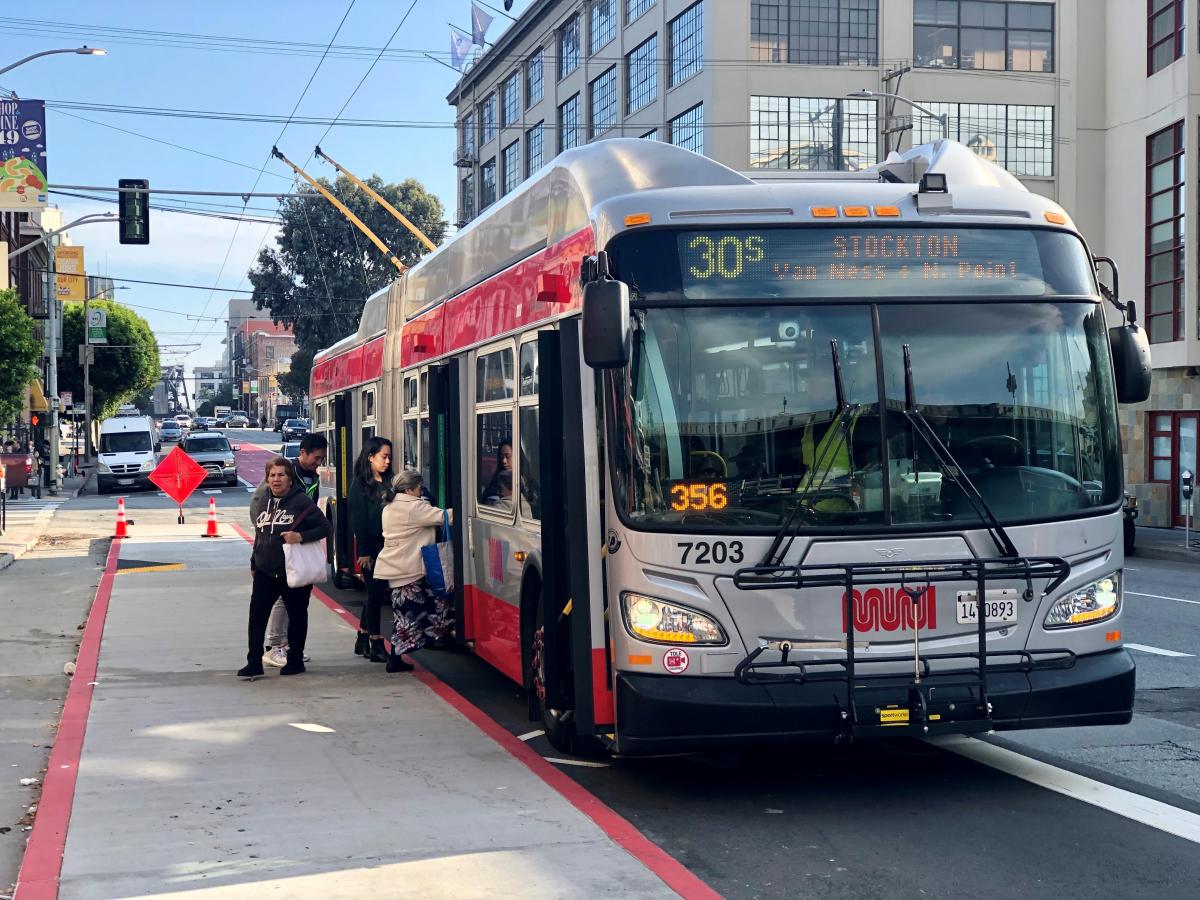 Where we've made upgrades, Muni is seeing results. Muni Forward improvements get passengers there up to 33% sooner and ridership has increased. On the Muni Rapid network, where many of Muni Forward's improvements have been focused, ridership has increased 14% over the past two years, bucking overall transit ridership trends. The Transit Priority Quick-Build Program allows SFMTA to do more, faster, and bring these types of benefits to more neighborhoods across San Francisco.
Success Stories
The 5 Fulton and the 5R Fulton Rapid are a real success story. These improvements have resulted in a 60 percent increase in ridership, equating to over 9,000 added daily boardings. Additionally, in a rider survey conducted in 2017, we found that 90 percent of riders were satisfied with the 5/5R service, 66 percent agreed that it is less crowded than when they first started riding it and 15 percent stated that they previously drove before switching to the 5 Rapid.
The story of the 9 San Bruno and 9R San Bruno Rapid over the past ten years is similar, with a 40 percent increase in ridership, thanks to the introduction of Rapid service and transit priority improvements on 11th Street, Bayshore Boulevard, Potrero Avenue, and San Bruno Avenue.
The next round of Muni Forward corridors, starting outreach over the next two years, include the following:
J Church

K Ingleside

M Oceanview

N Judah

29 Sunset

22 Fillmore (Fillmore Street)

1 California Rapid Project

5 Fulton (Inner Richmond)
Bringing a Focus to the Top Ten Delay Hotspots
We're also taking an exciting new approach to how we tackle delay for Muni riders. In addition to focusing improvements on our most heavily used lines, the Transit Quick-Build Program will also target improving the top ten slowest spots in the Muni system. The good news is that even if your Muni line isn't one of the most heavily used in the system, it could still be in line for improvements on its slowest segment.
Using data to identify hotspots where Muni encounters the greatest delays, the program will target simple improvements where they can have the greatest impact. In these short segments, Muni buses slow to an average of four miles per hour or less. By moving Muni more quickly through these hotspots, we can improve travel time and reliability on an entire line, benefiting thousands.
The locations include the following:
37 Corbett: Church/Market to 14th/Church

44 O'Shaughnessy: Woodside/Portola to O'Shaughnessy/Portola

54 Felton: 3rd/Van Dyke/Lane Street to Williams/3rd

30X Marina Express: Pine/Front to Pine/Battery

27 Bryant: Cyril Magnin/Market to 5th/Mission

44 O'Shaughnessy: Silver/San Bruno to Silver/Bayshore

8AX and 8BX Bayshore "A"/"B" Expresses: Kearny/Sutter to Kearny/Bush

19 Polk: Larkin/O'Farrell to Geary/Larkin

24 Divisadero: Cortland/Mission to 30th/Mission

1BX California "B" Express (and express lines): Bush/Sansome to Sansome/Pine
Top Ten Transit Delay Hot Spots Map: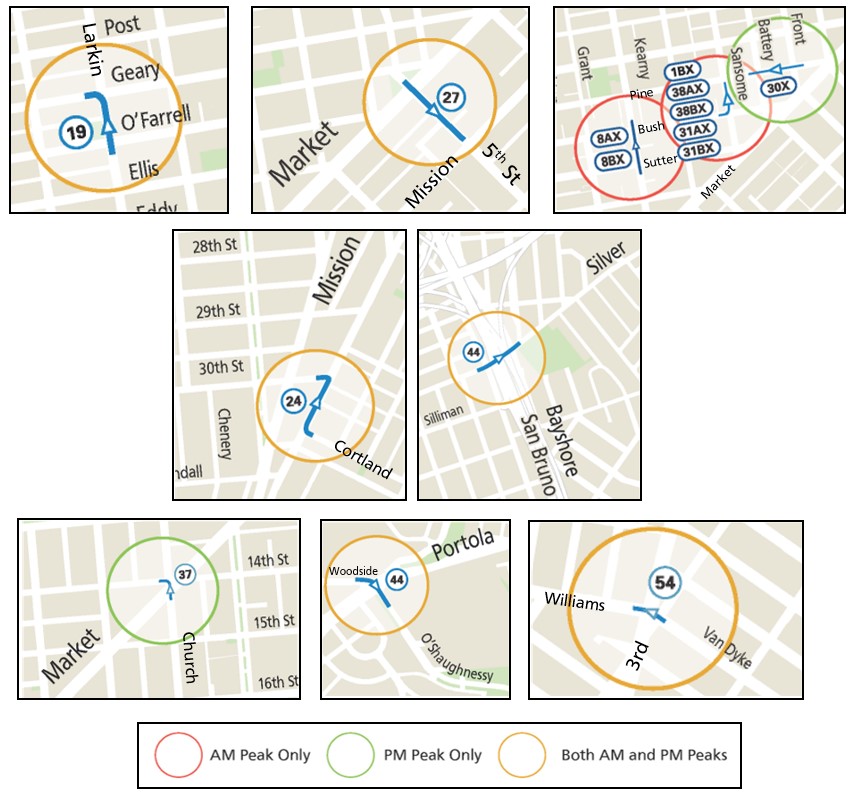 What's Next
The Transit Priority Quick-Build Program is the next step in speeding up delivery of street-level Muni improvements. Looking ahead, our goal for Muni is nothing short of transforming it into the modern rapid transit system that San Francisco deserves. This means continued improvements to achieve a vision of Rapid Network service that travels between stops with no needless delay, getting people where they need to go with ease. We still have a long way to go. But as we learn from the first 60 miles of Muni Forward projects and see the implementation of car-free Market Street, we're taking important steps closer to that vision.