A September to Remember: Join Us for Muni Heritage & Muni Forward
Monday, September 14, 2015
Revisiting the past, improving the present, and looking to the future, the last weekend of September (the 26 and 27) will give you the opportunity to experience the city's transportation past while enjoying more efficient and effective service for our future.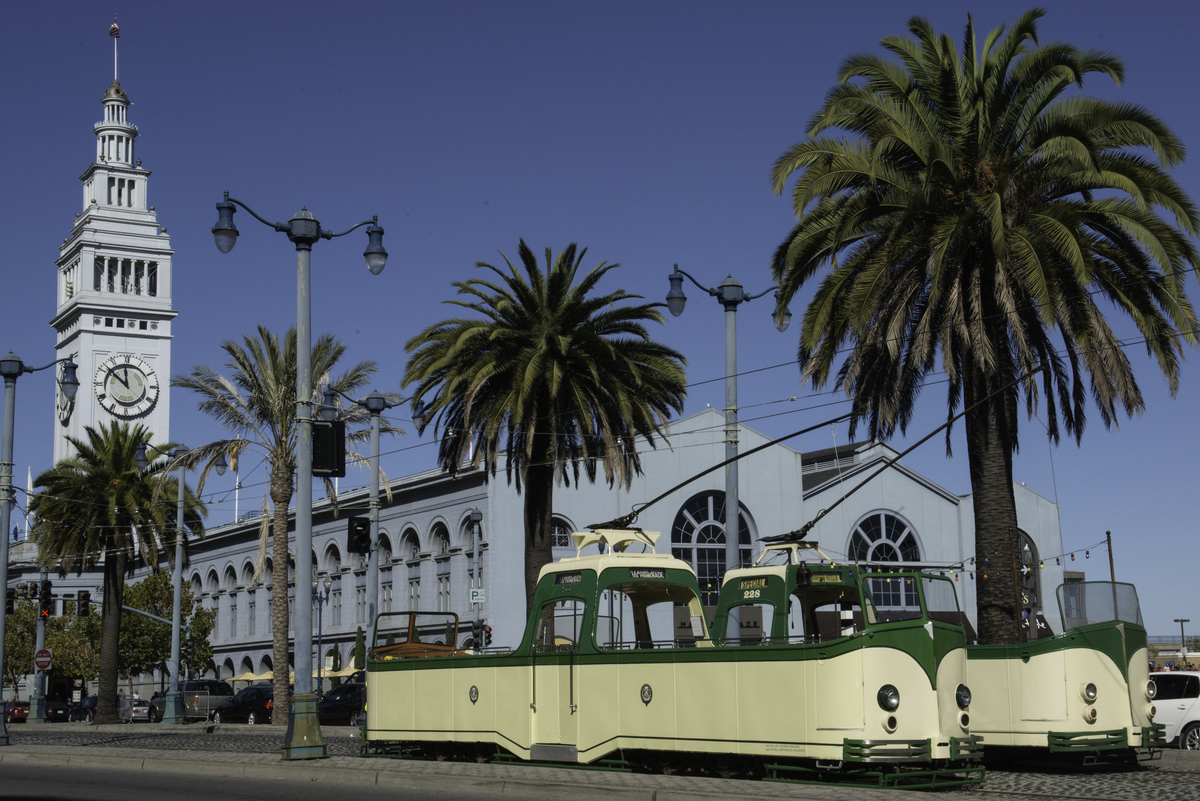 The popular Blackpool boatcars pose in front of the Ferry Building for last year's Muni Heritage Weekend. Photo taken Nov. 2, 2014.
Muni Heritage Weekend
Join the SFMTA and partner Market Street Railway for Muni Heritage Weekend, a fan favorite fall tradition showcasing Muni's history and its contributions to San Francisco. Not just for transit buffs, the festival offers a chance to see some classic vehicles you may have grown up with and to rekindle some special memories. For younger generations, the weekend is a chance to see how transportation technology and aesthetics have evolved over the years.
It's all happening at the Market Street Railway Museum & Gift Shop at 77 Steuart Street, conveniently located near the Ferry Building.
This year's event will feature historic buses that are serving double duty as "galleries on wheels," featuring vintage photographs from our archives, some never before seen publicly. Three historic buses will provide free rides from 10 a.m. to 5 p.m. both days on a special downtown loop. Come on by to take a ride through history on the 1950 green and cream livery Marmon-Herrington trolley coach, the 1969 maroon and yellow GMC motor coach, and the iconic 1975 white and orange Flyer trolley coach..
Rarely seen streetcars and a 109-year-old cable car will be out and about, too. Catch cable car No. 42 in service on the California Cable Car Line (regular fares apply). And take a free ride on famed streetcar No. 1, the first publicly owned big-city streetcar in the United States. You can also hop aboard one of our always popular open-air boat trams for a sightseeing spectacular along the waterfront.
For complete details, be sure to check the Muni Heritage Weekend event page. Hope to see you there!
Muni Forward Service Improvements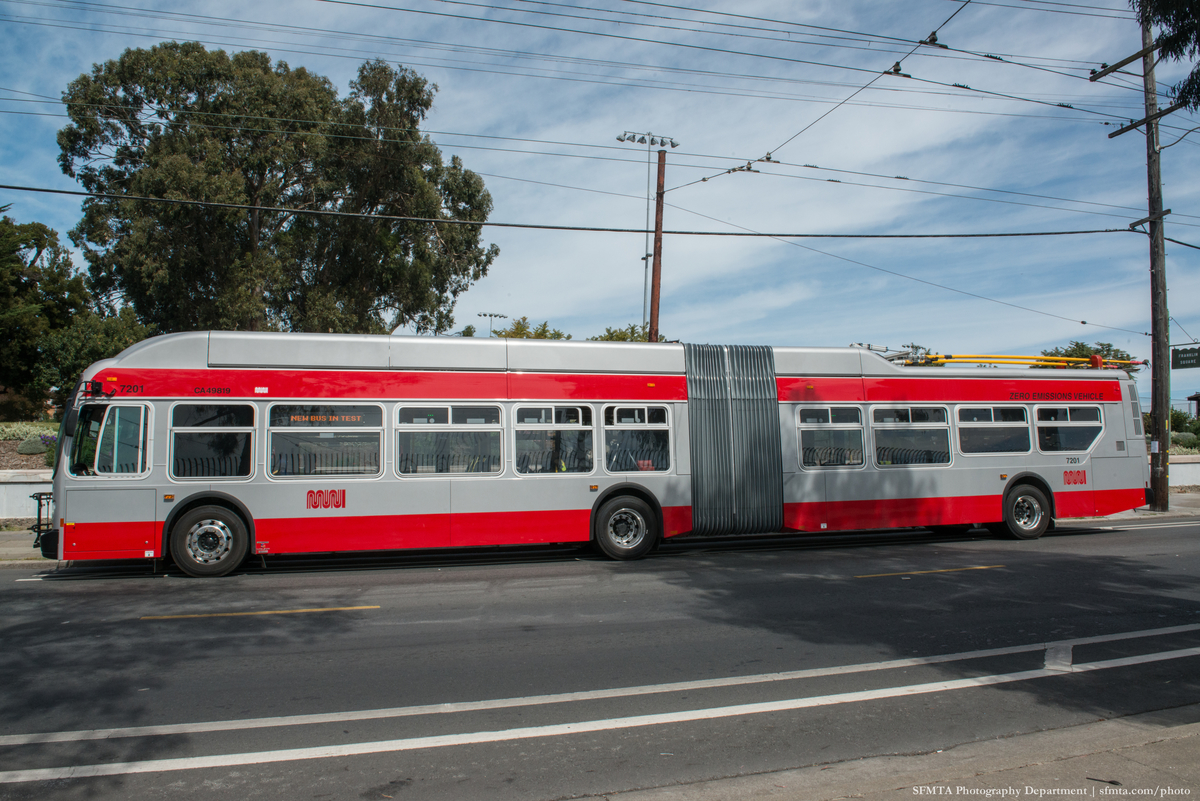 Muni's photographer caught this new trolley bus out for testing near the Potrero Division this spring. Photo taken March 19, 2015.
Not just a look back in time, the weekend of September 26 will also lay the groundwork for the future as the third phase of Muni Forward's service increases will take effect that Saturday.
Some of the service improvements customers will see:
Thirty new 60-foot hybrid electric motor coaches and seven 60-foot trolley coaches will roll into service.
N Judah service will add an additional two-car train during the morning rush hour
K Ingleside/T Third service will have two additional one-car trains during commute hours
The 14X Mission and 38AX/BX Geary Express routes will have extended operating hours
Several routes will have route alignment changes to provide for better connections including:

28/28R 19th Avenue routes
43 Masonic
57 Parkmerced
For complete details on this latest round of service improvements, please visit the Muni Forward page.
Bay Area Bold Summit and Festival
The SFMTA is partnering with Bay Area Bold a two-day event, September 25 - 26, at which local community, civic and business leaders will gather to discuss and brainstorm on how to better improve and widen opportunities for greater social and economic prosperity for all Bay Area communities. Our own Ed Reiskin will join the conversation during the opening session on Friday.
For more information, please visit the Bay Area Bold website.