SFMTA Offers Two Permits for One-Year Powered Scooter Pilot
Thursday, August 30, 2018
Today, the SFMTA announced that it will grant permits to two companies for participation in a one-year, powered scooter share pilot program.
After a thorough review of 12 applications and more than 800 pages of proposals received, the SFMTA will offer permits to Scoot and Skip.
The SFMTA's decision is based on the strength of the proposals submitted by the two companies, combined with their experience of owning, operating and maintaining a shared mobility service in the public right-of-way. The agency looked for applications that prioritized the city's concerns around safety, disabled access, equity and accountability.
To provide transparency and insight into the agency's evaluation and decision-making process, the SFMTA has made public a variety of information and materials on its Powered Scooter Share Permit and Pilot Program webpage. These include a detailed policy memo, evaluations for each separate application, a summary table showing ratings for all the applicants across key evaluation criteria, the original applications received and the decision letters sent to the applicants.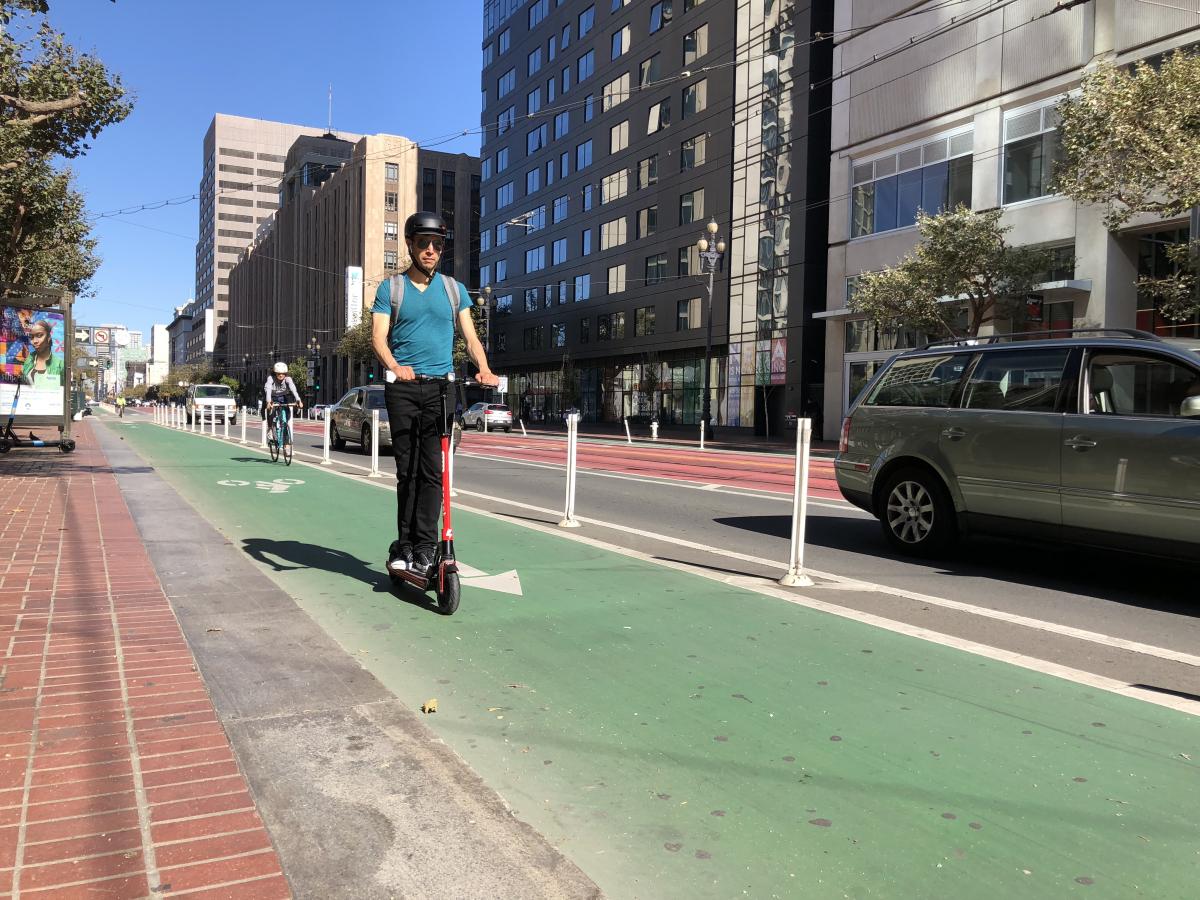 The Strongest Applications Received
While no application was flawless, the SFMTA selected only the applicants with the strongest proposals for the one-year pilot program. Scoot and Skip put forth the strongest applications the SFMTA received.
Taken as a whole, Scoot and Skip's applications demonstrated not only a commitment to meet the terms of the permit, but a high level of capability to operate a safe, equitable and accountable scooter share service.
Both companies submitted strong proposals with detailed, unique and innovative approaches that demonstrated the highest level of commitment to solving known challenges and concerns, ranging from public safety and user education, to equitable access and collaboration with the city and its diverse communities.
In its application, Scoot demonstrated a strong commitment to safety. For example, the company proposed to educate and train its users in safe scooter operations with mandatory instructional videos, helmets included in rentals and free in-person training. Furthermore, Scoot's model was unique in its proposal to use swappable batteries instead of manually taking the scooters off the street for regular recharging. This method could help the city reduce the number of vehicle miles traveled on San Francisco streets, which helps reduce traffic congestion and greenhouse gas emissions.
Scoot also has experience in owning, operating and maintaining shared mobility equipment in San Francisco specifically, having managed a fleet of shared electric mopeds since 2012.
Skip's proposal also demonstrated a strong commitment to public safety. The company went beyond most other applicants with proposals to deploy ambassadors to approach users about safe behaviors and provide helmets, as well as offer in-person training sessions for users. The company also proposed deploying 20 percent of its scooters in San Francisco's underserved southeastern communities, and to establish a community advisory board to ensure responsiveness to community concerns. Additional highlights of Skip's application included a more than 50 percent discount for low-income users, a "lock-to" scooter prototype already developed, and partnerships in job training and retraining organizations.
Skip also has experience operating a permitted scooter program in a major U.S. city (Washington, D.C.).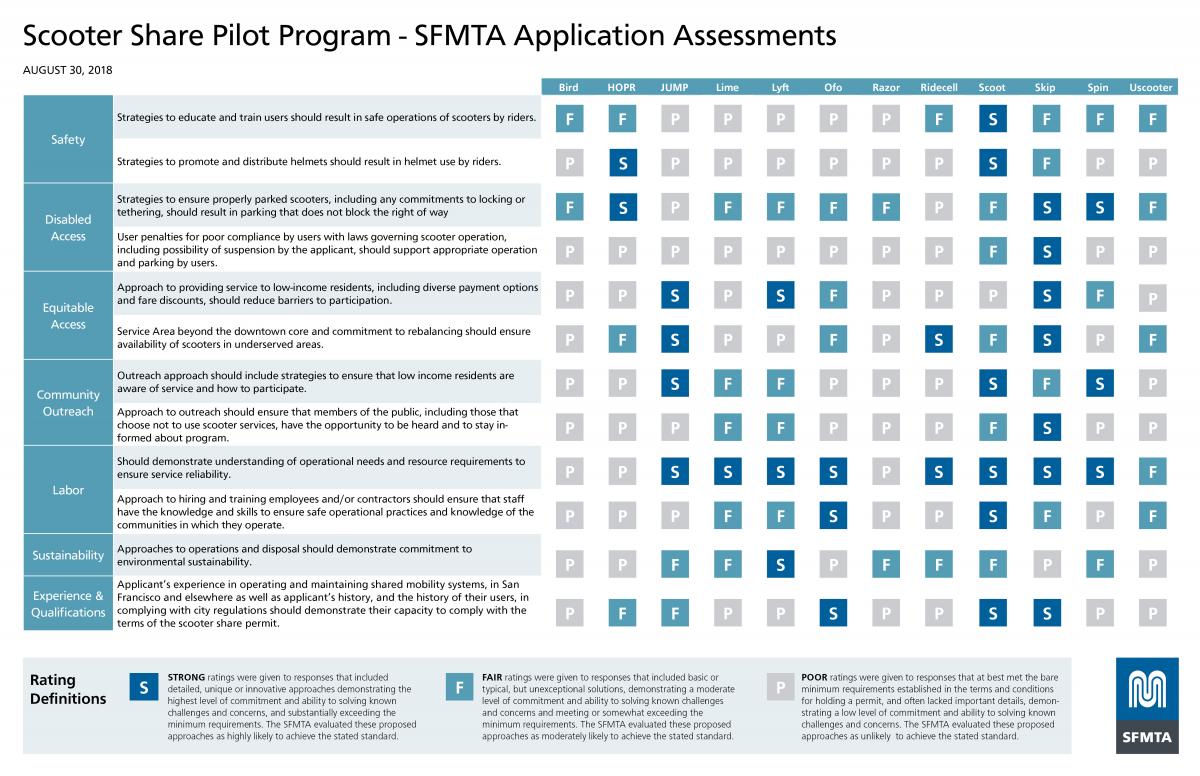 About the Pilot Program
The SFMTA intends to issue the permits to Scoot and Skip on October 15, 2018, which will allow a maximum of 625 scooters for each company in the first six months. Scoot and Skip may have the potential to increase their number of scooters in months seven to 12 to a cap of 2,500, at the SFMTA's sole discretion.
The cap is sufficient to allow for a thorough evaluation of the scooter sharing operating model in San Francisco, while minimizing the potential for sidewalk crowding and safety impacts during the pilot phase. It is also consistent with the number of scooters the city believes were operating in San Francisco at its peak before the permitting law and system took effect.
During the 12-month pilot, the SFMTA will evaluate how a shared scooter system works in San Francisco. The agency will assess the pilot's effectiveness and company compliance through field observation, counts, citations issued, data received, complaints received and other measures.
The pilot's results will inform future policy recommendations and next steps.
It may be possible for the agency to arrive at these recommendations before the 12-month mark, or make adjustments during the pilot.
The SFMTA's scooter permit and pilot reflect the agency's data-driven method to better understanding how new mobility services impact the city and its communities. It's a model similar to approaches the agency has taken in the past, including using pilots and short-term permits to better understand the needs and impacts of new services such as dockless bike sharing, on-street car sharing and electric moped sharing.
The Application & Evaluation Process at a Glance
Applicants had the opportunity to develop innovative solutions that would minimize their impact on San Francisco's sidewalks, while maximizing transparency and engagement with the public and city government.
At a minimum, the SFMTA required that operators provide user education, be insured, share trip data with the city, have a privacy policy that safeguards user information, offer a low-income plan, and submit a proposed service area plan for city approval. The SFMTA also underscored the opportunity companies had to seriously address illegal scooter riding and parking.
Ultimately, the SFMTA provided the minimum standard applicants were expected to meet. The agency did not provide a predetermined, absolute description of what the strongest application would look like. The SFMTA looked to the applicant to provide their best application.
Applicants had the chance to share innovative proposals and offer true commitments to ensuring their service would be safe, equitable and accountable. Strong applications were those that demonstrated the highest level of commitment and ability to solving known challenges and concerns, and substantially exceeded the minimum requirements set by the city.
Creating a Scooter Share Program in the Public Interest
At the tail end of March, three companies -- Bird, Lime and Spin -- unloaded hundreds of motorized scooters across San Francisco. While they were operating, several concerns were raised by the city and our communities.
From April 11 to May 23 alone, San Francisco's 311 Customer Service Center received nearly 1,900 complaints regarding scooters. Complaints ranged from scooters blocking sidewalk access to unsafe riding in the public right-of-way. San Francisco Public Works had to impound more than 500 scooters that were blocking sidewalks or otherwise improperly parked.
To address these issues, the Board of Supervisors unanimously passed a new city law on April 24, 2018, requiring that any company operating shared, powered scooters in San Francisco have a permit from the SFMTA to park their scooters on sidewalks or other public spaces. In compliance with this law, which took effect on June 4, Bird, Lime and Spin removed their scooters from San Francisco.
In late May, the SFMTA announced the regulatory steps it was taking in alignment with this law. The agency created an official permitting process, pilot program and application for all interested applicants, with a deadline for submittals of June 7.
Since no applicant proposed sufficiently detailed or comprehensive community outreach, the SFMTA will outline the agency's expectations for community engagement prior to issuance of the first permit. These expectations will detail potentially appropriate outreach strategies (e.g., use of community meetings, partnerships with local Community-Based Organizations, etc.), based on experience with bikeshare and other shared mobility programs in San Francisco, as well as peer city best practices. Moreover, the SFMTA will require Scoot and Skip to submit revised community engagement plans reflecting these expectations.
Furthermore, the SFMTA is ensuring that the city's involvement in regulating and evaluating this new mobility services does not come at the expense of taxpayers. The agency is recovering program costs through a $25,000 annual permit fee and by creating a $10,000 endowment per permittee to cover city costs associated with property repair and maintenance. The SFMTA had also implemented an initial $5,000 application fee when it was accepting applications for review.