SFMTA Public Meetings, March 20 - April 3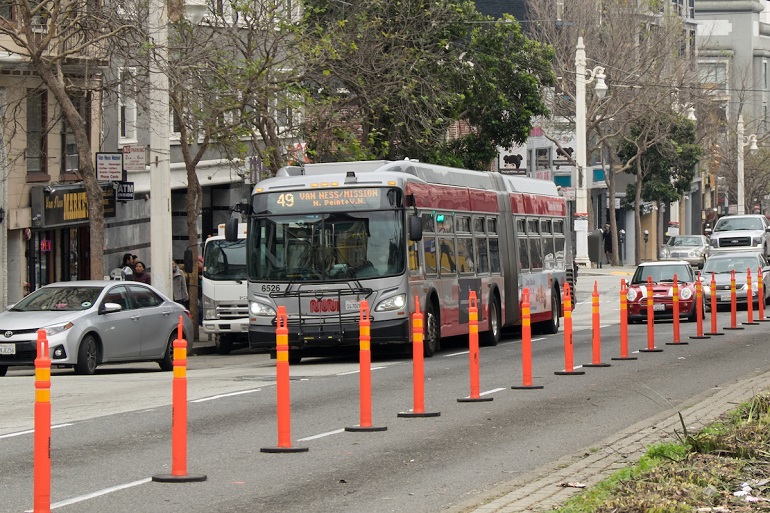 Northbound 49 Van Ness-Mission Route traveling to North Point Street.  SFMTA Photo Archive.
Tuesday, March 21, 1 p.m.
City Hall, Room 400
Nearby Muni Routes: 5, 19, 21, 47, 49, F Market, Metro-Civic Center Station
The agenda for tomorrow's Board of Directors meeting is light, featuring the agency's efforts to increase disadvantaged business enterprises in its contracts.  The Board's agenda is posted online.
Our Board of Directors meetings are usually held on the first and third Tuesdays of each month. The agendas are posted under "meetings" on the Boards webpage 72 hours in advance. 
Thursday, March 23, 7:30p.m.
One South Van Ness, 7th Floor
Union Square Conference Room
Nearby Muni Routes: 5, 6, 7, 9, 14, 22, 47, 49 F Market, Metro-Van Ness Station
At this week's meeting, the Van Ness CAC will welcome two new members and hear both a project overview and a project update. 
This civic improvement project is bringing San Francisco its first bus rapid transit system, a much-needed and globally-proven solution to improve transit service and address traffic congestion on Van Ness Avenue, a major north-south arterial. To maximize the benefits of construction impacts, the project also includes extensive utility maintenance, civic improvements and transportation upgrades.
Friday, March 24, 10 a.m.
(Note: New location)
Lick-Wilmerding High School
755 Ocean Avenue
Nearby Muni Routes: 8, 29, 43, 49, J Church, K Ingleside, M Ocean View
This meeting will include an overview of the Balboa Park Station Area projects. The committee also has some new members and will be setting its priorities for 2017.
Our Meeting Round-Up feature highlights different SFMTA public meetings that will be held within the coming two weeks. These meetings give you the chance to share your ideas and provide us with helpful feedback. Join us at our next meeting to learn more about SF's changing and complex transportation system.
Those listed above are just a few highlights. You can find a full list of upcoming meetings and keep up to date on your favorite SFMTA committees here.