SF's New Two-Year Vision Zero Action Strategy: Reaffirming Our Commitment
This week, we released our Two-Year Vision Zero Action Strategy for 2017-2018, the foundation for how and why San Francisco is working to end traffic deaths on our streets.
The document comes just as the San Francisco Board of Supervisors unanimously adopted a resolution this week urging the California State Legislature and Governor to pass California State Assembly Bill 342, the Safe Streets Act of 2017. This bill would give San Francisco and San Jose the authority to pilot automated speed enforcement – a proven, cost-effective solution to help us move toward Vision Zero.
Our new Vision Zero Action Strategy outlines the initiatives city departments must lead to reach that goal, the challenges we face and the drive behind our commitment to making it a reality. It's also a look at our progress since San Francisco adopted Vision Zero in 2014, including the number of lives lost in 2016 and the impact of our efforts to bring it to zero.
The strategy is focused on three main outcomes San Francisco needs to achieve to eliminate traffic fatalities: Safe streets, safe people and safe vehicles.

Key Action Items: Highlights
This new action strategy offers a set of key action items needed to achieve these outcomes, from better street engineering, to smarter traffic enforcement to more comprehensive safety education. Here are just a few.
Safe Streets
Implement at least 13 miles of treatments prioritized by the High-injury network and communities of concern
Reduce delivery timelines for safety improvements
Launch comprehensive analysis for bicycle collisions and evidence-based solutions
Safe People
Introduce automated speed enforcement legislation to encourage people to drive at a safe speed and investigate other policy initiatives to support safer people
Initiate two high-visibility education and enforcement campaigns to reduce significant dangerous behaviors such as DUI and distracted driving
Administer driver safety training to all new city employees
Safe Vehicles
Issue public-facing report of automatically-transmitted "telematics" data of city-operated vehicles and use data to improve the safety, efficiency and reliability of city vehicles
Routinely update list of proven safety features and collision avoidance technologies, using industry reports and studies including costs, specific safety benefits, conflicts/challenges and other key factors; make recommendations for new city vehicles
These action items are built on work from the 2015-2016 Vision Zero Action Strategy (PDF) to advance efforts that have been successful and identify new opportunities to bring us closer to Vision Zero.
Our Progress Towards Zero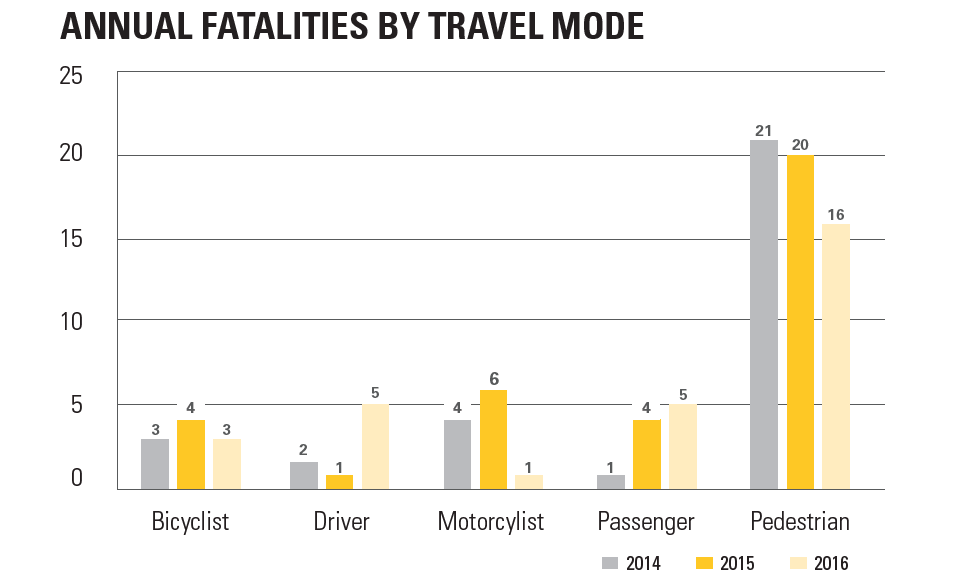 This release comes on the heels of the city's report on traffic fatalities in 2016 (PDF).
In 2016, 30 people died while getting around on San Francisco streets. While this has been the approximate annual average in recent years, San Francisco saw a sizable drop in pedestrian fatalities last year. Sixteen people were killed while walking in 2016, which is a 20 percent reduction from the 20 deaths in 2015. The most frequent primary factors in fatal traffic collisions continue to be speeding, running red lights, and failure to yield to pedestrians in a crosswalk.
It's important to remember that these traffic fatalities aren't just numbers. They're people like Thu Phan, a public employee and leader in the disabled community, who was killed on her way to work while crossing Market at 7th Street.
The victims of these tragic and preventable collisions are family members, friends and neighbors. In documenting our efforts and progress to end these deaths, we reaffirm our city's commitment to do more, faster to reach Vision Zero.
---
Street Talk is an SFMTA blog series by Sustainable Streets Director Tom Maguire where he shares the agency's thinking on the big picture questions and concerns facing our streets today.
ABOUT TOM MAGUIRE
Tom Maguire is Director of the Sustainable Streets Division at the SFMTA, where he directs the agency's ambitious efforts to achieve Vision Zero and to create world-class streets for all San Franciscans. The 1,035 employees of Sustainable Streets operate, engineer, design, and plan the city's traffic, parking, pedestrian and bicycle infrastructure and provide transit security and parking enforcement.
Tom joined the SFMTA in October 2014 after serving as Assistant Commissioner at the New York City Department of Transportation, where he managed bus rapid transit, freight mobility, peak-rate parking, congestion pricing and sustainability, and resiliency programs. He has also worked for the engineering and design firm Arup. Tom holds a Master's degree in City and Regional Planning from UC Berkeley and a B.A. from Rutgers.