Help Us Make Muni Safer for All
Take Muni's Safety Survey!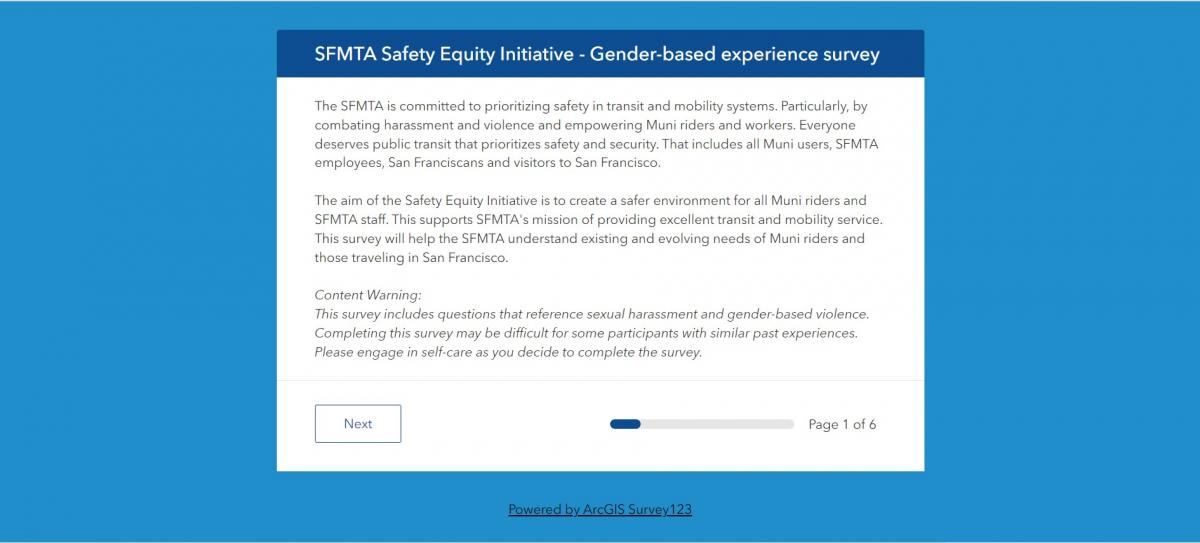 Everyone should feel safe on Muni. Help make Muni safer by taking the SFMTA's survey about personal safety and harassment in the Muni system.  
As part of the MuniSafe Safety Equity Initiative launched in August 2022, the SFMTA has partnered with the UCLA Institute of Transportation Studies to better understand Muni riders' experiences and develop safety recommendations, tools and policies aimed at preventing harassment and assault on Muni. 
Survey information will also help the SFMTA understand Muni customers' specific safety needs and challenges, and help us identify valuable trends and patterns so we know where, when and how harassment shows up in the Muni system. 
Incidents often go unreported, but the SFMTA is working to change that with new reporting options. As of October 2022, Muni customers can report incidents of harassment by calling 311, using the 311 mobile app or the Muni Feedback form (SFMTA.com/MuniFeedback). Each report is investigated by the SFMTA's Safety and Security Division, and Muni operators are made aware as necessary. 
The SFMTA is committed to the safety, rights and dignity of all riders and working to combat the disturbing and unacceptable  violence we've seen on transit. In recent months, we have seen terrible incidents of anti-Asian verbal and physical violence, derogatory hate speech like racial and homophobic slurs, and increased anti-Semitism. In addition, gender-based harassment is one of the most expansive and persistent forms of violence. It is especially pervasive on transit, most often impacting women, girls and gender-expansive people of all ages, abilities, races and ethnicities, cultural and language groups. Studies show that women often feel unsafe on transit, which impacts how often they ride, when they ride and if they ride at all. This is especially true for women and girls from Black, Asian, Latinx, Indigenous and other communities of color.
Harassment and safety issues on transit can cause women and gender-expansive people – people who don't conform to traditional gender roles – to shift their travel behavior by traveling at different times of day, choosing longer routes where they feel safer or using rideshares or private vehicles when they can afford to. 
To learn more, visit the Safety Equity Initiative project page (SFMTA.com/SafetyEquity).