Is this urgent / right now?
If this is a life-threatening situation, please call 911 immediately.
Please call 311 immediately for these situations:
Unsafe operation of a Muni vehicle
A fight with an SFMTA employee
Criminal activity
All other feedback
For all other Muni related feedback, please fill in your information in the form below.
Information to Include in Muni Feedback
If the feedback is about a specific employee, identification information is also useful.
These details, along with your contact information, will allow us to fully investigate your concern.
Feedback Details
Privacy Disclaimer
Please be aware that your communications with the SFMTA through electronic mail, including any information that automatically accompanies such messages or that you insert into the message, may be subject to disclosure under public records or other laws. The information you submit here becomes part of the public record. However, your name, home or residential address, and other personal contact information such as e-mail address and telephone number will be removed from a service request received by the SFMTA if you indicate that you want this information to remain confidential.
Respectful Communication
We value your feedback and criticism of the agency; however, please ensure that your comments are respectful of staff and free from name-calling, insults, racial slurs, profanity or other discourteous remarks.
City policy prohibits discrimination or harassment of its employees on the basis of race, color, ancestry, national origin, ethnicity, place of birth, sex, age, religion, creed, disability, medical condition (including HIV/AIDS), sexual orientation, marital/domestic partner status, gender identity, parental status, pregnancy, weight, height or any other characteristic protected by local, state or federal discrimination laws.
Locating the Vehicle Number
Each Muni bus or train has a unique number printed in various places. Below is a list with corresponding images to help you find them.
For customers with visual impairments, each bus and light rail vehicle has a tactile vehicle number, which is a metal plate with the number imprinted in braille and raised characters. These are installed on a panel behind the operator's compartment. On historic vehicles, such as F and E line streetcars or cable cars, please ask the operator for the vehicle number.
Muni Buses
On the inside of each Muni bus, the four-digit number is printed on the back wall and on the front. On the outside of the bus, it's printed on the back, front and sides.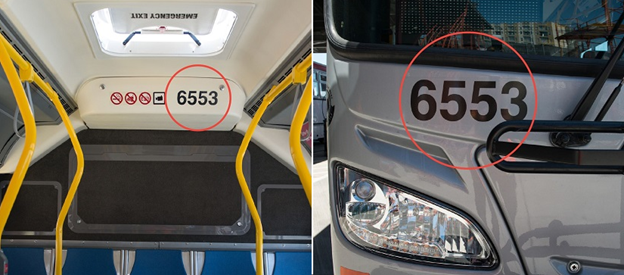 Muni Metro
Muni Metro light rail vehicles (on the J, K, L, M, N & T lines) are identified by four digits numbers with a letter, like "1530 B" below. Inside, these can be found at each end of the train car, next to the operator's compartment.
On the outside of an LRV, the numbers are above the doors on either end.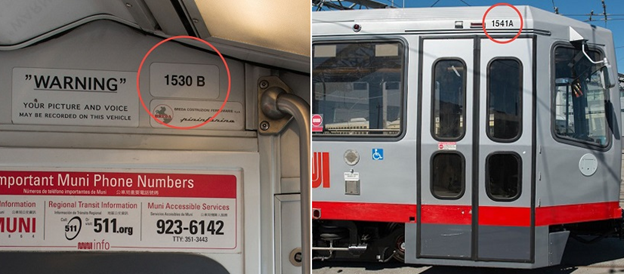 Historic Streetcars
On most historic streetcars of the F Market and Wharves and E Embarcadero lines, you will find four-digit identification numbers near the operator as well as on the outside of the vehicles.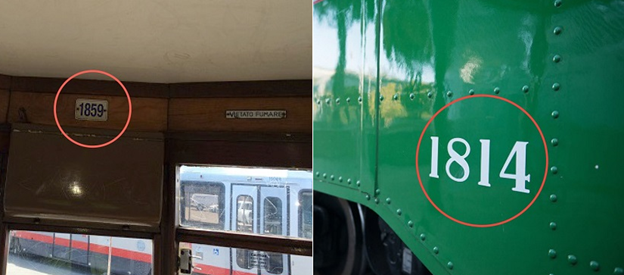 Cable Cars
Cable cars' one- or two-digit numbers can be found on each end on the outside, and above the entrance to the interior compartment.