In life-threatening situations, call 911 immediately

.
*Serious incidents and criminal activity should be reported to SFPD if comfortable doing so.
在危及生命的情況下,請立即撥打 911. 如果願意,應向三藩市警方報告嚴重事件和犯罪活動. 
En situaciónes que pone en peligro la vida, llame al 911 de inmediato. *Los incidentes graves y las actividades criminales deben informarse al SFPD si se siente cómodo haciéndolo.
Sa mga sitwasyong nagbabanta sa buhay, tumawag kaagad sa 911. *Ang mga seryosong insidente at aktibidad na kriminal ay dapat iulat sa SFPD kung komportableng gawin ito.
---
For Muni-related feedback, call 311 or fill in

the form below.
Non-English speakers call 311 for language-assisted reporting.
不講英文的人士,可以致電 311,要求語言輔助協助報案 .
Las personas que no hablan inglés deben llamar al 311 para recibir informes asistidos por idioma.
Ang mga hindi nagsasalita ng Ingles ay dapat tumawag sa 311 para sa pag-uulat na tinulungan ng wika.
---
You will have the option to remain anonymous, as well as the option to request follow-up. The SFMTA will investigate incidents and use your report to improve safety on Muni. Include the following information in your report:
Location, route or line, direction you were headed, vehicle

number (see below for vehicle information)

If your feedback is about an SFMTA employee, employee identification information is also useful.

 
Submit Feedback
Privacy Disclaimer
Please be aware that your communications with the SFMTA through electronic mail, including any information that automatically accompanies such messages or that you insert into the message, may be subject to disclosure under public records or other laws. The information you submit here becomes part of the public record. However, your name, home or residential address, and other personal contact information such as e-mail address and telephone number will be removed from a service request received by the SFMTA if you indicate that you want this information to remain confidential.
Respectful Communication
We value your feedback, both pro and con. Please respect staff. Name-calling, insults, racial slurs, profanity or similar remarks are not okay. We do not tolerate harassment in any form. Staff do not have to respond to such messages.
City policy prohibits discrimination or harassment of its employees on the basis of race, color, ancestry, national origin, ethnicity, place of birth, sex, age, religion, creed, disability, medical condition (including HIV/AIDS), sexual orientation, marital/domestic partner status, gender identity, parental status, pregnancy, weight, height or any other characteristic protected by local, state or federal discrimination laws.
---
Locating the Vehicle Number
Each Muni bus or train has a unique number printed in various places. Below is a list with corresponding images to help you find them.
For customers with visual impairments, each bus and light rail vehicle has a tactile vehicle number, which is a metal plate with the number imprinted in braille and raised characters. These are installed on a panel behind the operator's compartment. On historic vehicles, such as F and E line streetcars or cable cars, please ask the operator for the vehicle number.
Muni Buses
On the inside of each Muni bus, the four-digit number is printed on the back wall and on the front. On the outside of the bus, it's printed on the back, front and sides.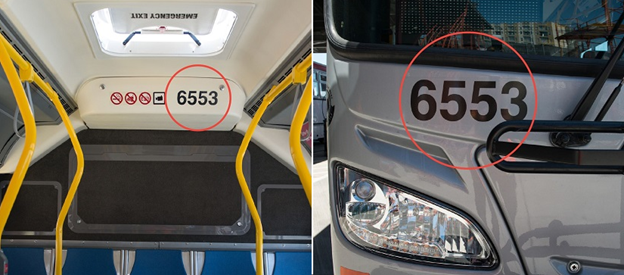 Muni Metro
Muni Metro light rail vehicles (on the J, K, L, M, N & T lines) are identified by four digits numbers with a letter, like "1530 B" below. Inside, these can be found at each end of the train car, next to the operator's compartment.
On the outside of an LRV, the numbers are above the doors on either end.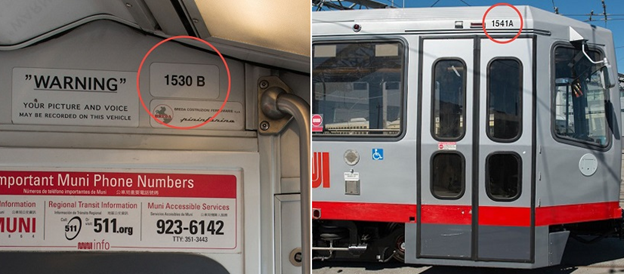 Historic Streetcars
On most historic streetcars of the F Market and Wharves and E Embarcadero lines, you will find four-digit identification numbers near the operator as well as on the outside of the vehicles.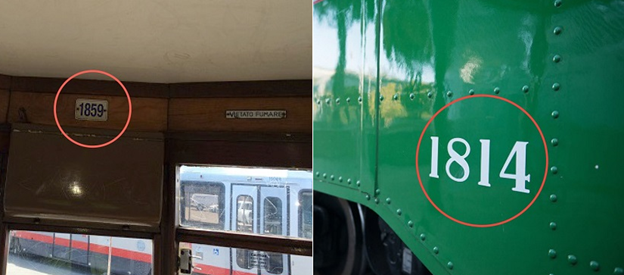 Cable Cars
Cable cars' one- or two-digit numbers can be found on each end on the outside, and above the entrance to the interior compartment.