We want to hear from you. To file a complaint, please fill out a 311 Complaint Form. To praise a Muni Employee, please fill out a 311 Commendation Form. Be sure to provide the information below about your trip.
Information to Include in Muni Feedback
Date
Time
Location
Vehicle number (see below)
Rail line, bus route or cable car line 
The direction you were headed (inbound or outbound, east or west, or the destination of the route).
If the feedback is about a specific employee, identification information is also useful.
These details, along with your contact information, will allow us to fully investigate your concern.
Even without these details, we're thankful for your feedback and can use the information to target areas for improvement.
Locating the Vehicle Number
Each Muni bus or train has a unique number printed in various places. Below is a list with corresponding images to help you find them.
For customers with visual impairments, each bus and light rail vehicle has a tactile vehicle number, which is a metal plate with the number imprinted in braille and raised characters. These are installed on a panel behind the operator's compartment. On historic vehicles, such as F and E line streetcars or cable cars, please ask the operator for the vehicle number.
Muni Buses
On the inside of each Muni bus, the four-digit number is printed on the back wall and on the front. On the outside of the bus, it's printed on the back, front and sides.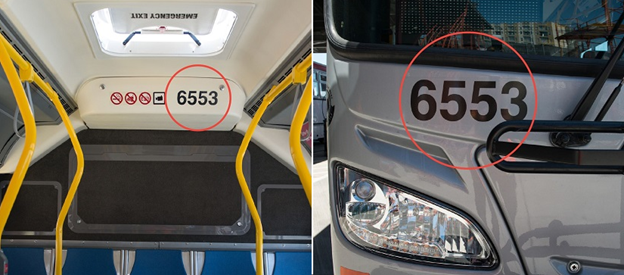 Muni Metro
Muni Metro light rail vehicles (on the J, K, L, M, N & T lines) are identified by four digits numbers with a letter, like "1530 B" below. Inside, these can be found at each end of the train car, next to the operator's compartment.
On the outside of an LRV, the numbers are above the doors on either end.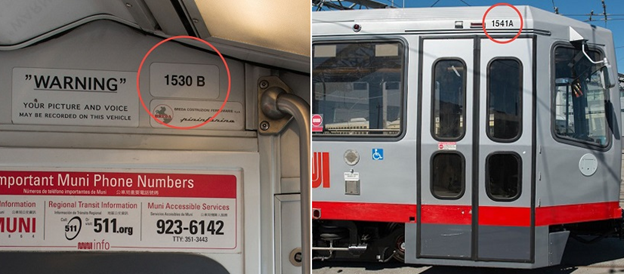 Historic Streetcars
On most historic streetcars of the F Market and Wharves and E Embarcadero lines, you will find four-digit identification numbers near the operator as well as on the outside of the vehicles.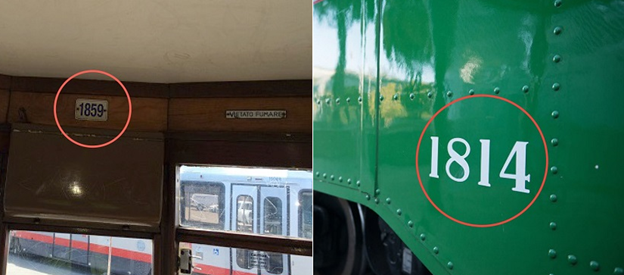 Cable Cars
Cable cars' one- or two-digit numbers can be found on each end on the outside, and above the entrance to the interior compartment.