Transit and Safety Improvements on Geary Now Underway
Starting earlier this week transit and safety improvement work began on the Geary Rapid Project. The Geary corridor is one of the busiest bus corridors in the country. Every day around 54,000 customers rely on the 38 Geary and 38R Geary Rapid routes to get them to where they need to be.
The first round of transit and pedestrian safety improvements includes nearly two miles of transit-only lanes in both directions of Geary Boulevard between Stanyan and Gough streets. In addition, there will be a number of stop changes on the 38 and 38R designed to improve service reliability and efficiency. These changes will take effect tomorrow.
Stop Eliminations:
Inbound and outbound stops at Hyde
Inbound and outbound 38R stops at Spruce


38 and 38BX stop will remain
Stop Relocations:
Inbound stops at Masonic and at Presidio will be consolidated into one stop which will be located between Masonic and Presidio.
Inbound stops at Fillmore and at Webster will be consolidated into one stop which will be located to a mid-block bulb between Fillmore and Webster.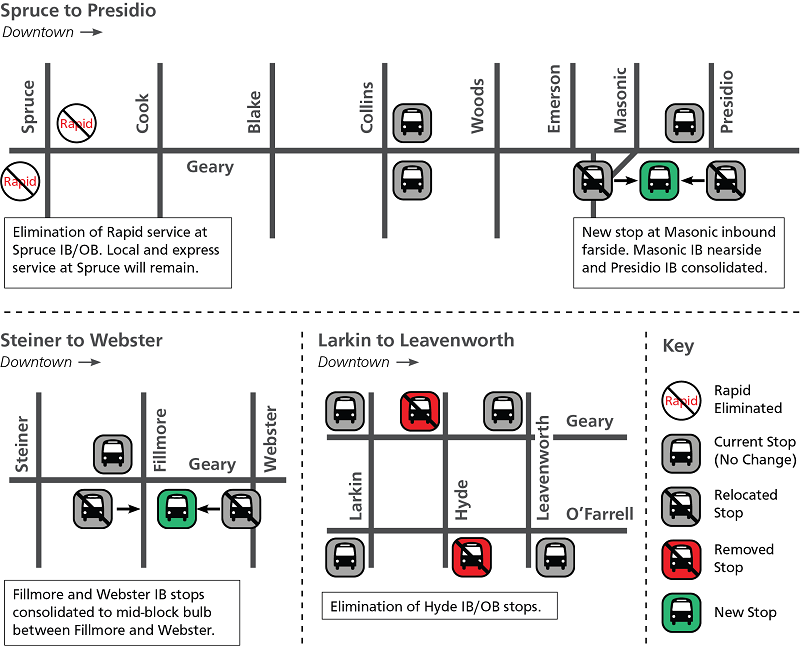 Vision Zero Improvements
As a committed partner in the City's Vision Zero goal of reaching zero traffic deaths by 2024 we will be making the following safety improvements.
Daylighting Intersections: Curb corners will be painted red in order to increase visibility of people as they cross the intersection.
Safety Zones: Some intersections will have temporary painted safety zones layout before permanent pedestrian bulbs are installed. The safety zones, like the pedestrian bulbs, will make people walking more visible to motorists and reduce vehicle turning speeds.
Reflecting our focus on bringing these safety and reliability improvements to Geary corridor travelers as soon as possible it took just 40 days from the time the SFMTA Board approved the project's parking and traffic legislation on August 21 until work crews got started on Monday.
What's Next?
This first round of improvement work is expected to last about four to six weeks. Major construction on the Geary Rapid Project is expected to begin at the end of the year and will continue until the spring of 2021.
Work that is slated to take place during this phase of construction includes:
Water and sewer upgrades
Roadway repaving
New signalized crosswalks at Buchanan and Webster streets
Bus and pedestrian bulbs
Removal of the Steiner Street pedestrian bridge
The Geary Rapid Project is the first of two planned projects for Geary. Plans are underway for the Geary Boulevard Improvement Project which will bring similar improvements west of Stanyan Street to 34th Avenue.