Two Giant Weekends: Giants Home Games & Labor Day Construction
The last weekend of August will be a quiet affair while we eagerly await Labor Day weekend--and two major projects to improve San Francisco's public transit system.
Looking for something to do? Check out these local event calendars to make your weekend plans: FunCheapSF, EventBrite, SF Weekly, and SFGate.
Events:
SF Giants Baseball
Wednesday through Sunday
AT&T Park
In the stretch run where postseason dreams are dashed or realized, the San Francisco Giants continue an all-important home stand against two of the National League's best teams, the Chicago Cubs and the St. Louis Cardinals.
If you're heading to the ballpark, Muni provides plenty of service to AT&T Park. Your options include: ballpark shuttle trains, N Judah, T Third, 10 Townsend, 30 Stockton, 45 Union/Van Ness, 47 Van Ness, and the E Embarcadero (on weekends only from 10 a.m. to 7 p.m.). Muni service near the ballpark may experience minor delays due to increased ridership.
Muni service note: Following night games, we'll keep Embarcadero Station open and run six extra Muni Metro trains to accommodate the baseball crowds. (On other nights through January, the subway is closing at 10 p.m. so we can make critical upgrades). These extra trains will be either on the N Judah or M Ocean View lines, with boarding at 4th and King, 2nd and King, and Embarcadero stations only. 
Construction Alerts and Reminders:
Next weekend, the Labor Day holiday, will have two important construction projects taking place to improve San Francisco's public transit system.
At 4th and King streets, we're starting work to build new train tracks for the Central Subway, Muni's first new subway line in decades. Track work at this intersection will affect the N Judah, K Ingleside, T Third and E Embarcadero lines. During construction, T Third and K Ingleside line customers will take the N Judah between 4th and King and Embarcadero stations. N Judah service will operate on a single track through the 4th and King intersection in both directions. All lines in the area will experience service delays, and the E Embarcadero will be canceled for the weekend. 
Also on Labor Day weekend, there will be no BART train service between San Francisco and the East Bay. Bus shuttles will transport patrons across the bay, and Muni will increase bus service near the Transbay Terminal. Visit BART's project webpage for complete details. For traffic alerts and alternative routes visit 511.org.
The Muni Metro subway continues to close early each night at 10 p.m. for system upgrades. Metro bus shuttles will operate between St. Francis Circle and Market and Drumm streets from 9 p.m. to 1:30 a.m.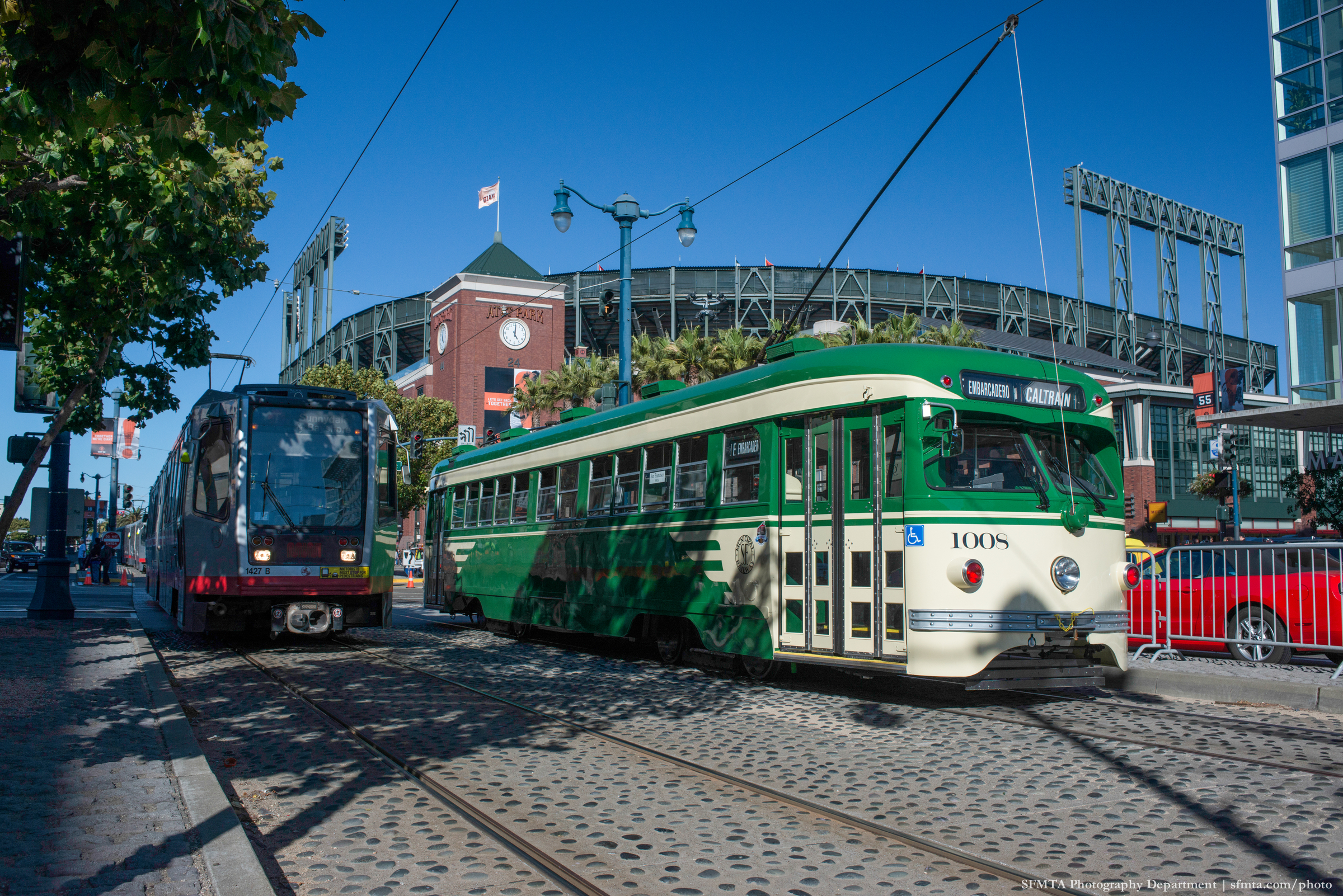 The T Third and E Embarcadero lines providing service to AT&T Park. SFMTA Photo Archive
"On Tap" gives you a heads up about the big events in town and what Muni routes and lines will get you to the party. Look for this feature to be posted usually on Wednesdays for a look ahead to the weekend. Check out our Weekend Traffic & Transit Advisory for more details.