Update: Car-Free Market Street and FAQ
Thursday, January 23, 2020
As you may have already heard (or read in our previous blog post), starting on Wednesday, January 29 some of the busiest sections of Market Street are going "Car Free" to increase safety and improve Muni. That means no private vehicles will be allowed to travel along Market Street eastbound from 10th to Main or westbound from Steuart to Van Ness. Traffic will still be able to cross Market, but there will be no turns onto the street in the car-free area.  
Our crews are hard at work getting the street prepared and have already installed signs that will be unveiled on January 29th. In addition, we've created new pedestrian safety zones, added new loading zones and are extending the Muni lanes down Market Street.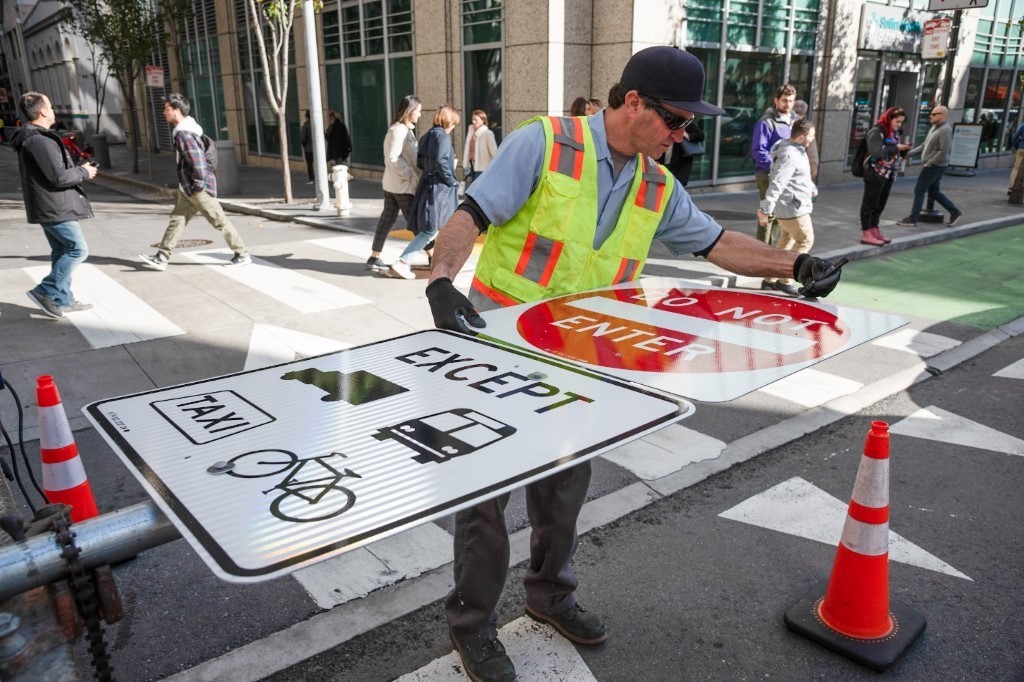 Crews installed signs alongside streets in preparation for the changes on January 29. Most signs were put up and will be covered up (or "bagged") until next week when the car-free Market begins.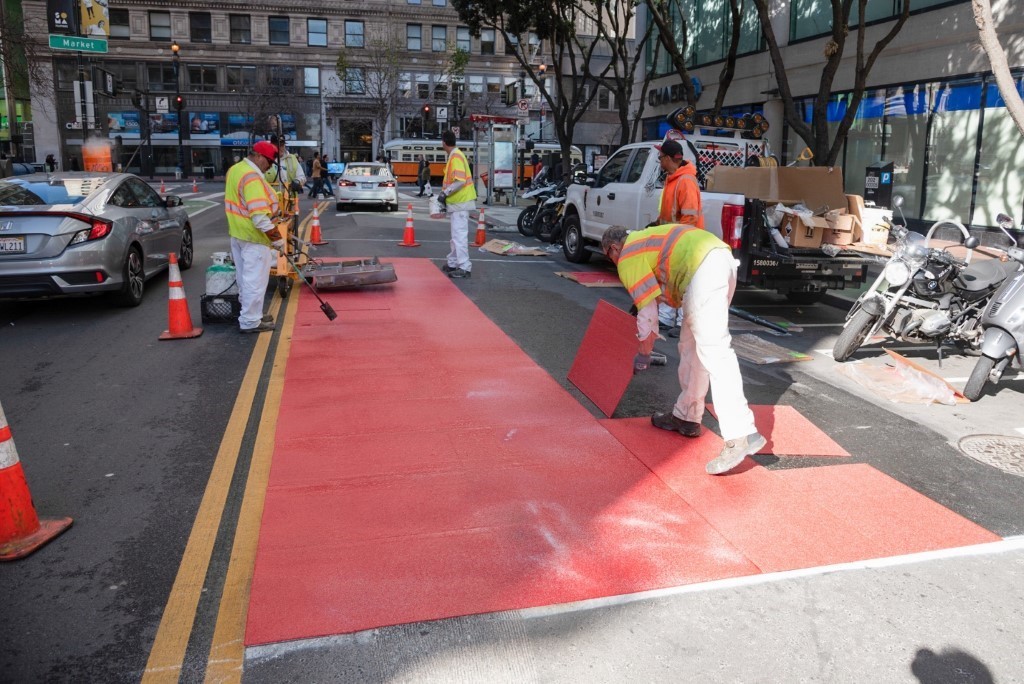 Red Muni lanes getting installed along 2nd Street near Market. As a part of the quick-build, Muni lanes are being extended east from 3rd to Main and on the last half-block of 2nd Street to improve transit in busy areas.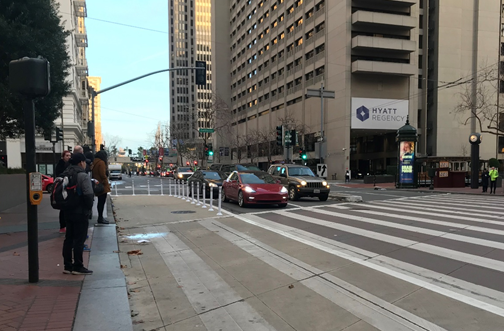 A new khaki-colored "painted safety zone" recently added at Drumm and Market will reduce conflicts and shrink street crossing distances for people walking.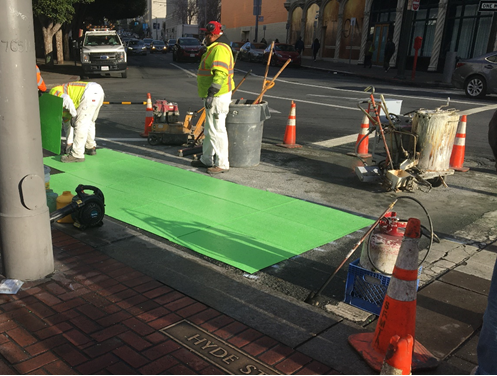 A new bicycle turn lane and bike box getting installed at Hyde/8th Street.  In case you want to get into all the details, we compiled a set of some of our most frequently asked questions below. 
Frequently Asked Questions 
1. What is Better Market Street?  
Better Market Street is the City's multi-agency project to transform 2.2 miles of Market Street – from Octavia Boulevard to Steuart Street – enhancing safety and accessibility, improving transit performance, replacing aging infrastructure, and revitalizing the corridor's streetscape. The goal of the project is to revitalize Market Street and reestablish the street as the premier cultural, civic and economic center of San Francisco and the Bay Area while bringing the transit system up to date.   
There were 123 injury collisions on Market Street between Octavia and Steuart in the year 2018. Since 2014, there have been an average of more than 100 per year with 75 percent involving people walking or biking. You can find more info about the full Better Market Street project here.
2. What does "quick-build" mean? 
A quick-build project consists of parking and traffic modifications that are fast and relatively cheap to implement. Examples include painted safety zones, bike lanes, adjustments to parking regulations, parking and loading changes, changes to the configuration of traffic lanes. Crews typically use materials such as paint, traffic signs, traffic delineators, and traffic signal changes. Quick-build projects do not involve large capital construction elements since those involve much longer design, higher cost contracting, and construction phases.  
3. How many people use Market Street today? 
Market is our city's busiest street for people walking, biking and riding transit. Currently, about 200 to 400 cars drive in the peak direction on Market Street during rush hour. These changes will require those cars to find an alternative route while benefitting all the people walking, biking and using transit: 
500,000 people walk on Market Street daily.

200 buses an hour during peak times.

650 people per hour ride bikes on Market Street during rush hour.

75,000 daily transit riders above ground.
4. What is going to change with the quick-build project and when?  
Better Market's Vision Zero quick-build phase will start in January 2020 and includes: 
Beginning Wednesday, January 29th: 
Making Market Street car-free eastbound from 10th to Main, and westbound from Steuart to Van Ness. Vehicles will still be allowed to cross Market street at intersections. 

Similar car-free restrictions on Second Street (between Stevenson and Market) and Steuart Street (northbound between Mission and Market; southbound travel unchanged) to facilitate making Market Street car-free.

Peak hour loading restrictions on Market Street to reduce conflicts between people on bicycles, transit and commercial vehicles 
No southside loading in the eastbound direction (towards the Ferry Building) on weekdays between 6:00 a.m. to 9:30 a.m. 

No northside loading in the westbound direction (towards Twin Peaks) on weekdays between 3:00 pm and 7:30 pm.  
Prohibiting right runs onto Valencia from eastbound Market Street (Friday 1/31/2020) 
Completed: 
Over 100 new cross-street passenger and commercial loading zones to accommodate safe loading.
Ongoing through Spring 2020: 
Extending existing transit-only lane east from Third to Main Street, the segment of Market with the most transit service, and making it Muni-only (taxis and non-Muni buses will no longer be allowed).

Converting the existing red bus/taxi-only lane to Muni-only between 9th and 3rd streets.

Installing painted safety zones at eight intersections to make crossing the street safer and shorter.

Adding bicycle intersection improvements at Eighth, Page, Battery, and Valencia streets.
Beginning Spring 2020 and later: 
Changes to sections of Ellis and Jones streets near Market Street to improve safety and vehicle movement.
5. Where is the car-free area? 
Private vehicles will be prohibited on Market Street eastbound from 10th to Main and westbound from Steuart to Van Ness. The car-free area is shown in the red areas below along with other changes shown by blue arrows. 
6. Will I still be able to use Market Street to access Franklin and Gough?  
Yes. The Quick-Build phase-only restricts traffic east of 10th or Van Ness. The future capital project would extend the turn restrictions west to 12th Street, but will not affect access to Franklin or Gough.  
7. Will there be enforcement?  
San Francisco Police and SFMTA Parking Control Officers will be helping to call attention to the new restrictions and directing traffic.  Vehicles violating the restrictions could be cited for violating CVC 22101d (violating an official traffic control device) which carries a $238 fine and adds one point to a DMV record.  
8. What sort of outreach are you doing?  
Our teams have discussed various proposals with the community for years during the design phases for Better Market Street. We hosted 5 rounds of large public meetings, presented to dozens of groups and studied the corridor extensively. Outreach specific to the quick-build, car-free area included: social media, signs in parking garages, electronic signs on/above downtown streets, stakeholder meetings, multi-lingual flyers, door-to-door discussions, media stories, and messages on electronic NextBus signs in all Muni shelters. We also worked with all the app-based mapping companies to ensure they deliver accurate routes that avoid Market Street in the car-free area. 
9. How will Quick-Build improve accessibility? 
The private vehicle restrictions on Market Street and newly painted safety zones at select intersections will reduce pedestrian conflicts with vehicles.  We also have provided additional loading zones on cross streets – over 100 new loading zones, including 23 new white zones and 8 new blue zones. The vast majority of the loading zones on cross streets are for general commercial loading (unlike the ones on Market, which are restricted to six-wheel vehicle restrictions) and can be used for up to three minutes for passenger loading.  Maps of all the new and existing zones can be found here: SFMTA.com/BetterMarketStreet 
10. How much will it cost?  
The quick-build phase is estimated to cost approximately $3.5 million and is funded through local general funds.    
11. Which vehicles will be allowed after private vehicles are restricted? 
Buses, paratransit, taxis, commercial delivery vehicles and emergency vehicles (Transportation Network Companies such as Uber and Lyft are not permitted). All vehicles would continue to be allowed to access Franklin and Gough streets.  
12. Are there any exceptions for vehicles with disability placards? 
Vehicles with disability placards are not exempt from these restrictions unless they have commercial plates. It should be noted that there are not currently any blue zones or other legal parking available for vehicles with disability placards on Market Street, so Better Market Street does not add any new parking restrictions for people with disabilities.  
13. Will deliveries still be allowed on Market Street? 
Yes, as long as the delivery vehicles have commercial license plates. As is the case today, most of the loading zones on Market Street require vehicles to have at least six wheels (big trucks and buses). In addition, there will be new restrictions on deliveries during the peak-hours in the peak-direction to improve safety:  
Southside loading in the eastbound direction (towards the Ferry Building) would not be allowed on weekdays from 6:00 a.m. to 9:30 a.m. 

Northside loading in the westbound direction (towards Twin Peaks) would not be allowed between 3:00 p.m. and 7:30 p.m.  
14. Can City government vehicles use Market Street?
Only in certain cases including: if responding to an emergency, street sweeping, construction and maintenance, servicing a vehicle or street infrastructure, or parking or traffic enforcement. City vehicles are issued government exempt license plates -- These are different from the commercial license plates issued to commercial vehicles. As a result, City vehicles are not permitted to park in yellow zones, make restricted turns or access streets which are reserved for commercial vehicles only, unless such vehicles are responding to an emergency.
SF Fire Department and SF Police Department vehicles are exempt from these restrictions due to their public safety responsibilities
15. How are you coordinating with Uber and Lyft and other Transportation Network Companies (TNCs)?   
TNCs are typically not commercial vehicles, and as such, they will not be allowed to drive on Market Street.  However, we have coordinated with Uber and Lyft to have the white zones added to their apps, so that passengers wishing to have a pick-up on Market Street will be redirected to the closest cross-street white zone for their pick-up.  
16. With cars no longer allowed to travel on Market Street, will traffic get worse on Mission Street and other parallel streets?   
We did extensive traffic modeling to understand the impacts of removing cars from Market Street. Currently, about 200 to 400 cars drive on Market Street during peak hours, depending on the block and direction.  Because streets north of Market and those in SoMa have grid layouts, people driving have extensive choices about which street to take, and will not all be diverted to the same street.  We anticipate about 100 cars per hour will be shifted to Mission Street, which will not significantly impact general traffic or transit on Mission Street. In addition, the turn restrictions will reduce congestion at intersections, as cars turning onto Market currently block traffic on cross streets as they wait for a gap in pedestrians crossing to complete their turn.  The turn restrictions will aim to improve traffic flow as well as pedestrian safety.  
17. When was the project approved?  
The Better Market Street project's Environmental Impact Report was certified by the Planning Commission on October 10, 2019. The Public Works Hearing was held on October 11. The SFMTA Board approved the project on October 15, 2019.  
 18. Quick-Build is exciting, but when will the bigger construction project start?  
The capital project will be built in phases, with each of the five phases estimated to be $150-200M. Much of the costs are state of good repair work, including rail and trackway replacement, the overhead wire system, traffic signals, repaving, streetlights, sewer, and water.  Funding for Phase 1 has been secured through several existing local sources, including the voter-approved Prop A General Obligation Bond and Proposition K (formerly OBAG), as well as some federal funding through a BUILD transportation grant. The Better Market capital construction project is currently in design, with the first phase between 5th and 8th Streets anticipated to start construction in late 2020 or early 2021. We have more information on the full capital project construction and design available.