Vaccine-Related Service Changes Go into Effect November 1
Wednesday, October 27, 2021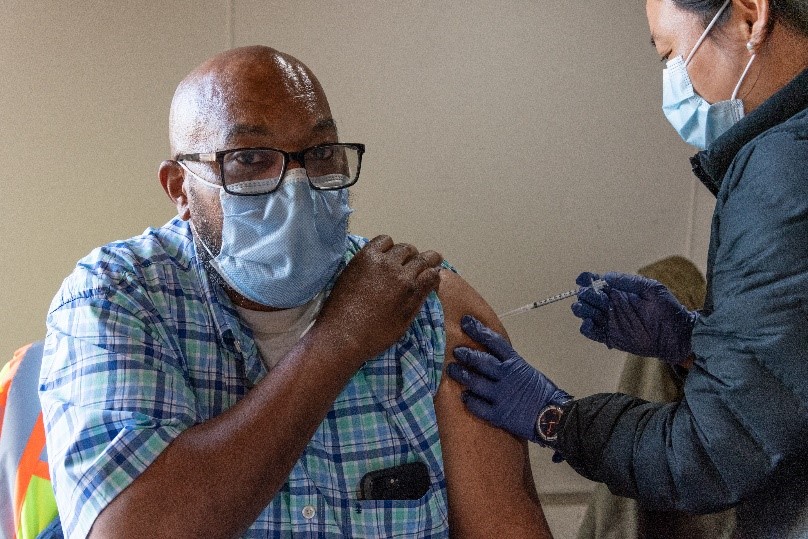 An SFMTA staff person receives the COVID-19 vaccine at the Woods Muni Maintenance Division
For the health and safety of City and County of San Francisco workers and the public, the city's Department of Human Resources instituted a policy that all city employees need to be fully vaccinated by Nov. 1. The SFMTA fully supports vaccination, as it has been proven to be the best tool to protect each other against the dangers of COVID-19.
Because a number of transit operators are not in compliance with the vaccine mandate, the SFMTA will need to temporarily suspend "short" line service on a few Muni lines. Short service refers to buses that run on a segment of a longer Muni route to help improve frequency on higher-ridership portions of the line. The long routes on these lines will continue to operate, connecting customers where they need to go. There will be no cancellation of any Muni routes in response to staffing challenges associated with the city's vaccine mandate.
Starting November 1, we are planning to temporarily suspend the 1 California Short, 14R Mission Rapid Short (weekdays only), 30 Stockton Short, and 49 Van Ness Short (on weekends only).  These changes are intended to reduce impacts to service systemwide, but customers may experience additional crowding and longer wait times on various bus routes as a result. These changes may impact also NextMuni predictions.
Why These Routes
We made the difficult decision to cut the supplemental short line service because it may be temporarily eliminated without jeopardizing access to any stops or connections along the full route. Based on feedback we received from the public regarding service planning for early 2022, we heard that priorities include preserving and restoring connections and service in hilly areas, as well as ensuring ongoing access for people with disabilities and seniors. Temporarily suspending short service allows us to meet these needs while we work to put additional staff in place.
Next Steps
Currently, we don't have a precise timeline for when we will be able to restore additional service or increase frequencies on these short routes. However, we continue to work with our operators to address their vaccination status so that they can return to work as quickly as possible. We are also hiring and training new operators.
We are moving forward with additional Muni service in early 2022, pending approval by the SFMTA Board of Directors on December 7. At the same time, we will continue to adjust operations in response to operator availability.
We appreciate your patience as we work to address the vaccination mandate. We will keep customers and the public updated. For the latest, please follow us on Twitter @sfmta_muni or Facebook.