VIDEO: MTA Board of Director's Meeting, DOT Report from July 17, 2018
Here is a synopsis of what was discussed at the July 17th board meeting:
Status of Protected Bike Lanes on Townsend Street and along the Embarcadero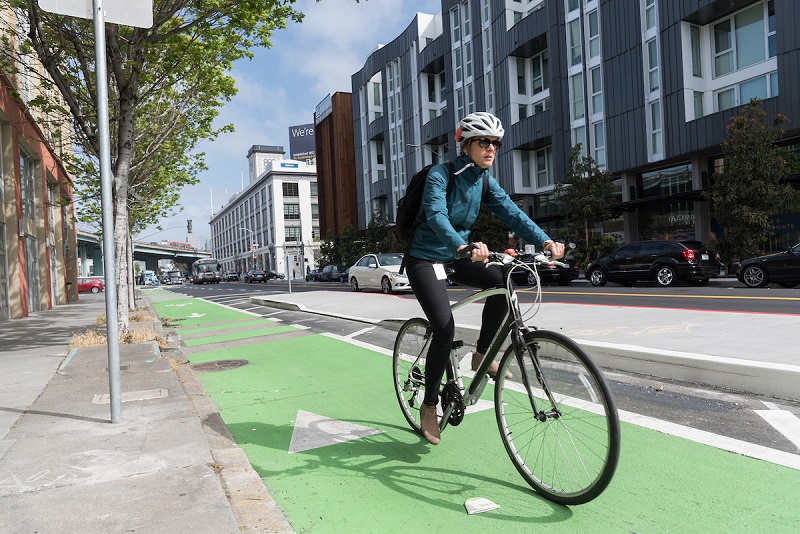 New Protected Bike Lane on 8th Street between Harrison and Townsend. (SFMTA Photo, May 30, 2018)
Both the Townsend Corridor Improvement Project and the Embarcadero Enhancement Project are a couple of highly visible safety endeavors that focus on protected bike lanes and have been in the news of late.
Tom Maguire, the SFMTA's director of sustainable streets, spoke to the project, reiterating that the agency is looking to make meaningful safety improvements on Townsend Street between 4th and 7th before the Transbay Joint Powers Authority constructs the Downtown Extension Project (DTX). The full board supported the measures and many of those in attendance were reassured to learn as much too.
Also discussed was the June 27 hit-and-run pedicab collision that killed Kevin Manning and injured his passengers at the intersection of The Embarcadero and Sansome Street. This agency also discussed plans for protected bike lanes on that thoroughfare as well.
Masonic Avenue Streetscape Project Update
The Masonic Avenue Streetscape Project (between Geary Boulevard and Fell Street) addresses safety issues on one of the city's High Injury Network streets that accounts for a disproportionate amount of traffic collisions. Construction is anticipated to be complete by mid-August and has been done in partnership with Public Works and the Public Utilities Commission.
Improvements include: a new landscaped median and public plaza, upgraded sewer and water infrastructure, repaving, bus bulb-outs, bike lanes, new trees and sidewalk planters and new pedestrian scale lighting. The project costs $26 million and is primarily funded by the SFMTA revenue bond:
$16.8 million for street safety and beautification

$8.6 million to upgrade outdated sewer and water infrastructure

$700 thousand additional funding for repaving
Shared, Powered Scooters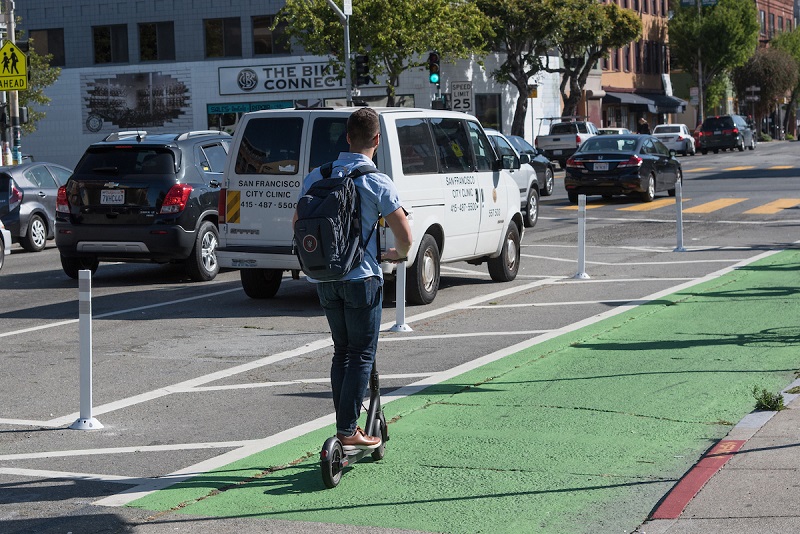 Person Riding Rental Scooter on Folsom Street. (SFMTA Photo, May 10, 2018)
Staff who have been conducting a review of the 12 applications based on the SFMTA's and San Francisco County Transportation Authority's Emerging Mobility Guiding Principles of collaboration, safety, transit, congestion, sustainability, equitable access, accountability, labor, disabled access and financial impact will be finalizing their recommendations and documentation in the coming weeks. The agency will then work with the selected operators to finalize and clarify all terms and conditions of the permit, with the goal of issuing final permits in August.
Legislative Update
The initiative to repeal SB 1, which increased the state tax on gasoline and diesel fuel, qualified for the November statewide ballot. San Francisco is scheduled to receive approximately $60 million in formula funds.
On a related note, a taxpayers association has filed a lawsuit against the Bay Area Toll Authority (BATA), challenging the recently approved Regional Measure 3, $3 bridge toll increase in state court, a move that could potentially delay or eliminate the measure. The lawsuit challenges that the toll increase is a tax and not a fee and would therefore require two-thirds voter approval. The measure passed with 55 percent of the vote across the nine Bay Area counties.
Tour buses not allowed outside the "Full House" residence
Commercial vehicles such as tour buses that seat nine or more people are no longer allowed to frequent the Broderick Street house made famous in the 1990s sitcom "Full House."
The move by the board came about after neighbors complained about double parking and congestion outside the Victorian home, causing traffic hazards. The exterior of the Broderick Street house was featured in the original show and in a Netflix reboot in 2016.
Dolores Street Parking Pilot project becomes permanent
Free weekend parking on street medians along Dolores Street are now a permanent thing thanks to yesterday's board vote.
Twin Peaks Tunnel Project and closure update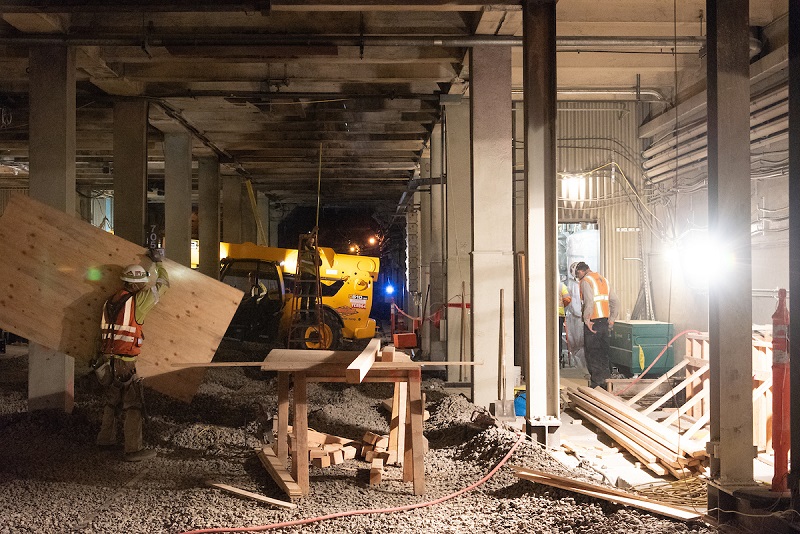 Construction work on Twin Peaks Tunnel Improvement Project. (SFMTA Photo, July 3, 2018)
Crews have been working around the clock to complete the work on the Twin Peaks Tunnel Improvement Project quickly and safely; the project is still on track to finish on time within the two-month project window. About 50 percent of the seismic retrofit work is complete along with most of the improved drainage system which dates back 100 years. Two of four new track crossovers are installed while track removal and replacement inside the tunnel continues.
The project team has worked hard to make sure merchants have access to loading and have been holding twice a week office hours in West Portal. Customer feedback and lessons learned have been continually incorporated into the plan wherever possible.
The transit service plan continues to perform very well in transporting the tens of thousands of daily customers that normally travel via the KLM lines in Twin Peaks tunnel with travel times becoming much quicker than expected, with some positive comments coming in via 311 and social media
Coordinated passenger support from ambassadors, Proof of Payment staff, station agents, and inspectors at key transfer locations have been critical to guide customers through the first few weeks of the subway shutdown.
Twice monthly the agency's Board of Directors meet at City Hall to discuss and provide policy oversight for safe and efficient transportation in San Francisco in accordance with the city charter and the Transit First Policy.
This seven-member board, appointed by the Mayor and confirmed by the San Francisco Board of Supervisors, meets on the first and third Tuesday of each month at 1 p.m. at City Hall, Room 400, unless otherwise noted. Meetings are open to everyone and are streamed live through SFGovTV. Additional information such as agendas, resolutions and legislation passed by the Board can be accessed through our website.
Director Ed Reiskin provides key updates on what our agency is working on to make San Francisco transportation options safe, reliable and equitable.
You can watch the video here: