Townsend Corridor Improvement Project
Project Introduction
Townsend Street has one of the richest mixes of travel modes of any street in San Francisco. 4th and Townsend, along with the regional Caltrain Station and the soon-to-be-completed Central Subway light rail, is the nexus of this corridor as visitors, residents, workers, shoppers and travelers converge there daily. Thousands of people an hour access this regional transportation hub by bicycle, by foot, by rail, by shuttle bus, ride-share vehicle, taxi, personal vehicle, or by one of the eight Muni bus routes on Townsend. Throughout this project we have worked with the local community to design and build an efficient and safe Townsend Street where all modes of travel are separated into comfortable and intuitive spaces. When complete, the project will transform Townsend Street from 3rd Street to 8th Street.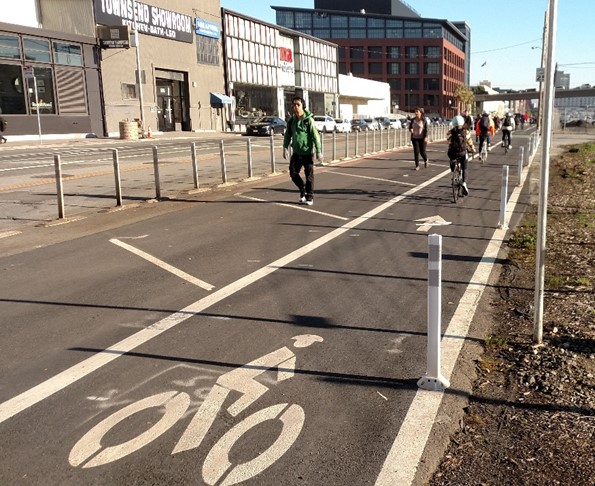 PROJECT NEWS: 
Construction of new safety elements are underway on Townsend between 3rd and 5th streets, including new walkways, a transit bulb, bike lane, sewer upgrades, and more. We're also working on installing new bicycle signals at 4th and Townsend that will improve the flow of people and vehicles through that busy intersection. 
During construction – which began in August 2019 and will continue through early 2020 – temporary tow-away zones were established to remove vehicle parking and allow crews space to complete their work. Pedestrian walkways and two-way traffic are being maintained at all times. Temporary passenger loading zones were added in September at nearby locations and will be in place for the duration of construction. Muni bus routes in the vicinity of the Caltrain station may move on occasions when construction requires, and signs are posted when that takes place. T
our bus loading on the south side of Townsend has been permanently moved to the south side of Townsend between 5th and 6th.
TRANSIT CHANGES FROM SEPTEMBER 2019
- The 83X Mid-Market Express was rerouted onto Brannan Street and still stops at Townsend and 4th Street.
- The 47 Van Ness has been rerouted onto 3rd and 5th streets, rather than utilizing 4th and 5th streets. Bus stops have been relocated accordingly.
- A limited number of transit stops for routes 10 Townsend, 30 Stockton, 45 Union/Stockton, 47 Van Ness, 81X Catrain Express, 82X Levi Plaza Express, 83X Mid Market Express, 91 Owl, and N Owl will be adjusted in order to provide adequate space for drop off and pick up of passengers.
- Throughout the project area, new boarding islands and a new bus bulbout will reduce the need for buses to pull in and out of travel lanes.

Project Timeline
2017
Gather stakeholder feedback through online surveys and pop-up events, share conceptual designs
2018
Spring: In-depth outreach to stakeholders; Summer: design and environmental review; November: SFMTA Board approval
December 2018
Quick build safety improvements for pedestrians and bicycles
Fall 2019
Construction between 3rd Street to 5th Street
Bus Routes and Rail Lines
The SFMTA is focusing on Townsend Street as it is a corridor of high demand due to the density of residents, bicycle use, proximity to Caltrain, and the current lack of physically protected bikeway. Townsend Street between 8th and 4th is a part of the Vision Zero High Injury Network, where 43 collisions involving people biking occured on the corridor in the last 5 years.  
The poor quality of the street, including the lack of sidewalks and inadequate pavement conditions, make this street feel unsafe for all users. The area is undergoing rapid population and employment growth, with many development projects already underway. This project is specifically designed to make near-term improvements to the street in advance of the planned excavation of Townsend Street as part of the Downtown Extension Project.