We Tested a Raised Bike Lane in San Francisco - Here's What We Learned
Thursday, December 15, 2016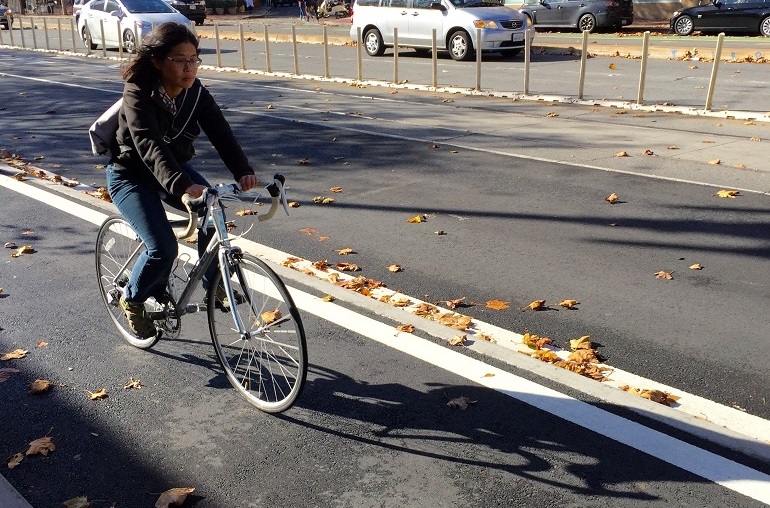 As we adapt lessons from other cities to design a new generation of protected bike lanes that work for everyone on our streets, it's crucial to get the details right.
That's why we installed San Francisco's first raised bike lane about a year ago as part of our efforts to experiment and improve upon the best practices among bike-friendly cities. On a short stretch of eastbound Market Street, from Gough to 12th Street, we installed a permanent bikeway with four different curb designs and measured the results from last November to May this year.
Our findings from the Raised Bikeway Demonstration Project are now available. Here, we'll provide a brief look at the report [PDF] and the larger context around it.
Refining the Solution
Raised bike lanes are relatively new to U.S. cities, but the idea is simple: Physically elevating bike lanes above the roadway with a curb can make them safer and more comfortable for everyone. They help provide a clearer sense of separation for everyone on the street, whether they're walking, biking or driving.
Raised curbs offer a lot of potential to solve the biggest issues with the conventional American bike lanes only marked by stripes on the roadway. In some places, they can help prevent drivers from illegally parking in bike lanes without relying on limited enforcement resources.
Countries like Denmark and the Netherlands, where raised bike lanes are most common, have different takes on their design. As we apply federal engineering guidelines to bring them to San Francisco, we wanted to gain a clear, real-world sense of the factors involved in building them to develop best practices for us and other American cities to address important details.
The Experiment
In the Market Street experiment, we looked at how well different designs of the curb, along with the height and slope of the bike lane, achieved a range of goals. That of course includes how safe people felt riding on the bikeway, how well the designs deterred illegal parking, and how they worked for people walking and using devices like wheelchairs.
But here are the four key considerations we focused on:
Accommodating loading for people using paratransit vehicles and accessible taxis

Simple construction and low cost (how well they work with storm drains)

Ease of maintenance (how easily they can be cleaned by street sweeping machines)

Finding designs most preferred by the public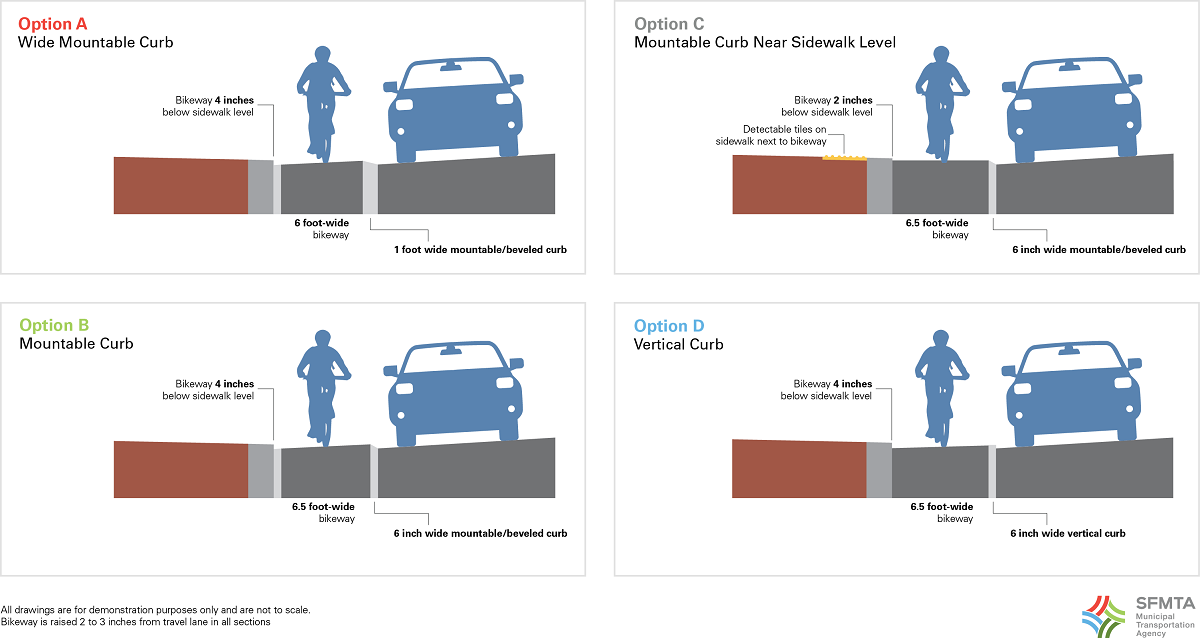 And here are the four slightly different designs we tested (illustrated above):
A: Wide mountable curb

B. Mountable curb

C. Mountable curb near sidewalk level

D. Vertical curb
Finding the ideal design of a raised bike lane is a challenge. It should provide enough room for everyone to be comfortable staying in their lane, but be flexible enough for the times they need to leave it.
A raised bikeway needs to:
Prevent drivers from parking in the bikeway, but allow necessary vehicle access for people with disabilities and for business deliveries.

Allow people on bikes to exit the bikeway if necessary, but also keep bikes on the bikeway and pedestrians on the sidewalk.
Recommendations
So, which of the four options was the winner? The short answer is that, of course, none was perfect - each had pros and cons.
Based on the evaluation, for busy commercial streets like Market we recommend a bikeway design that's level with the sidewalk (similar to that in option C), has a vertical curb (as used in option D) and includes buffer areas between both the traffic lane and the sidewalk.
For protected bike lanes to work in commercial areas in general, ideally they should have a parking-protected configuration, with a lane of car parking and loading zones between the bike lane and roadway. If the bike lane is level with the roadway, it should be separated from the road by a concrete curb or median.
Mountable curbs, which are angled so vehicles can roll up them if necessary, tend not to be effective deterrents to illegal parking in commercial areas.
If further measures are needed, we recommend adding green paint to make them more visible and using plastic safe-hit posts to separate them from the road where appropriate.
On Market, where three of the four sections of our raised bikeway had mountable curbs, incursions by delivery trucks and other vehicles remained common. Last month, we installed safe-hit posts along the entire raised bike lane, which has helped prevent this from happening.
The Future of Raised Bike Lanes Is Coming
Eventually, raised bike lanes could be included in the full Better Market Street redesign. We recently built our second raised bike lane - a parking-protected one on the south end of Valencia Street. And in the new year, construction will ramp up on street redesigns on Masonic Avenue and Polk Street, which will both include raised bike lanes. (Those initial projects were designed before our experiment on Market.)
This research puts us in a better position than ever to make bicycling safer and more inviting in San Francisco for the average person.
See the full details on the Raised Bikeway Demonstration in our report [PDF].