This Weekend: Aloha Poly Fest and Sunday Streets in SoMa
Wednesday, August 14, 2019
Events: Take advantage of the warm, sunny weather forecast for this weekend by checking out some of the many unique events taking place around the city. On Saturday, the Mission will host the 20th annual 20th Street Block Party and the annual Aloha Poly Fest will return to the Marina, Visitacion Valley will host a Peace and Unity Rally and there will be Art in the Park at Boeddeker Park in the Tenderloin. Also on Saturday as well as Sunday, the Dahlia Society of San Francisco will hold their annual Dahlia Show at the Hall of Flowers in Golden Gate Park. On Sunday, the final day of the Stern Grove Festival will feature the legendary Isley Brothers and SoMa will host Sunday Streets along much of Folsom Street. Read more about our featured events below.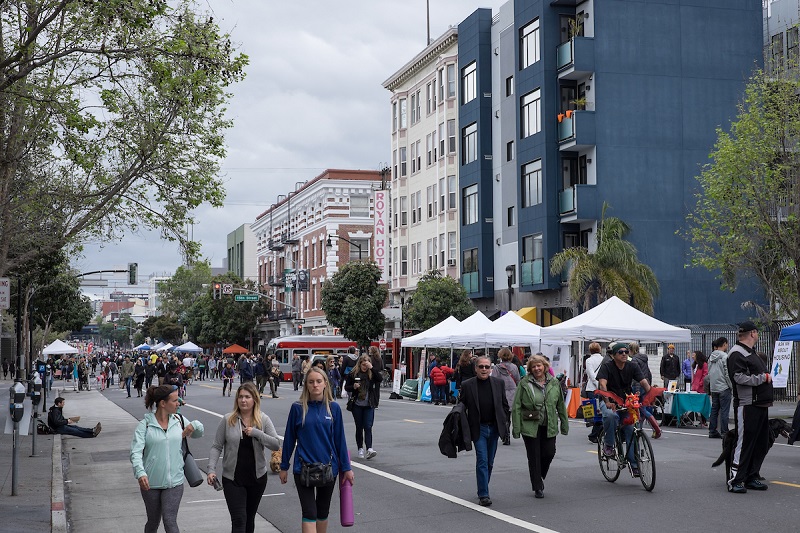 Sunday Streets, pictured here during its time along Valencia Street, is coming to Folsom Street this weekend. Photo: SFMTA Archive
Aloha Poly Fest
Saturday, 11 a.m. to 5 p.m.
Marina
The Marina will host a celebration of Polynesian culture this Saturday during the seventh annual Aloha Poly Fest. Held on Marina Green West, the event will showcase the rich heritage of the Polynesian Islands, an area consisting of over 1,000 islands throughout the Pacific Ocean, including Hawaii, Samoa, Tonga, Tahiti, New Zealand and the Cook Islands among many others. There will be cultural dances, songs, arts and crafts, food and much more at this family friendly event.
---
How to Get There on Muni: Riders may take the 22 Fillmore, 28 19th Avenue, 30 Stockton, 43 Masonic or the 76X Marin Headlands Express routes to within a few blocks of the event.
Muni Service Notes: There are no planned service changes for this event.
Sunday Streets SoMa
Sunday, 11 a.m. to 4 p.m.
SoMa
Folsom Street from Essex to 10th will play host to the latest iteration of Sunday Streets this weekend. Explore local businesses, enjoy cuisine from the multitude of area restaurants or simply enjoy a leisurely stroll along Folsom Street as car traffic will be prohibited for the event, opening the area up to pedestrians, cyclists, skateboarders or any other non-automobile based mode of getting around town. 
How to Get There on Muni: Riders may take the 8 Bayshore, 9 San Bruno, 10 Townsend, 12 Folsom/Pacific, 19 Polk, 27 Bryant, 30 Stockton, 45 Union/Stockton or the 47 Van Ness routes to near the event along Folsom Street.
Muni Service Notes: The 12 and 27 routes will have reroutes in the area of the event. All other routes may see minor delays and increased ridership.
Remember that you can take Muni for the entire day for a single $5 fare. The new $5 Day Pass, available on MuniMobile®, is part of Muni's recent fare changes. The pass is intended to encourage a safe, convenient way to pay your fare and quickly board Muni vehicles, which reduces overall travel time for everyone. The $5 Day Pass is Muni bus, rail and historic streetcars only.
"On Tap" gives you a heads up about the big events in town and what Muni routes and lines will get you to the party. Look for this feature to be posted usually on Thursdays for a look ahead to the weekend. Check out our Weekend Traffic & Transit Advisory for more details.