Weekend BART Closures in SF: How to Get Around
BART plans to close its tracks between Glen Park and Daly City stations over seven weekends, from the end of July through October, to make vital repairs and install noise-reducing equipment. Balboa Park Station will be closed for BART service, but Muni Metro lines will remain in service to and from the station.
To help bridge the gap during these weekend closures, Muni and SamTrans will provide free bus shuttles. We'll also have extra service on alternative Muni routes.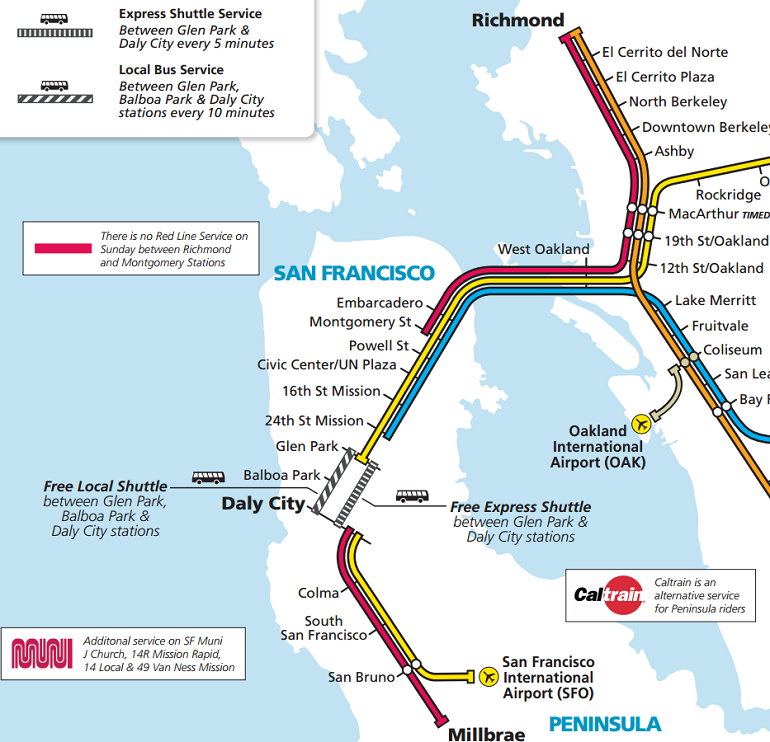 Map via BART.
Planned Closure Dates
July 30 - 31
August 13 - 14
August 20 - 21
September 3 - 5 (Labor Day Weekend)
September 17 - 18
October 1 - 2
October 15 - 16
SamTrans will provide free express shuttle service between Daly City and Glen Park stations (no stops at Balboa Park). The express trip is expected to take about 15 to 20 minutes.
Free Muni shuttles will also run between Glen Park, Balboa Park and Daly City stations. The trip between Glen Park and Balboa Park will take about 10 minutes, and the trip between Balboa Park and Daly City will take 15 minutes.
BART advises riders to plan an additional 20 to 40 minutes for their trip, or one hour if traveling to SFO Airport or Millbrae.
The shuttles will run during all hours of BART service. BART will have ambassadors and signs at the stations to assist customers.
Muni Shuttle Boarding Locations
Glen Park Station: Diamond at Bosworth Street (stop for the 23 route)
Balboa Park Station: Geneva Avenue in front of the station, between I-280 and San Jose Avenue (stop for the 8, 43 and 54 routes)
Daly City Station: Station bus loop (stop for the 28, 54 and 14R routes). 
Alternative Routes
For travelers going to and from the Peninsula, regular SamTrans and Caltrain service will be available as an alternative.
Within San Francisco, the following Muni routes (paid service) connect with the affected BART stations. Extra service will be provided on the J Church, 14R and 49.
More information on the BART closures can be found on BART's website. For more trip planning info and assistance, call 511 or visit 511.org.