This Weekend: Brave the Bay and Bazaar Stock Music Fest
Wednesday, December 4, 2019
Events:  The north side of the city will host several unique events throughout this coming weekend. The Italian Christmas Market will open at the Fort Mason Center and last throughout the weekend. Right next door in Aquatic Park, teams will compete in various athletic challenges during Brave the Bay on Saturday. Check out the Bazaar Stock Music Festival in the Richmond as dozens of local artists perform over the course of 12 hours. Farther south in Golden Gate Park, the annual Girls on the Run 5K will take place Sunday. Read more about our featured events below.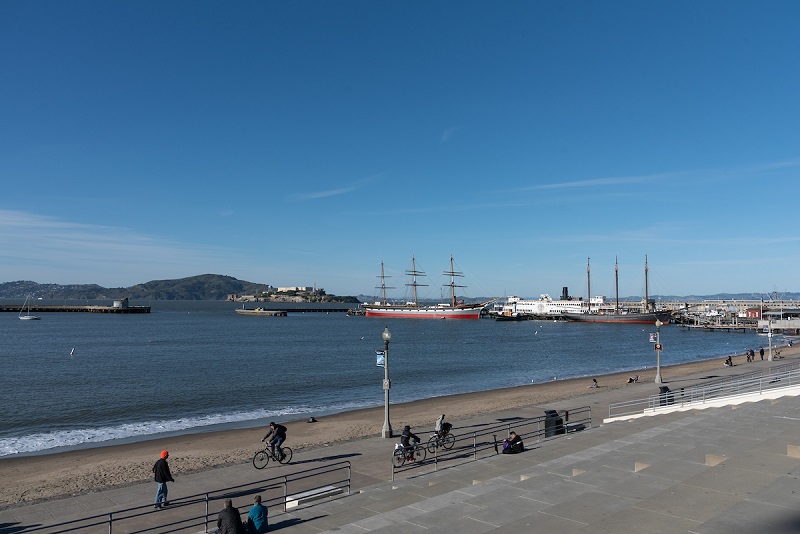 Test your mettle this Saturday during the annual Brave the Bay event at Aquatic Park. Photo: SFMTA Archive
Brave the Bay 
Saturday, 9 a.m. to 1 p.m.
Aquatic Park
Those curious to find out how cold the Bay waters can be during the winter months or if they have what it takes to pull a cable car will have those chances this Saturday during Brave the Bay. Benefiting the Make-A-Wish Greater Bay Area, Brave the Bay gives participants the option of partaking in a 5K walk and run, a swim in the Bay, a team-based cable car pull or all three events. 
---
How to Get There on Muni: Riders may take the 19 Polk, 28 19th Avenue, 30 Stockton, 47 Van Ness, or 49 Van Ness/Mission routes to near the event in Aquatic Park.
Muni Service Notes: There are no planned service changes for this event.
Bazaar Stock Music Festival
Saturday, 10 a.m. to 10 p.m.
Outer Richmond
Support local musicians and a locally-owned business all at once this Saturday during the Bazaar Stock Music Fest at Bazaar Cafe in the Outer Richmond. Over the course of 12 hours, 36 local musicians will perform acoustic sets spanning multiple genres with 100% of the tip jar proceeds being donated to Bread & Roses Presents. 
How to Get There on Muni: Riders may take the 1 California, 29 Sunset, 38 Geary or the 38R Geary Rapid routes to near the event on California Street.
Muni Service Notes: There are no planned service changes for this event.
Remember that you can take Muni for the entire day for a single $5 fare. The new $5 Day Pass, available on MuniMobile®, is part of Muni's recent fare changes. The pass is intended to encourage a safe, convenient way to pay your fare and quickly board Muni vehicles, which reduces overall travel time for everyone. The $5 Day Pass is Muni bus, rail and historic streetcars only.
"On Tap" gives you a heads up about the big events in town and what Muni routes and lines will get you to the party. Look for this feature to be posted usually on Thursdays for a look ahead to the weekend. Check out our Weekend Traffic & Transit Advisory for more details.