This Weekend: Bridge to Bridge Run
Thursday, August 22, 2019
Events: This weekend's events are as different in character as they are in their locations around the city. Saturday and Sunday in Golden Gate Park, vintage paper aficionados can buy and sell vintage postcards, photographs, posters and much more at the Vintage Paper Fair in the County Fair Building. Dog lovers can head over to Treasure Island TreasureFest and its "Dog Days of Summer" themed-weekend that will feature vendors and activities catering to dogs (and their humans!) Sunday is the 43rd annual Bridge to Bridge Run along the Embarcadero benefiting the Special Olympics of Northern California. Read more about our featured event below.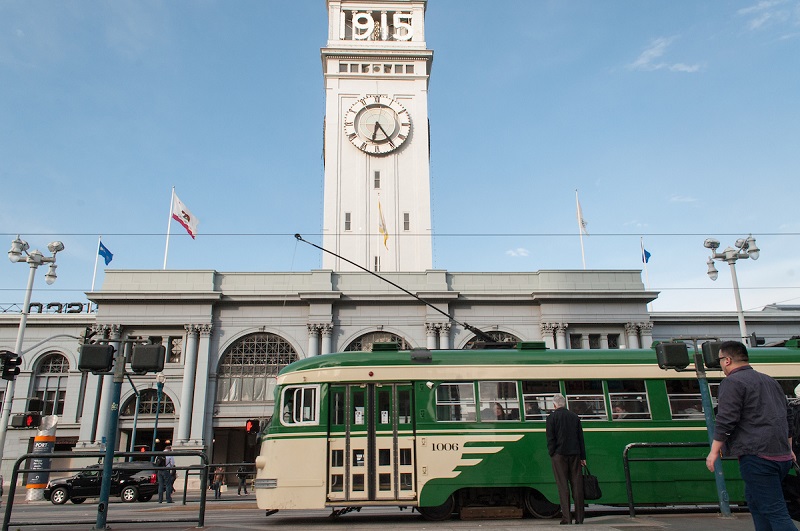 Take a historic F Market and Wharves streetcar to the Ferry Plaza starting line of Sunday's Bridge to Bridge Run. Photo: SFMTA Archive
Bridge to Bridge Run
Sunday, 8 a.m. to 12 p.m.
Embarcadero
Billed as "America's most beautiful run" by Sports Illustrated, the Bridge to Bridge Run certainly lives up to the hype. Participants in both the 5k and 12k variants will set off from the starting line in the shadow of the Bay Bridge on the Embarcadero, proceeding north through Fisherman's Wharf and Ghirardelli Square. Those going the full 12k distance will continue on to Crissy Field where they will be greeted with a panoramic view of the Golden Gate Bridge before they circle back to the Marina Green for a post-race party with music, food and more. The Bridge to Bridge Run benefits the Special Olympics of Northern California.
How to Get There on Muni: Participants can take any Muni Metro line to Embarcadero station, the F Market and Wharves Line, any Market Street bus route, as well as the 1 California, 2 Clement, 14 Mission, or 14R Mission Rapid routes to near the starting line at the Ferry Building.
Muni Service Notes: The F Market and Wharves Line and 39 Coit Route will have reroutes throughout the morning until the conclusion of the event.
Remember that you can take Muni for the entire day for a single $5 fare. The new $5 Day Pass, available on MuniMobile®, is part of Muni's recent fare changes. The pass is intended to encourage a safe, convenient way to pay your fare and quickly board Muni vehicles, which reduces overall travel time for everyone. The $5 Day Pass is Muni bus, rail and historic streetcars only.
"On Tap" gives you a heads up about the big events in town and what Muni routes and lines will get you to the party. Look for this feature to be posted usually on Thursdays for a look ahead to the weekend. Check out our Weekend Traffic & Transit Advisory for more details.