This Weekend: Choy Sun Doe Day and Giants FanFest
Wednesday, February 6, 2019
Events: The Chinese New Year fun continues with the new Choy Sun Doe Day in Chinatown, Giants FanFest returns for its 26th year, and the annual Tulipmania flower festival at Pier 39 begins Saturday and runs through February 18th. Read more about our featured events below.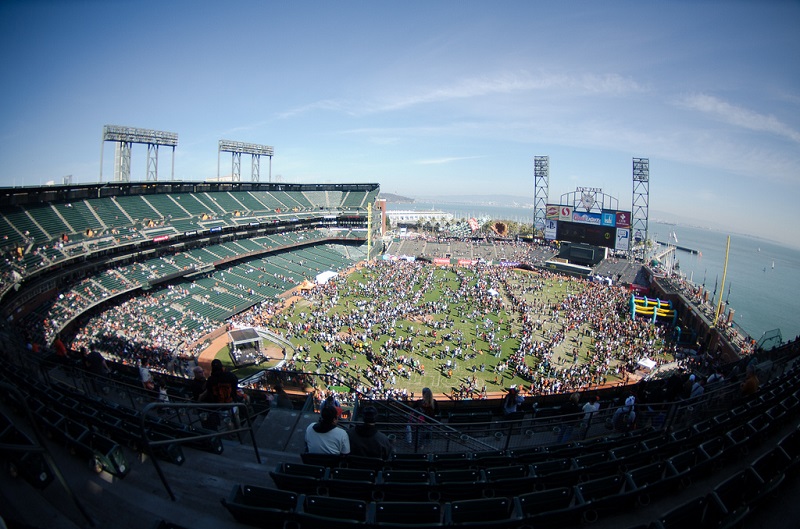 Enjoy the chance to walk on the field as one of the many fun activities during Giants FanFest this Saturday. Photo: John Pastor/Flickr
Chinese New Year: Choy Sun Doe Day
Saturday, 10 a.m. to 4 p.m.
Chinatown
Choy Sun is the God of Wealth who blesses all with prosperity and an abundance of wealth, so it's only fair to want to be on his good side! That's why Chinatown will be introducing a celebration this Saturday. Choy Sun Doe Day will take place in Chinatown at Grant and Jackson streets featuring various live performances, a petting zoo, and one-hundred Choy Suns who will be passing out special red envelopes (to children only!) that will have candy and maybe a voucher for a toy or, of course, some money they can save in their piggy banks.
---
How to Get There on Muni: Those attending may take the 8 Bayshore, 10 Townsend, 12 Folsom/Pacific, 30 Stockton or 45 Union/Stockton to near the event in Chinatown.
Muni Service Notes: There are no planned service changes for this event.
Giants FanFest
Saturday, 10 a.m. to 3 p.m.
Oracle Park
Spring Training officially begins in just over five days, which means it's also time for the annual KNBR Giants FanFest at Oracle Park (formerly AT&T Park). Entering its 26th year, the FanFest is a chance for some pre-season baseball fun with player Q & A sessions, free player autographs, the chance to walk on and even play catch on the field and much more!
How to Get There on Muni: Riders may take the N Judah Line, 8 Bayshore, 10 Townsend, 30 Stockton, 45 Union/Stockton or 47 Van Ness routes to the ballpark.
Muni Service Notes: There are no planned service changes for this event, however, Muni will be providing extra Muni Metro shuttle service to and from the event.
Remember that you can take Muni for the entire day for a single $5 fare. The new $5 Day Pass, available on MuniMobile®, is part of Muni's recent fare changes. The pass is intended to encourage a safe, convenient way to pay your fare and quickly board Muni vehicles, which reduces overall travel time for everyone. The $5 Day Pass is Muni bus, rail and historic streetcars only.
"On Tap" gives you a heads up about the big events in town and what Muni routes and lines will get you to the party. Look for this feature to be posted usually on Thursdays for a look ahead to the weekend. Check out our Weekend Traffic & Transit Advisory for more details.