Weekend Event-a-thon: Fleet Week, Italian Heritage & So Much More!
Wednesday, October 7, 2015
Events:
For a second straight weekend the city will be the place to be. With half a dozen events, there will be something to do and see from morning till night. On Saturday head out to the Sunset for the Ocean Beach Music and Art Festival (the 7 Haight/Noriega and 18 46th Avenue will be affected) then make your way over to the Lower Haight for the Urban Air Market (the 6 Haight/Parnassus and 7 Haight/Noriega will be affected). On Sunday, start the day off in Vis Valley with the Visitacion Valley Festival (which will affect the 56 Rutland) then be sure to stop by Potrero Hill for Burning Man Decompression. Whew!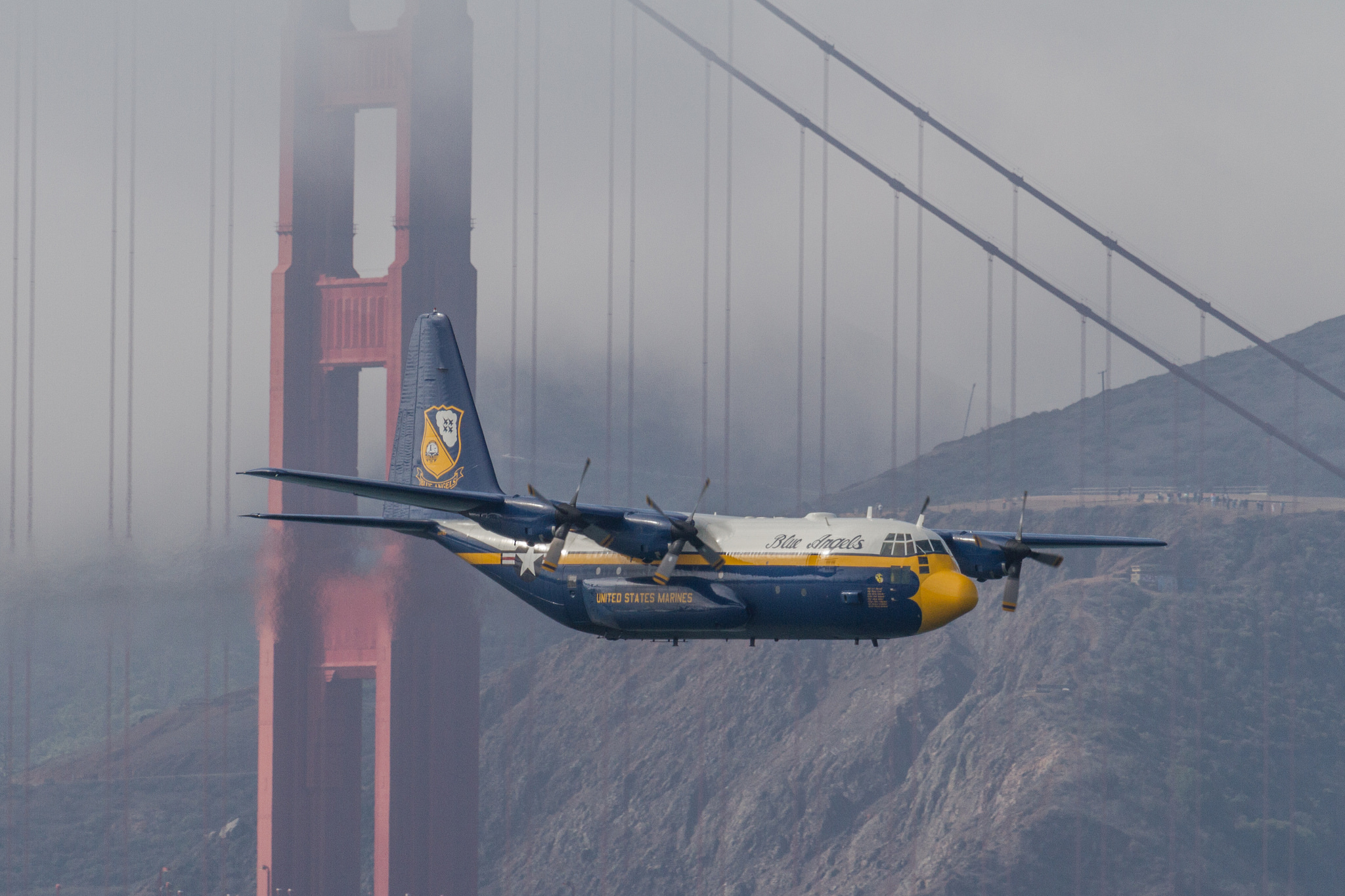 "Fat Albert," the Blue Angels' C-130T Hercules transport aircraft during Fleet Week on October 10, 2014. Photo credit: Bhautlk Joshl/Flickr
Fleet Week
Friday through Sunday
Marina Green and Piers 15 & 17
The Parade of Ships gets Fleet Week started on Friday. In addition to the two heart pounding and adrenaline fueled aerial shows featuring the world famous Blue Angels, other activities will include the Marina Green Festival, Humanitarian Village and the Off the Grid Fleet Fest at Pier 80.
Large crowds are expected throughout the weekend, parking will be limited. Help ease congestion by utilizing any number of Muni service routes to get you to all the festivities courtesy of the T Third, F Market, E Embarcadero, 8 Bayshore, 19 Polk, 22 Fillmore, 28 19th Avenue, 30 Stockton, 47 Van Ness, 49 Mission/Van Ness, Powell Hyde and Powell Mason cable car lines.
During Fleet Week military service personnel either in uniform or with a military identification card will be allowed to ride all Muni vehicles free of charge.
Muni service note: Service routes operating along or near the waterfront areas may see minor delays due to increased ridership. Bus shuttles will prove Powell and Powell Mason Cable Car service from 11 a.m. to 7 p.m. on Saturday and Sunday.
Italian Heritage Parade
Sunday, 12:30 p.m.
Fisherman's Wharf and North Beach
A city tradition dating back to 1868, the Italian Heritage Parade is regarded as the country's oldest Italian-American parade. Now in its 147th year, the parade celebrates not only Italian heritage but the important contributions made to the country by Italian-Americans.
The parade route will start at Fisherman's Wharf then move through North Beach along Columbus Avenue ending at Washington Square. In addition to the parade, there will be a display of Ferrari sports cars and other family friendly activities, all of which are free.
Due to street closures and limited parking, parade watchers are encouraged to take public transportation. Muni service on the F Market, 8 Bayshore, 19 Polk, 30 Stockton, 47 Van Ness and Powell Hyde and Powell Mason Cable Car Lines will get you there.
Muni service note: due to street closures, the F Market, E Embarcadero, 8 Bayshore, 30 Stockton, 39 Coit, 45 Union/Stockton, and 47 Van Ness will have re-routes. Bus shuttles will provide Powell and Powell Mason Cable Car service from 11 a.m. to 7 p.m.
Construction Reminder:
The Muni Metro subway continues to close early each night at 9:30pm for system upgrades. Metro bus shuttles will operate between St. Francis Circle and Market and Spears streets from 9 p.m. to 1:30 a.m.
Holiday Enforcement Reminder:
On Monday, the Columbus Day holiday, seven-day street sweeping and parking meters (including those meters on Port of San Francisco property) will be enforced. Residential permit, Monday through Friday street sweeping, and commuter tow away will not be enforced. For complete details visit the holiday enforcement schedule webpage. Muni will operate on a regular weekday schedule.
On Tap for next weekend: Nike Women's Half Marathon, Inner Sunset Sunday, Sunday Streets: The Mission, Treasure Island Music Festival and Potrero Hill Festival.
"On Tap" gives you a heads up about the big events in town and what Muni routes and lines will get you to the party. Look for this feature to be posted usually on Wednesdays for a look ahead to the weekend. Check out our Weekend Traffic & Transit Advisory for more details.