Weekend Excursions in the Richmond, the Mission, and Japantown
Wednesday, April 13, 2016
Construction Alert:
Sunset Tunnel construction continues this Friday beginning at 8 p.m. and will run until 3:30 a.m. Monday. Beginning around 7 p.m. on Friday night, bus shuttles will provide service for the N Judah Line between Duboce Avenue and Church Street and Ocean Beach.
Subway Service Alert:
Due to our on-going overnight efforts to upgrade the subway's communications system, the subway will open up one hour later this weekend: Saturday at 7 a.m. and Sunday at 9 a.m. Early morning bus service will be extended to provide Metro service until the subway opens.
Service Improvements:
Another round of Muni service improvements will take effect on April 23. For details on which routes will be affected, please see the Muni Forward update page.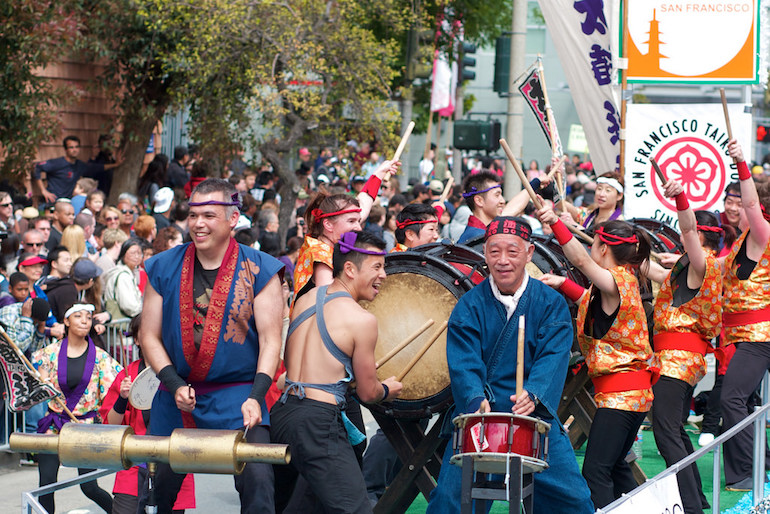 San Francisco Taiko Drum float during the Cherry Blossom Parade on April 17, 2011. Photo credit: --Mark--/Flickr.
Events:
Playland on Balboa Street
Saturday, 2 to 6 p.m.
Balboa Street between 35th and 37th avenues
Once upon a time the Richmond district was home to Playland, a 10 acre amusement park nestled steps away from Ocean Beach. For those fortunate enough to have enjoyed all the attractions and the magic of Playland, the sights, sounds, and smells still resonate fondly.
While the park may be long gone, the memories endure and this weekend a little of the old magic will be recreated at Playland on Balboa Street with an eclectic mix of live music, an art walk featuring the vibrant neighborhood art scene, and a merchant corridor worth discovering. Plus there will be a bounce house, face painting, and a photo booth so the little ones can create their own memories.
If you're thinking about heading into the Richmond, the 31 Balboa Route will take you directly to the event, while the 5 Fulton, 38 Geary, and 38R Geary Rapid could also service as options with a slight walk to Balboa Street.
Muni service note: 31 Balboa service may see minor delays through the event area due to possible increases in ridership and traffic.
Muni Dairies LIVE!
Saturday, 6 p.m.
Mission District
Do you like getting up in front of complete strangers and telling a story? Do you have an interesting, funny, poignant, or even bizarre Muni story to share? If you answered yes to both questions, then why not get up on stage at Muni Dairies Live? This bi-annual open mic event is hosted by Muni Dairies, the ever popular blog where Muni riders can share stories, post pictures, makes comments, or just plain vent about their transit experiences.
For a little more insight into Muni Dairies Live, read our post On Muni Dairies, Riders Tell All. 
Whether you're going on stage or just looking forward to an entertaining evening of being spellbound by Muni tales, you can take the 14 Mission, 33 Ashbury/18th Street, and 49 Van Ness/Mission routes with a short walk up to Valencia Street.
Muni service note: Muni service will not be affected by this event.
Cherry Blossom Festival & Parade
Saturday and Sunday, various times
Japantown
The 49th Annual Northern California Cherry Blossom Festival concludes this weekend with more festivities including tea ceremony demos, an origami exhibit, a Japanese sword exhibit, and more. The Grand Parade will take place on Sunday at 1 p.m.
The parade route will begin from Polk and McAllister streets, turn north on Polk Street and then west on Post Street with the parade disbanding between Fillmore and Steiner streets.
Be advised that vehicle and pedestrian traffic will be heavy. Muni service on the 2 Clement, 3 Jackson, 5 Fulton, 19 Polk, 21 Hayes, 22 Fillmore, 31 Balboa, 38 Geary, 38R Geary Rapid, 47 Van Ness, 49 Van Ness/Mission, and 76X Marin Headlands Express will get you close to the festivities.
Muni service note: Due to street closures the 2 Clement, 3 Jackson, 5 Fulton, 19 Polk, and 76X Marin Headlands Express will have re-routes. Other service routes may experience residual service delays due to increased ridership.
Winter Storm Information:
The Department of Emergency Management has prepared a Comprehensive Guide to Everything El Niño in order to prepare and assist people on what to know and what to be aware of during the storms. We've been preparing for months and know you'll want to plan your trip before you head out into inclement weather. Sign up for Muni Alerts to get real-time service updates on your most used Muni routes and lines.
On Tap for next weekend: Giants Baseball and Cesar Chavez Parade & Festival
"On Tap" gives you a heads up about the big events in town and what Muni routes and lines will get you to the party. Look for this feature to be posted usually on Wednesdays for a look ahead to the weekend.