This Weekend: Festa Coloniale Italiana and Sunday Streets
Wednesday, August 16, 2017
Reminder: Final Muni Subway Shutdowns for New Train Tests
Muni Metro subway closures for tests on new Muni trains will continue through this weekend. Subway service will close early on weekdays at 9:30 p.m., and Friday night until Monday morning. Muni bus shuttles will operate between Embarcadero and West Portal stations. Muni Metro trains will continue to operate on the surface during the test period. For complete details, please visit our service alert page.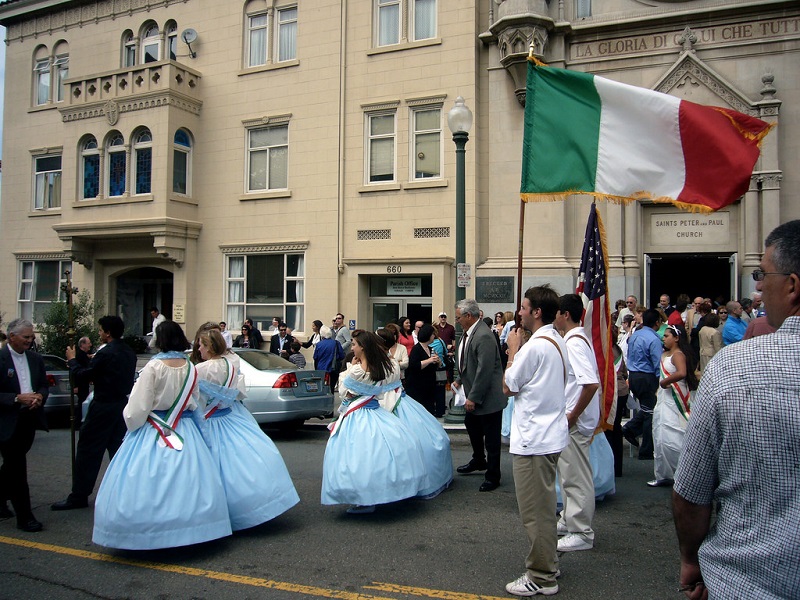 Festa Coloniale Italiana attendees in a procession in 2008. Photo: Chad K/Flickr
Festa Coloniale Italiana
Saturday, 11 a.m. to 5 p.m.
North Beach
Saturday is the 9th annual Festa Coloniale Italiana, hosted by the San Francisco Italian Athletic Club Foundation. The festival, which takes place adjacent to Washington Square Park in the heart of North Beach, will feature pizza tossing by Tony Gemignani of Tony's Pizza Napoletana as well as a vintage Italian car and scooter show. There will also be live music, authentic Italian cuisine, wine tasting and more.
How to Get There on Muni: The 8 Bayshore, 10 Townsend, 12 Folsom/Pacific, 30 Stockton, 39 Coit, 41 Union and 45 Union/Stockton routes will take riders close to the event.
Muni Service Note: The 39 Coit will be rerouted for the festival. The 8, 10, 12, 30, 41 and 45 may see delays and crowding due to increased ridership.
Sunday Streets Tenderloin
Sunday, 11 a.m. to 4 p.m.
Tenderloin
This weekend's edition of Sunday Streets brings the fun back to the historic Tenderloin neighborhood. There will be car-free activities for all ages, with two event hubs on Ellis Street and Golden Gate Avenue, plus all the shopping, food and drinks the neighborhood has to offer.
How to Get There on Muni: Riders may take any Muni Metro line to Van Ness or Civic Center Station, the F Market and Wharves Line, any Market Street bus route or the 8 Bayshore, 19 Polk, 27 Bryant, 47 Van Ness and 49 Van Ness/Mission routes to get close to the event.
Muni Service Note: The 19, 27 and 31 Balboa will be rerouted for the event. Muni routes to the event may see delays due to increased ridership.
Reminder: J Church Stop Changes at Balboa Park
Due to construction for the Balboa Park Station Area and Plaza Improvement Project, the J Church Line will continue to serve alternate stops on San Jose Avenue until the fall.
For details, please visit our Green Light Rail Center Track Replacement Project page.
Reminder: Van Ness Construction
All left turn lanes on Van Ness Avenue have been removed with the exceptions of those at Broadway (southbound), Lombard Street (northbound) and temporarily at Hayes Street (northbound).
Van Ness traffic lanes have been reduced from three to two on these segments:
Northbound from Post to Filbert Street
 
Southbound from Filbert to Washington Street
For complete details on these changes, please visit our Van Ness Improvement Project page.
"On Tap" gives you a heads up about the big events in town and what Muni routes and lines will get you to the party. Look for this feature to be posted usually on Wednesdays for a look ahead to the weekend. Check out our Weekend Traffic & Transit Advisory for more details.