This Weekend: Half Marathon and Sunset Tunnel Work
Wednesday, February 10, 2016
Holiday Service Schedule and Enforcement Reminder:
This Monday, Presidents Day, Muni will operate on a Saturday schedule.
Also on Monday, seven-day street sweeping and parking meters (including those meters on Port of San Francisco property) will be enforced. Residential permit, Monday through Friday street sweeping and commuter tow away restrictions will not be enforced. For complete details visit the holiday enforcement schedule webpage.
Construction Alerts:
Sunset Tunnel construction work will resume this Friday at 8 p.m. and will run until 3:30 a.m., Monday. During tunnel work, bus shuttles will provide N Judah Line service between Duboce Avenue and Church Street and Ocean Beach.
Post Super Bowl 50 Service Adjustments Reminder:
Super Bowl City downtown detours and street closures are scheduled to end as early as 8 p.m. tomorrow night when Market Street between Beale Street and The Embarcadero re-open. Nearly all Muni routes will return to normal through that area at the start of morning service this Friday. The NFL Experience closure of Howard Street opened yesterday evening.
Please note: Starting at 10 p.m. Friday night, bus shuttles will provide F Market service between the Castro and Fisherman's Wharf throughout the weekend as the last of the Super Bowl City breakdown wraps up on Stueart Street.
For a detailed list of all service adjustments in place until Friday morning, and for information on how to navigate your way around the downtown area, check out our January 21 blog post.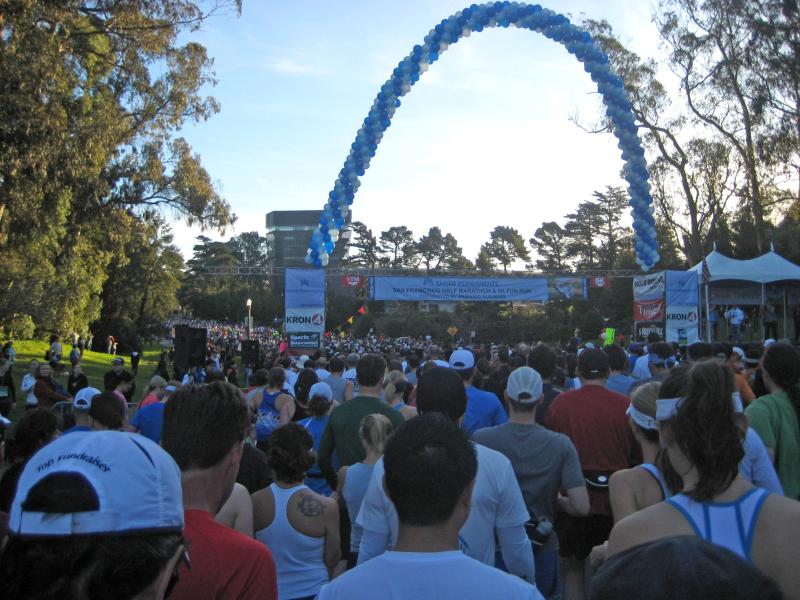 Runners starting the KP Half Marathon in Golden Gate Park on February 6, 2011. Photo credit: Luxomedia/Flickr.
Events:
After a week that saw numerous concerts, celebrities, and over a million people come to San Francisco for all the Super Bowl festivities, this weekend, by comparison, will be a quiet one. If you don't feel like lounging about and want to burn off some of those calories from Sunday's devilishly tasty seven layer dip and other delectable treats, then head over to Golden Gate Park for the KP Half Marathon.
KP SF Half Marathon & 5K
Sunday, 8 a.m.
Golden Gate Park
The serene beauty of Golden Gate Park accompanied by the crashing waves along Ocean Beach make the Kaiser Permanente Half Marathon one of the most scenic running courses in the country. The half marathon is a certified 13.1 mile course that will take runners though the park and out along the Great Highway where runners will then circle back into the park for the big finish.
If you're not into endurance but speed, then try your hand at the 3.1 mile 5K race that will be completely contained within the park. Once runners have crossed the finish line, stick around for the post-race expo where all race finishers will be handed a commemorative medal.
Whether you are looking to test your speed or endurance, or just want to cheer someone on, Muni provides numerous options to Golden Gate Park courtesy of the 5 Fulton, 7 Haight/Noriega, 18 46th Avenue, 21 Hayes, 22 Fillmore, 23 Monterey, 24 Divisadero, 28 19th Avenue, 29 Sunset, 33 Ashbury/18th Street, 43 Masonic, and 44 O'Shaughnessy routes.
Muni service note: the 18 46th Avenue, 23 Monterey, 33 Ashbury/18th Street, 43 Masonic, and 44 O'Shaughnessy routes will have re-routes while the 5 Fulton, 7 Haight/Noriega, 21 Hayes, 22 Fillmore, 24 Divisadero, 28 19th Avenue, and 29 Sunset routes may see some residual delays near Golden Gate Park.
Winter Storm Information:
The Department of Emergency Management has prepared a Comprehensive Guide to Everything El Niño in order to prepare and assist people on what to know and what to be aware of during the storms. We've been preparing for months and know you'll want to plan your trip before you head out into inclement weather. Sign up for Muni Alerts to get real-time service updates on your most used Muni routes and lines.
On Tap for next weekend: Chinese New Year's Parade and Chinese Community Street Fair
"On Tap" gives you a heads up about the big events in town and what Muni routes and lines will get you to the party. Look for this feature to be posted usually on Wednesdays for a look ahead to the weekend. Check out our Weekend Traffic & Transit Advisory for more details.