Weekend Highlights: Chinese Flower Market, Walk for Life and the Women's March
Wednesday, January 18, 2017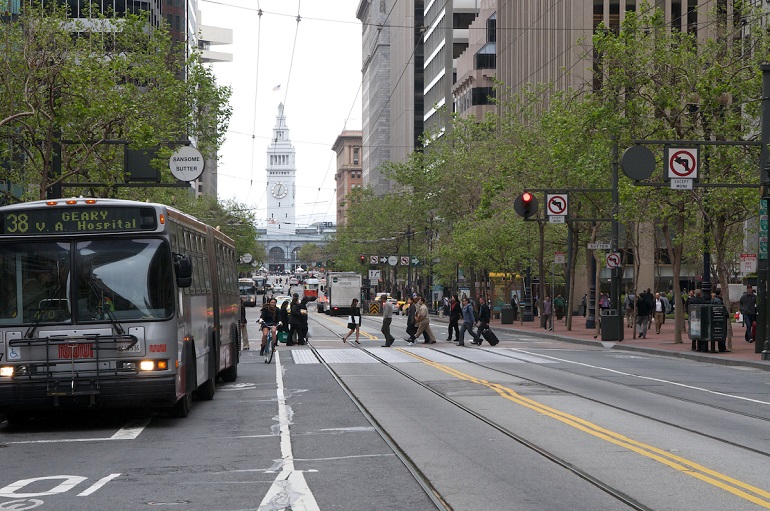 Facing eastbound on Market Street on April 20, 2011. SFMTA Photo Archive
Events
Chinese Flower Market
Saturday and Sunday
Grant Ave. in Chinatown
On the weekend before Chinese New Year Day, the Chinese Flower Market Fair in Chinatown will help kick off the festivities for Lunar year 4715, better known as the Year of the Rooster. This two-day event will feature acrobats, folk dancers and opera, plus the opportunity to buy traditional fruits, candies, flowers and plants in advance of new year celebrations.
Due to street closures on Grant Avenue from Clay Street to Broadway, pedestrian and vehicle traffic congestion is expected to be heavy on surrounding streets. Please plan ahead, add extra travel time and utilize alternative routes to avoid delays.
Muni service note: The 10 Townsend and 12 Folsom/Pacific will be re-routed.
Walk For Life and Women's March
Saturday, 1:30 p.m.
Market Street East of Civic Center
On Saturday, there will be two separate marches that will proceed east along Market Street from Civic Center Plaza to Justin Herman Plaza (the Ferry Plaza).
The annual Walk for Life, which draws thousands of participants each year, will begin at 12:30 p.m. with a rally in the Civic Center/UN Plaza. At 1:30 p.m., the walk will move east on Market to the Ferry Plaza.
As the Walk for Life exits Civic Center, the Women's March will begin to assemble. A rally is planned to begin at 3 p.m. with the march scheduled to depart Civic Center Plaza at 5 p.m., following the same route as the Walk for Life.
Market Street is expected to be closed to vehicle traffic east of Civic Center until around 8 p.m. Pedestrian and vehicle traffic congestion on surrounding streets is expected to be heavy. Please plan ahead, allow extra travel time, and utilize alternative routes to avoid delays.
Muni service note: There will be re-routes for the 2 Clement, 5 Fulton, 6 Haight/Parnassus, 7 Haight/Noriega, 8 Bayshore, 9 San Bruno, 10 Townsend, 12 Folsom/Pacific, 14 Mission, 14R Mission Rapid, 19 Polk, 21 Hayes, 27 Bryant, 30 Stockton, 31 Balboa, 38 Geary, 38R Geary Rapid and 45 Union/Stockton routes as well as the F Market line.
Van Ness Construction Reminder
All left turn lanes on Van Ness Avenue have been removed, with the exceptions of those at Broadway (southbound), Lombard Street (northbound) and temporarily at Hayes Street (northbound).
Van Ness traffic lanes have been reduced from three to two on these segments:
Northbound from Post to Filbert Street
Southbound from Filbert to Washington Street
For complete details on these changes, please our Van Ness Improvement Project page.
Temporary J Church and K Ingleside Service Changes Reminder
Due to Balboa Park Station Area and Plaza Improvement construction work, there are now temporary stop changes in effect for the J Church and K Ingleside lines at Balboa Park Station. These stop changes will be in place through the end of February. For details, please read our September 1 blog post.
"On Tap" gives you a heads up about the big events in town and what Muni routes and lines will get you to the party. Look for this feature to be posted usually on Wednesdays for a look ahead to the weekend. Check out our Weekend Traffic & Transit Advisory for more details.